In a string of hacks against Democrats, George Soros has become the latest target. An organization that calls itself DCLeaks just released over 2,500 documents from Soros' Open Society Foundation for people to curate themselves.
One of the findings thus far is that Hillary Clinton has received foreign policy advice from Soros. In an email from 2011, Soros told then-Secretary of State Clinton that "two things need to be done urgently" to address political unrest in Albania.
In the email, Soros advised Hillary to pay attention to the issue, asking the international community to put pressure on former Prime Minister Sali Berisha and on the then opposition leader Edi Rama, now the Prime Minister, to stall further public demonstrations and squash their political opposition.
Thousands of protesters pelted Berisha's office and the police with stones and eggs, while police fired tear gas, rubber bullets and stun grenades in response. It wasn't peaceful protests that Soros was backing (and asking Hillary to back).
Well, apparently the Albanians are happy with her, as they've erecting a monument honoring her (yes, really).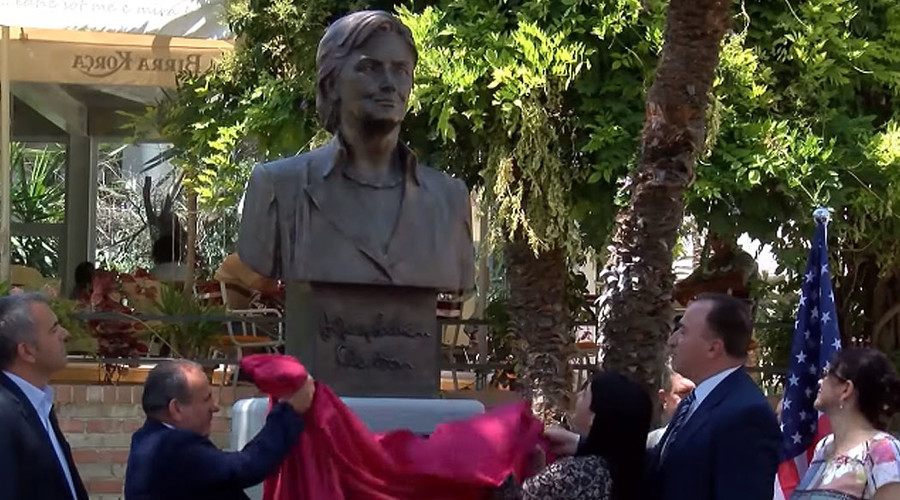 They might as well have made the monument to Soros, but I suppose that would've blown his cover.
Now, Hillary isn't the only one with Soros connections. Her VP was spotted meeting with another Soros just days after the hack.
Via Breitbart
Sen. Tim Kaine (D-VA), Democratic presidential nominee Hillary Rodham Clinton's running mate, dined exclusively with the son of progressive billionaire George Soros on Thursday evening, according to a photo posted on Alexander Soros' Instagram on Friday afternoon.

"Love this man!" Alex Soros wrote along with a photograph of him with the vice presidential hopeful. "Was great to have dinner with a man we need to call one day #vicepresident @timkaine last night! He is definitely the real deal!"

The fact that Alex Soros, who was inspired in his own progressivism by his controversial father, has unfettered access to Kaine—Hillary Clinton's running mate—is unsurprising. The Clinton apparatus has long come under scrutiny for their closeness with high dollar donor class figures, some of which has prompted federal law enforcement to fight for an official criminal investigation into the "Clinton Cash" narrative—one the Department of Justice (DOJ) under Attorney General Loretta Lynch has reportedly shut down. That being said, reports have surfaced that the U.S. Attorney for the Southern District of New York Preet Bharara is in fact investigating—along with the FBI—the Clinton Foundation for such donor class proclivities with the Clinton apparatus.
Could Democrats be bigger hypocrites? They're always the ones bemoaning the influence of money in politics, and yet they're it's biggest beneficiaries. If they really want to get money out of politics, the biggest thing they can do to stop it is to stop taking it.