There is nothing more important to the First Lady than being a good mother. Which is why she stayed in New York City until her and her husbands son Barron finished middle school. Yet liberals castigated her for not fulfilling her First Lady duties. Her top priority has always been being a mom and her husband and stepchildren have always attested to that fact. Reports have indicated that despite her immense wealth and socialite status she employs no nannies and drives her son to and from school herself.
She once told Parenting magazine the following,
""I am a full-time mom; that is my first job. The most important job ever. I cook him breakfast. Bring him to school. Pick him up. Prepare his lunch. I spend the afternoon with him. I think the No. 1 parenting secret is that it is so important to have a good listening skills. I listen to what Barron says, what troubles him and what he is excited about. Then I can guide and support. I don't push my thoughts or likes or dislikes. I want him to grow to be his own person. I think is important to give a child room to make mistakes in order to learn."
Media reports indicate she and Barron will be moving to Washington D.C. to live in the White House in June after he finishes school. It has been rumored that Barron will be enrolling in the very prestigious and high-end St. Andrew's Episcopal School located in the suburbs of Maryland. Which is contrast from former schools of First Children.
St. Andrew's tuition costs a whopping $38,000 a year and they are known for their small class sizes which max out at about 11 or 15 students. In total the school body is made up of 580 students. The small size of the school and classes will likely give the First Son the privacy he needs during his father's time in the White House.
Clearly the First Lady takes a hands on approach to raising her son and it is something she should be applauded for. Children are not toys to be taken out when you are proud of their accomplishments. The First Lady is doing exceptionally well. She spoke on Mother's Day to military spouses, mothers, and families.
The Trumps welcomed service members, spouses and mothers to the East Wing for remarks and a performance by the Army Chorus and the Marine Band.
"This is one of the many opportunities for us to thank the incredible military mothers who love and care for our nation's heroes, and they are heroes, so thank you very much, and the mothers are heroes, too," Trump said. "It is your sacrifice that protects our nation safeguards, our liberties and makes sure our beautiful American flag always waves proudly above our very glorious land."
As the mothers, spouses, and service members nodded, Trump made a vague reference to some of the tensions of the week.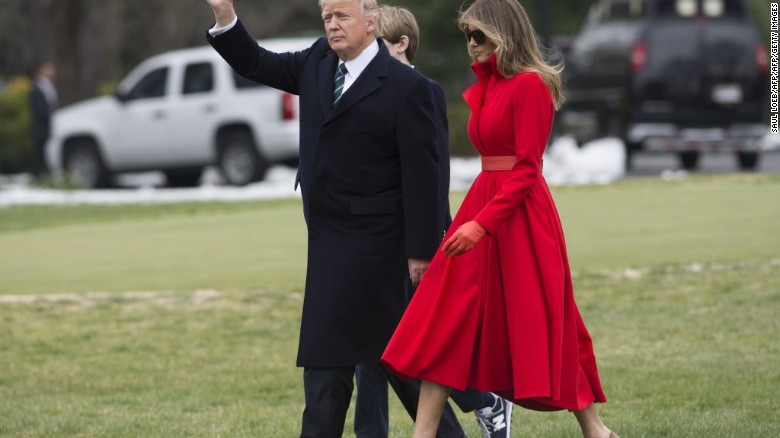 In her speech she said,
"I, too, am a mother. However, I have no idea what kind of different challenges each of you must face as the parent of a soldier. And while you stand with many other parents so strong and so proud, I am sure that you sometimes march on this journey alone. While your sons and daughters are away serving so selflessly, having a community share even some of that burden must make all the difference in the world.
In fact, it has been said that having a child means allowing your heart to walk around outside of your body. For the mothers of someone who has, or is, serving our country, this must be especially true. I want you to know you're among that community today and we are all so proud to be part of it with you. I also want to say thank you for all that you do for your selflessness and for your own sacrifice on behalf of our country."
She also said,
"Thank you for all that you do, for your selflessness and for your own sacrifice on behalf of our country. Let today's celebration with this community of strong and selfless moms be a first step in building relationships, and in your knowing, that my husband and I, along with … everyone here at the White House, hold you close in our hearts and thoughts each and every day."
Despite what the mainstream liberal media would like to say the First Lady is a class act and a family woman who cares and loves her son deeply. The United States is lucky to have her as their First Lady. She is an exemplary role model for the American people.