Daily Mail: A gunman ambushed a police officer as he sat in his marked cruiser at an intersection, striking him three times in the arm during a barrage of bullets and fleeing before being apprehended.
Police Commissioner Richard Ross said the suspect fired at least 13 shots at Officer Jesse Hartnett, 33, and his car late Thursday.
Hartnett is in a stable condition is in a stable condition with a broken arm and nerve damage.
Ross said the officer returned fire, hitting his attacker at least three times. 
'This is absolutely one of the scariest things I've ever seen,' Ross said at a news conference early Friday.
'This guy tried to execute the police officer. The police officer had no idea he was coming.'
He said the officer was in his cruiser in West Philadelphia when the shooter approached from the sidewalk and began firing, eventually shooting through the driver's-side window as he got closer.
'I'm bleeding heavily!' Hartnett shouted into his police radio when he called in to report shots fired.
The suspect ran away but was quickly apprehended by other officers, authorities said.
Ross, who was sworn in as commissioner Tuesday, said there was no apparent motive for the attack.
'Why someone would do something so absolutely evil is just beyond us,' Ross said. 'It's amazing he's alive.'
There was no immediate word on the suspect's condition. Officer Christine O'Brien said the man was stuck at least once in the buttock.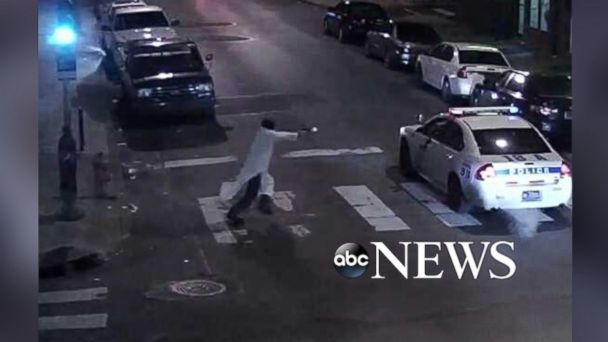 Jim Kenney, in his first week as mayor of the nation's fifth-largest city, said, 'There are just too many guns on the streets, and I think our national government needs to do something about that.'
His statement comes on the heels of President Barack Obama's announcement Tuesday of his plan to tighten gun control laws.