From Mad World: Muslims in America seem to be perpetually offended at everything about our culture, which leaves many wondering why they even come here. Such is the case in Massachusetts, when Islamic groups became outraged after seeing three letters painted on the side of a mosque, and they are now demanding hate crime charges be brought against the people responsible.
Burlington police say that the two teens who painted the letters on the mosque were merely drunk and messing around, reports the Media Equalizer. However, a representative from the Council on American-Islamic Relations (CAIR) said the group thinks they committed a hate crime, and wants them charged accordingly.
So what were the three letters in question? "USA." Yeah, apparently painting the name of our nation on an Islamic "house of worship" is now considered a hate crime by the Muslim bigots who hate America.
"People do these things, it happens everywhere," said the mosque's President Munir Gandevia. "We notified the authorities, we'll let them do their job."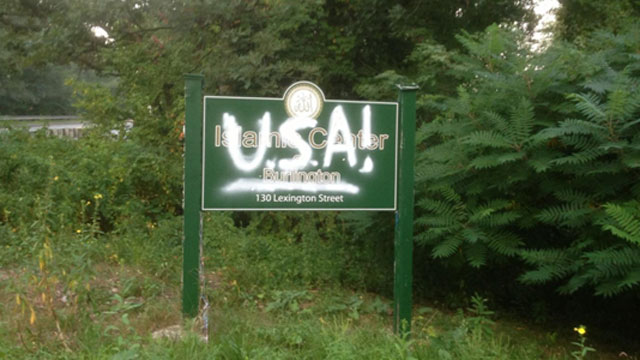 CAIR Executive Director John Robbins "has said he believes the graffiti reflects an offensive view that Muslims are not fully American," which is why he's demanding the charges. Although, one of the 18-year-olds has already apologized for the incident, and he explained that it was merely a prank by him and his buddy, according to WHDH.
So far, the teens haven't been hit with any hate crime charges, but the district attorney said they're not out of the question.
"Additional charges may be considered as the investigation progresses," Marian T Ryan said, according to the Boston Globe.