The left has been throwing a never ending temper tantrum ever since Donald Trump was elected. There have been marches and protests to demonstrate their absolute disdain for Trump and his policies.
While I don't understand their vitriol for the president to begin with I am actually more confused over the hatred they show for his family. Instead of focusing on the issues they disagree with they suddenly become a bunch of bullies. Take for example what happened to Tiffany Trump when she attended New York Fashion Week a couple days ago.
During Fashion Week the who's who of the entertainment world is on full display in New York.
Tiffany Trump was in attendance and to support her designer, friend Andrew Warren. Christina Binkley, who according to her Twitter account was a former Wall Street Journal columnist, snapped a couple photos of Tiffany in order to make fun of her.
In the photos, you can see that Tiffany is surrounded by empty seats, and according to Ms. Binkley, that is because no one wanted to sit next to her.
Empty seats next to Tiffany Trump. pic.twitter.com/axvYJAFupl

— Christina Binkley (@BinkleyOnStyle) February 14, 2017
Nobody wants to sit next to Tiffany Trump at Philipp Plein, so they moved and the seats by her are empty. pic.twitter.com/XcxNYI6Kf8

— Christina Binkley (@BinkleyOnStyle) February 14, 2017
Thankfully, some good people set Binkley straight on these photos and called her exactly what she is, a bully.
And here's the kicker. No one actually left their seats because of Tiffany. The seats were reserved for German fashion designer Philipp Plein according to Tiffany's friend, Andrew Warren. USA Today explains,
"Seated next to Trump was her socialite BFF Andrew Warren, who shared his own version of events on Instagram. "That seat was never empty it was reserved for (Plein's) family," he captioned his selfie with Trump."
So, this is what it has come to now folks. These tolerant individuals have resorted to bullying tactics and public shaming because they don't like Donald Trump. Seriously, these people won't sit next to this young girl and they have the audacity to call Trump supporters the hateful ones. I mean what is this? High school again?
I mean what is this? High school again?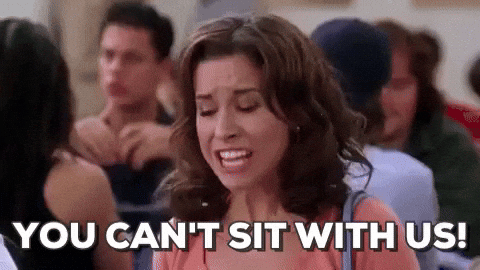 Maybe one day the left will begin to practice what they preach about love and tolerance. At least we could only hope that they grow up and start to act as adults. However, if I were you, I would not hold my breath.
H/T [ Daily Mail ]
FOLLOW us on Facebook at Freedom Daily!