From Breitbart
In January of 2015, a handful of Senators quietly introduced new legislation in Congress that would allow for virtually unlimited Muslim immigration into the United States – lifting caps entirely on several categories of visas favored by immigrants from Muslim countries.
The Mark Zuckerberg-backed legislation, S.153, is called the Immigration Innovation Act (or I-Squared), and it has taken on new significance following the terrorist attacks in San Bernardino. Those attacks were only possible due to Muslim immigration: Syed Farook is reportedly the child of Pakistani immigrants, and his jihadi bride, Tashfeen Malik, was reportedly born in Pakistan.
The I-Squared bill is significant for a second reason. One of the Senators who introduced the bill is also running for President:
. And several of Rubio's most prominent financial backers are among the bill's boosters.
I-Squared would expand five major visa categories used by Muslim migrants: the F-1 foreign student visa, green cards for foreign students, green cards for their family members, the H-1B foreign worker visa, and the H-4 spousal visa.
THE F-1 VISA
Under current law, the F-1 student visa operates under the assumption that foreign students have no intention of abandoning their home countries. It is intended to operate similar to a foreign exchange program, where the students return home after their studies are concluded. Current statute reads that an F-1 visa holder is "an alien having a residence in a foreign country which he has no intention of abandoning…" 8 U.S.C. § 1101(a)(15)(F)(i) [emphasis added]
The I-Squared bill turns that on its head by removing the presumption that F-1 visa applicants return to their home country—rendering admissible a larger pool of foreign applicants, who openly and explicitly have no intention of returning home following their studies. It then allows an unlimited number of foreign students to get lifetime green cards (Section 303). Because the F-1 visa is uncapped, these changes are revolutionary.
Section 201 of the I-Squared bill, "Authorization of dual intent," states, "the Immigration and Nationality Act… is amended by striking 'which he has no intention of abandoning'" from the definition of an F-1 student visa.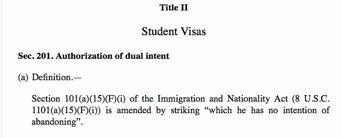 This sea change to the F-1 student visa will vastly expand the use of a program that is already a pipeline for Muslim immigration.
According to State Department data, in 2014 the U.S. issued more than 70,000 student visas to foreign nationals from predominantly Muslim countries, as well as more than an additional 56,000 student visas to India. Read More