From the New York Post:
Assembly Speaker Sheldon Silver mastered "the greedy art of secret self-reward" while lining his pockets with ​nearly ​$4 million in kickbacks and bribes, prosecutors said Thursday, after arresting the powerful Democrat.
Federal authorities also seized $3.8 million from Silver, freezing eight of his bank accounts at six different banks, authorities said.
"The greedy art of secret self-reward was practiced ​with particular cleverness and cynicism by the speaker himself," Manhattan US Attorney Preet Bharara said of Silver.
The longtime Assembly speaker was hit with a five-count​ criminal​ complaint​ brought by Bharara​, which claims that his corruption dates back to 2000.
The prosecutor said Silver treated the Speaker's office as his personal piggy bank: "He simply sat back and collected millions of dollars by cashing in on his political office."
Each count carries up to 20 years behind bars, if convicted.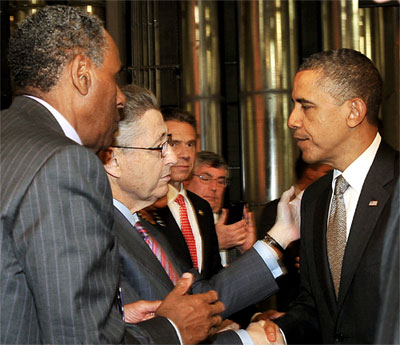 "Over his decades in office, Speaker Silver has amassed titanic political power," Bharara said.
"But, as alleged, during that same time, Silver also amassed a tremendous personal fortune – through the abuse of that political power. All told, we allege that Silver corruptly collected some $4 million in bribes and kickbacks disguised as 'referral fees.' "​
​As to what Silver did to earn that money, Bharara bluntly said: "Nothing. Not a lick of work."​​
Luckily for the press, they can pretend that the only thing people care about today is how inflated Tom Brady's footballs are.
—Courtesy of The Right Scoop