I'm convinced that economic opportunity would do more to reduce crime in poor communities than gun control or wealth redistribution ever would.
Thanks in part to laws like the minimum wage, the youth unemployment rate for black men has been 50% for quite some time. It wasn't always like this.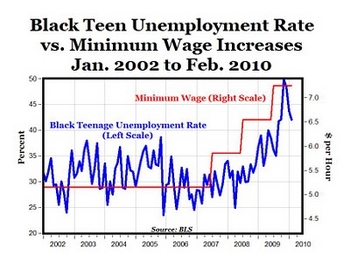 Does anyone really think that there would be as much violence in poor communities if they were employed at any job, even if it was a minimum wage job? Of course not – most wouldn't have time. Likewise, they'd have more to lose if they were to commit a crime.
That's why stories like the following are so heartwarming. Via Blue Lives Matter:
A group of teams showed up at the door of Zsa Zsa Heard, asking for a job. Heard is the CEO of Legrange Housing Authority. When Heard asked them why they wanted a job, they told her that they wanted a job to help them stay out of gangs.

Heard posted the following message on Facebook on July 27:

I want Facebook to empower these young men they walked into my office today and asked for a job. I said why do you want a job? They said so we want get in trouble and we do not want to be in a gang! I said have people approached you about being in a gang they said yes'mam! I hired them on the spot! The streets will not have our children!

"Several of their teachers (Facebook) inboxed me and told me what good kids they were," Heard told WXIA, "They said if you give them the support they need, they are going to be successful."

"If they feel that they're valuable, and if we show them how important they are, then we don't risk losing them," Heard told WXIA. "I don't want them to seek the love and attention from the negative. I want them to find their value in other things."

The teens go back to school August 10th, but they are being entered into a teen leadership and mentorship program, which will stay through them throughout the year.
Good for these young men. This is more of what the world needs.
It isn't going to be the demagogues of Black Lives Matter that save impoverished crime-ridden minority communities, it's going to be a generation of youngsters with this attitude.