Remember how the media clamored to provide these family members with an unchallenged press conference — sponsored, of course, by the terror-tied group CAIR (Council of American-Islamic Relations)?
Syed Raheel Farook, the brother of San Bernardino jihad killer, Syed Rizwan Farook, was arrested this morning. He is a decorated U.S. Navy veteran. Gives you the chills, doesn't it?
Today's arrests are the latest development in the FBI investigation of the San Bernardino jihad mass murder, in which 14 non-Muslim Christmas party goers were slaughtered in cold blood. The massacre was the deadliest terrorist attack on U.S. soil since 9/11.
Family members and members of the Muslim community were complicit. All those arrested attended the same mosque. Enrique Marquez, the SB jihad killer's neighbor,  got Farook the guns used in the mass slaughter of Christmas party revelers (after he converted and became a devout Muslim). So is it any surprise that Enrique's wife,  Mariya Chernykh,  was arrested this morning, too?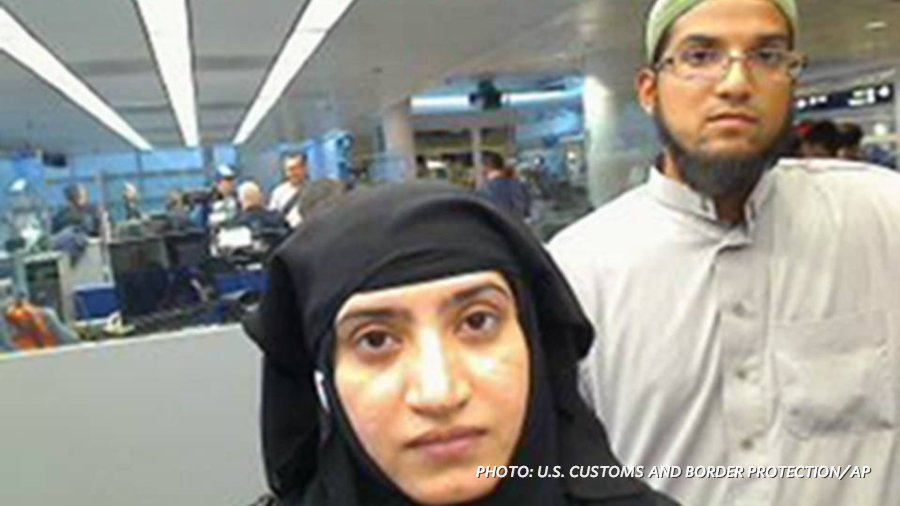 "FBI arrests brother of San Bernardino jihad murderer and 2 others," Los Angeles Times, April 28, 2016:

FBI arrests brother of San Bernardino terrorist and 2 others on marriage fraud charges
FBI serves warrant at home of Farook's brother

The FBI has served another warrant at the home of Syed Raheel Farook, the elder brother of San Bernardino gunman Syed Rizwan Farook. The FBI also served a warrant at the home in February.

Federal agents arrested three people, including the older brother of San Bernardino gunman Syed Rizwan Farook, on charges of marriage fraud and lying to federal investigators on Thursday morning, authorities said.

Syed Raheel Farook, his wife, Tatiana Farook, and her sister Mariya Chernykh were arrested Thursday morning and charged in a five-count indictment filed in federal court alleging that Chernykh entered into a fraudulent marriage with Enrique Marquez Jr., who has been charged with providing weapons used in the deadly Dec. 2 attack at the Inland Regional Center.
ADVERTISING

Two people were arrested at Farook's home in Corona after the FBI conducted a search warrant Thursday morning, according to Sgt. Paul Mercado, a spokesman for the Corona Police Department. A second search warrant was served at Chernykh's home in Ontario, federal prosecutors said.

See the most-read stories this hour >>

In the course of the investigation into the terrorist attack, federal authorities said they determined Marquez received money to marry Chernykh, who took part in the wedding only to gain legal status in the U.S. FBI agents interrogated Chernykh as part of the inquiry into the terror attack, and prosecutors say she lied during those interviews by pretending that she lived with Marquez when she actually resided in Ontario.

All three are expected to appear in federal court in Riverside at 2 p.m., according to the U.S. Attorney's Office.
Full Coverage: San Bernardino terror attack
Full Coverage: San Bernardino terror attack

They were charged with conspiring to concoct the illusion of a marriage between Marquez and Chernykh and face up to five years in federal prison if convicted. Chernykh also was charged with fraud, misuse of visas and other documents, perjury and two counts of lying to federal investigators. Those additional charges together carry a maximum sentence of up to 25 years in federal prison, according to the U.S. Attorney's Office.

"This is the latest step in the comprehensive investigation into the horrific attacks in San Bernardino last year that took the lives of 14 innocent Americans and deeply affected so many more," U.S. Atty. Eileen M. Decker said in a statement. "As I have said previously, we owe the victims, and the entire community of San Bernardino, a thorough investigation that uncovers all criminal activity surrounding these events."

Attorneys representing the Farooks and Chernykh did not immediately respond to requests for comment.

While the investigation into the San Bernardino attacks has centered on a battle to gain access to Syed Rizwan Farook's iPhone 5c in recent months, two law enforcement sources with knowledge of the investigation told the Los Angeles Times on Thursday that no information from the phone was used in the investigation into the marriage fraud conspiracy.

The FBI was prepared to battle Apple over access to the phone in court, but were able to gain access through a third party late last month.

A 12-page indictment that was handed up on Wednesday afternoon accuses Chernykh and Marquez of staging photographs of their relationship and later purchasing a wedding ring long after they were supposed to have been wed in order to sustain the illusion of marriage.

Chernykh made three separate $200 deposits in a bank account she shared with Marquez in late 2015, according to the indictment. Federal prosecutors previously alleged that Marquez was paid $200 per month to take part in the sham marriage with Chernykh.
Marriage fraud indictment for brother of San Bernardino terrrorist and 2 others
Marriage fraud indictment for brother of San Bernardino terrrorist and 2 others

The pair claimed they were married at a "religious institution" in Corona in November 2014, but Chernykh struggled to play the role of blissfully wedded wife early on, according to the indictment.

On Christmas Day 2014, Tatiana Farook told Chernykh to stop posting photos of the father of her child on social media, prosecutors say.

When the couple learned they were going to be interviewed by immigration officials in late 2015, panic set in, according to the indictment. Syed Raheel Farook created a fraudulent lease agreement that suggested Marquez and Chernykh had been living together since November 2014. The agreement said the couple lived with him and his wife at their Forum Way home in Corona, prosecutors say, but public records show Chernykh actually resided in Ontario.

In a November 2015 email exchange, Marquez and Chernykh discussed their mutual anxiety for their upcoming immigration interview because of the lack of contact with each other, according to the indictment.

Days later, Marquez posted on social media that he "was involved in terrorist plots and he might go to prison for fraud," the indictment said.

On Dec. 1, the day before the terror attack, the two sisters traveled to a retail jewelry store in Riverside and purchased a $50 wedding ring for Marquez, according to the indictment.

Federal prosecutors say Tatiana Farook persisted with the lie 24 hours after the deadly attack. When interviewed by the FBI on Dec. 3, she insisted that Marquez and Chernykh had been living together at her Corona home, according to the indictment.

FBI agents have executed three search warrants at Syed Raheel Farook's home since Dec. 2, when husband and wife Syed Rizwan Farook and Tashfeen Malik killed 14 people and wounded several more in a mass shooting at a conference room at the Inland Regional Center.

The two died hours later in a gun battle with police. Federal agents searched the older brother's home, where several Farook family members live, in the days after the shooting.

They conducted a second search in February after the investigation pivoted to look for key evidence that might help the FBI track Farook and Malik's movements after the attack. The hard drive of Farook's laptop has eluded FBI agents and has become something of a holy grail in the investigation as the FBI tries to determine whether Farook and Malik had any help in planning or carrying out the attack.

The Corona neighborhood where Farook was arrested Thursday morning was mostly quiet in the hours after the FBI raids, save for a throng of reporters.

Many residents said they have grown frustrated at the constant attention they've received since the Dec. 2 attacks as the FBI has repeatedly searched Farook's home.

Stacy Mozer, who has lived in Corona for 26 years, said he was surprised to hear that Farook had been arrested on charges related to marriage fraud.

In private conversations, he said, Farook expressed great regret about the shootings his brother and sister-in-law carried out.

"I was very surprised that's why they got arrested," he said. "When they said it was about the marriage thing, well, I was more concerned about the shooting."
Via Pamela Geller