CBS News 8 – San Diego, CA News Station – KFMB Channel 8
SAN DIEGO (CBS 8) – Former Marine Sergeant Nick Kimmel is settling into his new home in Fallbrook built by the Gary Sinise Foundation, but he's doing so without his Polaris Ranger which was stolen.
Sgt. Kimmel is a triple amputee. During his second tour of Afghanistan he dropped off a forklift that landed on a 40-pound IED. He lost both of his legs, above his knee, and his left arm.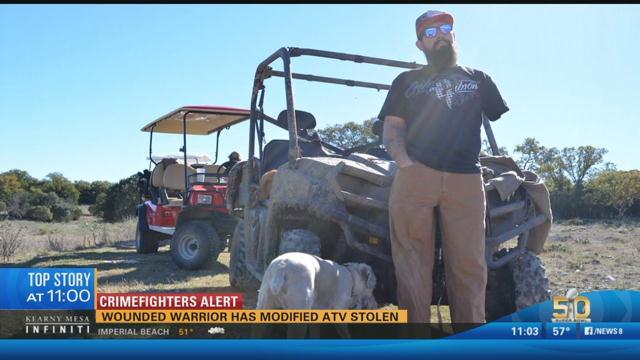 When Sgt. Kimmel returned to his apartment on Monday in Mission Valley to retrieve his Polaris Ranger and trailer, they were gone.
Sgt. Kimmel said whoever took it, does not have morals.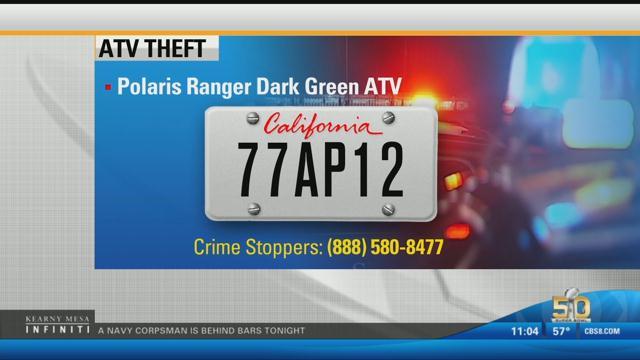 The Polaris Ranger, which Sgt. Kimmel uses for hunting, is valued at $17,000. For Sgt. Kimmel, hunting is a form of therapy.
"It's a form or recreational therapy. Everyone has different stuff that helps him or her," he said.
Sgt. Kimmel said the last time he saw the ranger was on Friday, January 8th, at the Monte Vista Apartments from where his family was helping move into his first customized home.
"I was pretty mad. I don't like to draw attention to my injury. A human being is a human being. I don't understand why you feel like you need to take something that does not belong to you," he said.
He was planning on using the ranger when he moved into his new home in Fallbrook to check the mail which is down a hill from his home.
The Semper Fi Fund donated the money to Sgt. Kimmel to buy his Polaris and trailer.
Sgt. Kimmel did file a police report with the San Diego Police department.
The Polaris Ranger has a California license number: 7-7-A-P-1-2, and the license number on the trailer is: 4-N-R-6-6-8-3.