A picture says a thousand words – and Bill Clinton's reaction when Trump brought up his alleged past acts of sexual abuse spoke volumes.
On Sunday, Trump needed to do something big to bounce back from the leaked audio scandal that threatened to obliterate his campaign, and he came out guns blazing. First, he held what the press believed would be a brief press conference prior to the debate. Instead, those journalists were greeted by Donald Trump – and four women.
Three of them had accused Bill Clinton of raping them, and a fourth was raped at age 12, and the rapist was never brought to justice due to Hillary's defense of him as a lawyer back in 1975.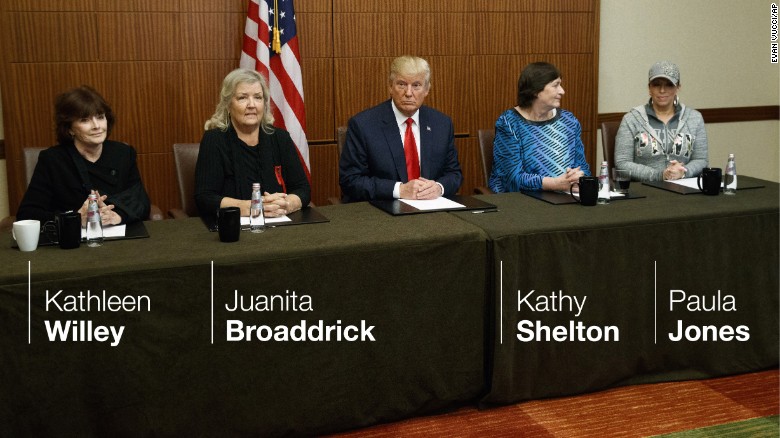 When one of the journalists asked Trump whether or not he felt entitled to touch women, Paula Jones fired back "why don't you ask Bill Clinton?"
Trump tried unsuccessfully to have them all seated right next to the Clinton family at the debate – which certainly would've been the most uncomfortable thing to happen this election.
Trump hardly let Bill's accusers just speak for themselves prior to the debate. Trump also brought up their stories during the debate – which didn't even merit a response from Hillary. Her only "rebuttal" the whole evening seemed to be asking people to visit her website (where they'd be immediately met with a pop-up ad asking them to donate to her campaign).
As for Bill's reaction to the bombshell Trump dropped? I've never seen someone look more stone faced in their life. As Conservative Post reported:
That's gotta hurt. Bill looked devastated – and Chelsea looked like she was about to cry.
I can't bring myself to defend the comments that Trump was caught making – but let's be honest, what's worse? Actions speak louder than words – and in the case of Trump and Clinton, they've done a hell of a lot more damage too.