So the host who is part Latino, has a Chinese child and married to a white dude is racist… Give me a break! tell them to shove it if they're offended!
We're sad to report that the Internet race-baiters are still alive and well and contributing to the racial divide as often as possible.
After finally seeing the light at the end of the tunnel from the racial fallout after Ferguson and New York City, a black, race-baiting blogger made a non-issue a huge racial issue after accusing a white QVC host of making a racial statement during a 40-second segment.
A popular host on the shopping network QVC, Sandra Bennett, was bullied into issuing multiple apologies after innocently making a remark about hair styles while the camera momentarily panned to a black model during the segment.

During the short clip, did you see anything remotely resembling a racial remark? We didn't think so — because no one with a shred of common-sense saw it either.
But a black blogger by the name of "Bougie Black Girl" sure thought it was racist (H/T BizPac Review). She immediately posted a YouTube clip of the segment and titled it, "Are Two White Hosts on QVC mocking a Black Woman's hair and humiliating her on TV?"
The video quickly made its way through social media.
It even received a response from the show's host, who was obviously distraught at the fact that someone would actually have the audacity to call her a racist for making an innocent joke about a common situation that women face with hairstyles.
"It was meant to be lighthearted, but in the middle of my comment, the camera cut to Michelle, an African American model," Bennett posted on Facebook. "I want to be clear that I was in no way talking about her. It was just terrible timing."
Sandra, you have nothing to worry about. A majority of folks understand the entire situation and though you didn't have to issue an apology, you did and that shows your character.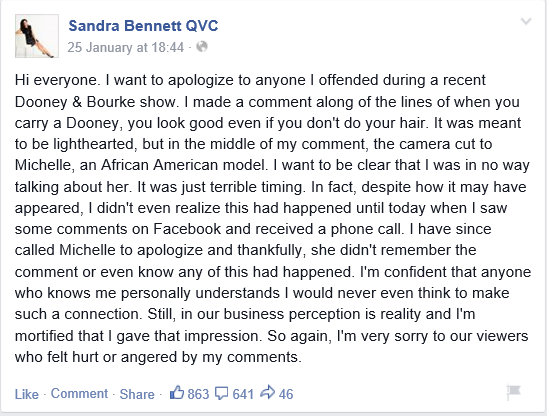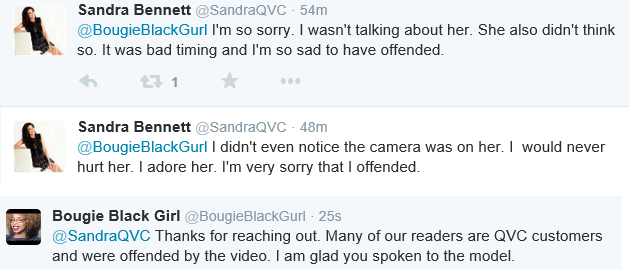 —Courtesy of The Conservative Tribune