40 DISTURBING Quotes From Barack Hussein Obama On Islam And Christianity…WOW! This says it all!!
From NTEB
When someone shows you who they are, believe them
Since 2009, NOW THE END BEGINS has brought you story after story in detailed accounts of exactly how Obama feels about Islam, and how he views Christianity and the Bible. So today, in light of recent events in Washington, we feel it important that you know exactly where your president stands in regards to his faith and his god. Below are 20 quotes he has made about Islam, and 20 quotes he has made about Christianity. Nothing edited or mashed up, just exactly in the context he originally spoke them in with fully-sourced links so you can see where they come from.
If after reading this, you still want to think he is not a Muslim, then that will be your right to do so. But it won't be because someone didn't try to warn you and open your eyes to the truth.

20 Quotes By Barack Hussein Obama About Islam and Mohammed
#1 "The future must not belong to those who slander the Prophet of Islam"
#2 "The sweetest sound I know is the Muslim call to prayer"
#3 "We will convey our deep appreciation for the Islamic faith, which has done so much over the centuries to shape the world — including in my own country."
#4 "As a student of history, I also know civilization's debt to Islam."
#5 "Islam has a proud tradition of tolerance."
#6 "Islam has always been part of America"
#7 "we will encourage more Americans to study in Muslim communities"
#8 "These rituals remind us of the principles that we hold in common, and Islam's role in advancing justice, progress, tolerance, and the dignity of all human beings."
#9 "America and Islam are not exclusive and need not be in competition. Instead, they overlap, and share common principles of justice and progress, tolerance and the dignity of all human beings."
#10 "I made clear that America is not – and never will be – at war with Islam."
#11 "Islam is not part of the problem in combating violent extremism – it is an important part of promoting peace."
#12 "So I have known Islam on three continents before coming to the region where it was first revealed"
#13 "In ancient times and in our times, Muslim communities have been at the forefront of innovation and education."
#14 "Throughout history, Islam has demonstrated through words and deeds the possibilities of religious tolerance and racial equality."
#15 "Ramadan is a celebration of a faith known for great diversity and racial equality"
#16 "The Holy Koran tells us, 'O mankind! We have created you male and a female; and we have made you into nations and tribes so that you may know one another.'"
#17 "I look forward to hosting an Iftar dinner celebrating Ramadan here at the White House later this week, and wish you a blessed month."
#18 "We've seen those results in generations of Muslim immigrants – farmers and factory workers, helping to lay the railroads and build our cities, the Muslim innovators who helped build some of our highest skyscrapers and who helped unlock the secrets of our universe."
#19 "That experience guides my conviction that partnership between America and Islam must be based on what Islam is, not what it isn't. And I consider it part of my responsibility as president of the United States to fight against negative stereotypes of Islam wherever they appear."
#20 "I also know that Islam has always been a part of America's story."
20 Quotes By Barack Hussein Obama About Christianity and the Bible
#1 "Whatever we once were, we are no longer a Christian nation"
#2 "We do not consider ourselves a Christian nation."
#3 "Which passages of scripture should guide our public policy?  Should we go with Leviticus, which suggests slavery is OK and that eating shellfish is an abomination?  Or we could go with Deuteronomy, which suggests stoning your child if he strays from the faith?"
#4 "Even those who claim the Bible's inerrancy make distinctions between Scriptural edicts, sensing that some passages – the Ten Commandments, say, or a belief in Christ's divinity – are central to Christian faith, while others are more culturally specific and may be modified to accommodate modern life."
#5 "The American people intuitively understand this, which is why the majority of Catholics practice birth control and some of those opposed to gay marriage nevertheless are opposed to a Constitutional amendment to ban it. Religious leadership need not accept such wisdom in counseling their flocks, but they should recognize this wisdom in their politics."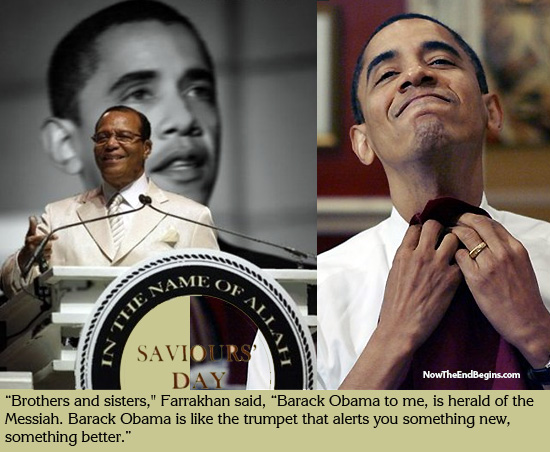 #6 From Obama's book, The Audacity of Hope: "I am not willing to have the state deny American citizens a civil union that confers equivalent rights on such basic matters as hospital visitation or health insurance coverage simply because the people they love are of the same sex—nor am I willing to accept a reading of the Bible that considers an obscure line in Romans to be more defining of Christianity than the Sermon on the Mount."
#7 Obama's response when asked what his definition of sin is: "Being out of alignment with my values."
#8 "If all it took was someone proclaiming I believe Jesus Christ and that he died for my sins, and that was all there was to it, people wouldn't have to keep coming to church, would they."
#9 "This is something that I'm sure I'd have serious debates with my fellow Christians about. I think that the difficult thing about any religion, including Christianity, is that at some level there is a call to evangelize and prostelytize. There's the belief, certainly in some quarters, that people haven't embraced Jesus Christ as their personal savior that they're going to hell."
#10 "I find it hard to believe that my God would consign four-fifths of the world to hell.  I can't imagine that my God would allow some little Hindu kid in India who never interacts with the Christian faith to somehow burn for all eternity.  That's just not part of my religious makeup."
#11 "I don't presume to have knowledge of what happens after I die. But I feel very strongly that whether the reward is in the here and now or in the hereafter, the aligning myself to my faith and my values is a good thing."
#12 "I've said this before, and I know this raises questions in the minds of some evangelicals. I do not believe that my mother, who never formally embraced Christianity as far as I know … I do not believe she went to hell."
#13 "Those opposed to abortion cannot simply invoke God's will–they have to explain why abortion violates some principle that is accessible to people of all faiths."
#14 On his support for civil unions for gay couples: "If people find that controversial then I would just refer them to the Sermon on the Mount."
#15 "You got into these small towns in Pennsylvania and, like a lot of small towns in the Midwest, the jobs have been gone now for 25 years and nothing's replaced them. And they fell through the Clinton Administration, and the Bush Administration, and each successive administration has said that somehow these communities are gonna regenerate and they have not. And it's not surprising then they get bitter, they cling to guns or religion or antipathy to people who aren't like them or anti-immigrant sentiment or anti-trade sentiment as a way to explain their frustrations."
#16 "In our household, the Bible, the Koran and the Bhagavad Gita sat on the shelf alongside books of Greek and Norse and African mythology"
#17 "On Easter or Christmas Day, my mother might drag me to church, just as she dragged me to the Buddhist temple, the Chinese New Year celebration, the Shinto shrine, and ancient Hawaiian burial sites."
#18 "We have Jews, Muslims, Hindus, atheists, agnostics, Buddhists, and their own path to grace is one that we have to revere and respect as much as our own"
#19 "All of us have a responsibility to work for the day when the mothers of Israelis and Palestinians can see their children grow up without fear; when the Holy Land of the three great faiths is the place of peace that God intended it to be; when Jerusalem is a secure and lasting home for Jews and Christians and Muslims, and a place for all of the children of Abraham to mingle peacefully together as in the story of Isra — (applause) — as in the story of Isra, when Moses, Jesus, and Mohammed, peace be upon them, joined in prayer.  (Applause.)"
#20 "I believe that there are many paths to the same place, and that is a belief that there is a higher power, a belief that we are connected as a people."
What This Hotel Just Banned Has Muslims Ready To Riot Around The World Right Now
Now, this is a smart move in today's world.
The Malaysian Association of Hotels or also known as MAH has now defended its members' policy of prohibiting their frontline staff from wearing the hijab, or headscarf while at work saying it is international practice and not meant to be discriminatory.
A spokesperson for the hotels, Cheah Swee Hee, said the hotels, especially the international hotels in Malaysia, which has a huge Muslim population, followed a standard operating procedure and policy on the matter and that it shouldn't be called discrimination because these hotel companies have international policies to follow. He later added that it's not about "Islamophobia" because the practice of not letting women wear headscarves has been done from the beginning. But of course, the left is going crazy over this policy.
I regret that Muslim women in Malaysia still face religious discrimination, when it comes to the wearing of the hijab, which is a religious requirement that many of them adhere to.
This is according to the report by the Malaysian Employers Federation (MEF).
MEF executive director Shamsuddin Bardan said he had received complaints from hotel employees regarding the banning of headscarves or hijab at the workplace.
This is something we should not tolerate especially when there's no plausible explanation as to why the hijab is a hindrance to the nature of their work.
This is even more so in a country which holds Islam as the religion of the Federation.
Simply being in the private sector does not exclude the party from respecting one's right to practice their religious requirements.
This argument also applies to our national airlines, Malaysia Airlines, where there are also calls from flight attendants to be allowed to observe their religious requirement in wearing hijab.
The fact that flight attendants with hijab had been serving the pilgrims during the Hajj season in flights to Mecca is testimony that wearing the hijab does not determine inefficiency.
With regard to hospitality industries, it is not easy for these women to actually lodge reports, especially when allowances, salaries and placement for internship are involved.
If these are students, we know that internship is part of the requirement in their last semester before they can graduate.
Our Muslim students are trapped in a systematic discriminatory process along the line.
I urge Muslim ladies who face such discrimination to come forward and report it to us at [email protected] We promise to maintain their confidentiality.
Now here is the thing. No one is forced to work at this establishment. Just like an individual can pick and choose where they will work, a business should have the right to dictate what and what should not be worn by their employees, especially those who have direct access to the public. I am sure this rule must have been in the contract every employee needs to sign in order to get employment from this company.
The Malaysian Insight Reports:
Wafiq president Associate Professor Dr Rafidah Hanim Mokhtar said the NGO has received four direct complaints while her personal Facebook page has received dozens of grouses .
"Since we have many universities producing graduates in hospitality and tourism, it's kind of a setback to have international hotels having (such) standards.
"It's discriminatory against our citizens in terms of employment and training.  I'll have to work with the respective ministries, such as higher education and tourism (on this matter)," she told The Malaysian Insight in a WhatsApp message.
Syukri, a hotel banquet manager in Kuala Lumpur said the hijab policy had been in place for at least 10 years.
"At a five-star hotel in KL where I once worked, Muslim female staff were not allowed to wear the headscarf so as to attract customers.
"If a woman wanted a job as a waitress, she could not wear a scarf. It was considered unfashionable and unattractive," said Syukri who did not want to give his full name.
As he was in charge of hiring temporary workers for big functions, he had to tell recruits that they could not wear the headscarf. He said the policy consistently applied to those working in food and beverage, such as servers, and in frontline positions, such as receptionists.
Syukri left the five-star hotel three years ago and found another job at a hotel that did not have such a policy.
"I moved to another hotel because I did not want to be a part of that kind of practice," the 39-year-old said.
Farisha, who has worked for a year as a receptionist at a five-star hotel in Putrajaya, said she removed her headscarf whenever she went to work
"To be a receptionist at this hotel, you can't wear the 'tudung'. They say that this is in line with the image of an international hotel.
"So after I finish work, I will put it back on. I just don't wear it at work. What else can I do? It is not easy to find a job now," said the 29-year-old. – November 11, 2017.
Let us be honest with ourselves. This isn't about a headscarf. This rule has been applied for years. I bet if any of us worked there we wouldn't be allowed to wear a New York Yankee's hat. All this is is the left and how they try to push Islam on the rest of the freedom loving world. And if anyone dares to say "NO" they are branded as racists, bigots and "Islamaphobes" which is a term that doesn't even exist. It's all part of the globalization movement and some of us just aren't having anything to do with it. This is a great example as to why we elected President Donald Trump. We are sick and tired of people pushing their own beliefs and culture on us while if we do the same we are branded as criminals.
Please share if you stand against the globalists….
FOLLOW us on Facebook at mPolitical!
This Is The Wife Of Most Senior American Member of ISIS And You'll Be Pissed To Know Why Obama Allowed Her Into America
If you thought former President Obama left America with a few hidden presents for citizens, then you should see what's crawling around the country right now. A British jihadi bride married America's most senior member of ISIS and now she's trying to rock out like a soccer mom in suburban Dallas. She must think a new life removes her from the past of her connection to ISIS, but people who know don't forget. People who learned about it now won't forget either.
Her name is Tania Georgelas and she's 33-years-old. She has previously stated that she had a dream like to have her kids become demented terrorists. That's not like the dream Martin Luther had and the radicalization of her and her family is very disturbing. But then she split with her ISIS husband and now she thinks a new life as a normal person is possible, but once someone goes to that extreme, others will wonder if it's ever possible to cut ties with ISIS and live a normal life.
An interview with Atlantic gave more harrowing information than you'd like.
'Our dreams were to have land of our own, raise a family and train them be assassins or whatever, soldiers, and then eventually go join the jihad,' she said of her ex-husband John Georgelas, an American-born convert to Islam who has risen to the upper ranks of ISIS.
From the comfort of her new life on the northern outskirts of Dallas, where she lives with John' wealthy parents and attends a Unitarian church with her IT programmer boyfriend Craig, Tania described the extraordinary journey that took her from England to Syria, and finally America.
The first lady of ISIS is reported, by Daily Mail, to be born in London as one of five children. She claimed to face a lot of racism in her childhood due to bad neighbors who would smash their windows and cause her to feel like an outsider. It's not something kids should ever go through, but that doesn't mean she should've grown up to marry a member of ISIS either.
But then you realize what may have brought her to that decision, which we can infer from when she said "I was looking for a way to retaliate" and it makes you feel like she was bullied. But still, she's connected to ISIS and you can only imagine it might be nearly impossible to disconnect from a terrorist organization, or if she's truly removed from them at all. All conspiracy theories aside, it's a legitimate concern to America to have her in the country due to her previous connections and unknown connections now. Who is she still in touch with? Who is she talking to when no one's listening?
Her ISIS husband grew up in Plano, Texas and Daily Mail reports that he was a rebellious teenage drug user who dropped out of school and converted to Islam after the events of 9/11 and likely the condemnation of the Islamic religion. John eventually met Tania and they began having children and talking about joining ISIS in Syria. How they went from the honeymoon stage of a relationship to the possible planning of traveling to Syria to become terrorists is quite the extreme.

They'd had three children and another on the way when, in 2013, they began discussing joining ISIS in Syria.
'John wanted to go to Syria, and I said I wasn't ready, not while the kids are small,' she recalls.
It's great to know that John the drug using ISIS guy was sympathetic about the kids. It's all about the kids in marriage, right? Maybe not. If it was, then people wouldn't join ISIS and drag them into a life of distorted inabilities to assimilate to modern civilized culture and oppression of women. If they really cared about their kids, then they wouldn't have had kids in the first place knowing that they planned to live a life in terrorism. ISIS isn't exactly the best influence on children unless one is breeding just to build future detonation devices for their explosive vests. A life decision that will affect the children forever and strip them of the ability to live a normal life.
What's next for Tania? She's on Match.com doing online dating ever since breaking up with John.
'I went to the dating website Match, I wrote an essay: "I have four kids, my husband abandoned me to go become the next Osama Bin Ladin". I got 1,300 replies.'
She met her new beau Craig, an IT worker, within 24 hours on the site.
Does Craig know about her former life living with the top ISIS guy in America? Is Craig her new ISIS sympathizing boyfriend?
Craig might be the new pawn in a deadly attack as he either knows not what he's gotten into or he's well into it and can't wait for the sparks to fly.
Authorities should keep an eye on these two.
60,000 Sneaky Muslims In Houston Just Woke Up To NASTY Surprise From Pissed Of Texans
It's been a particularly bloody couple of weeks around the world as terror attacks continue in Europe where refugees have been widely welcomed in to take over. Meanwhile, in America, Muslims who call the great state of Texas home are realizing that things aren't so great for them there as they are in more apologetic liberal states and nations.
The last time statistics were available of how many Muslims there are in Houston, was in 2000 when reports estimated the Islamic population in the city had reached about 60,000. Since it's been 17 years since, that's now just the minimum number of Muslims there, as they procreate like crazy to increase their Islamic community, and were moved to the U.S. in droves under Barack Obama. However, each one of them just suffered a huge blow to the biggest part of their belief system.
Texas isn't just taking their state back from these people, they're the first to hit them where it really counts regardless of the subsequent outrage from Muslims and apologists about "rights." Everyone has a right to safety and the governor just ensured that with a swift, yet surprising, move he just made.
When Muslims move into an area in groups, their plan isn't to assimilate to the American culture or "coexsist." Islam preached for a takeover and world domination, by killing or converting all non-believing infidels. Anyone who knows even just the smallest part of what the Muslim holy book, the Koran, preaches, it's that women and children are horribly mistreated. They're used and abused by men in their lives who hold all of the power. This comes with the cornerstone of the religion, which is "Sharia Law."
Despite Sharia Law being unconstitutional and illegal in the U.S., liberals are open to the idea to make this place better for Muslims. There are sneaky ways to slip it into our way of life and make it legal, which Muslims who want to dominate with it are well aware of. Liberals fall fast for this by making it sound that it's their "religious right," but that doesn't mean they have a right to impose these inhumane rules on those who want no part of it in a free country.
In what is being billed as a death blow punch in the fight against Islam and their savage Sharia Law. Texas state legislators just passed a law called the "American Law for American Courts" bill, or Texas House Bill 45, Freedom Daily recently reported.
"This new law now makes it illegal to practice Muslim Sharia law within the Texas state lines. Both houses of the Texas legislature voted in favor of HB 45. The 'Texas Foreign Law Procedural Protection Act.' on Monday, and today the bill has been signed by Texas Governor Greg Abbot."
"Sharia Law is the Islamic religious governing code which governs all aspects of Muslim daily life. Including death for infidels, adulterers, the LGBTQ community, the crucifixion of highway robbers, amputation of limbs for theft, and so many other none or petty crimes."
"This law is also the one responsible for Muslim honor killings of women and young girls who have been deemed to have brought shame to their families. Which is something that is already starting to happen here in the states. There have been cases reported in Texas and especially the state of Michigan which is currently starting to resemble an Islamic 3rd world cesspool."
This house bill was necessary and urgent since an Islamic Tribunal is already set up in Texas and is practicing Sharia Law, as Breitbart recently uncovered:
"An Islamic Tribunal using Sharia law in Texas has been confirmed by Breitbart Texas. The tribunal is operating as a non-profit organization in Dallas. One of the attorneys for the tribunal said participation and acceptance of the tribunal's decisions are 'voluntary'."
"Breitbart Texas spoke with one of the 'judges,' Dr. Taher El-badawi. He said the tribunal operates under Sharia law as a form of 'non-binding dispute resolution.' El-badawi said their organization is 'a tribunal, not arbitration.' A tribunal is defined by Meriam-Webster's Dictionary as 'a court or forum of justice.' The four Islamic attorneys call themselves "judges" not 'arbitrators'."
"El-badawi said the tribunal follows Sharia law to resolve civil disputes in family and business matters. He said they also resolve workplace disputes."
Muslims have a great way of skirting the system and making things sound innocent when there's always something much more sinister beneath the surface. While they take advantage of liberals as their useful idiots to impose Islam on them, it's time for states to follow in Texas's lead and start fighting back against this evil. Montana recently attempted to ban Sharia Law in their state, but liberals won in the end. Anyone who fights to defend this set of rules and lifestyle should be forced to live it for a week and see if they still think it's a good idea to make America a Muslim nation.
h/t: [ConservativeTribune]