40 DISTURBING Quotes From Barack Hussein Obama On Islam And Christianity…WOW! This says it all!!
From NTEB
When someone shows you who they are, believe them
Since 2009, NOW THE END BEGINS has brought you story after story in detailed accounts of exactly how Obama feels about Islam, and how he views Christianity and the Bible. So today, in light of recent events in Washington, we feel it important that you know exactly where your president stands in regards to his faith and his god. Below are 20 quotes he has made about Islam, and 20 quotes he has made about Christianity. Nothing edited or mashed up, just exactly in the context he originally spoke them in with fully-sourced links so you can see where they come from.
If after reading this, you still want to think he is not a Muslim, then that will be your right to do so. But it won't be because someone didn't try to warn you and open your eyes to the truth.

20 Quotes By Barack Hussein Obama About Islam and Mohammed
#1 "The future must not belong to those who slander the Prophet of Islam"
#2 "The sweetest sound I know is the Muslim call to prayer"
#3 "We will convey our deep appreciation for the Islamic faith, which has done so much over the centuries to shape the world — including in my own country."
#4 "As a student of history, I also know civilization's debt to Islam."
#5 "Islam has a proud tradition of tolerance."
#6 "Islam has always been part of America"
#7 "we will encourage more Americans to study in Muslim communities"
#8 "These rituals remind us of the principles that we hold in common, and Islam's role in advancing justice, progress, tolerance, and the dignity of all human beings."
#9 "America and Islam are not exclusive and need not be in competition. Instead, they overlap, and share common principles of justice and progress, tolerance and the dignity of all human beings."
#10 "I made clear that America is not – and never will be – at war with Islam."
#11 "Islam is not part of the problem in combating violent extremism – it is an important part of promoting peace."
#12 "So I have known Islam on three continents before coming to the region where it was first revealed"
#13 "In ancient times and in our times, Muslim communities have been at the forefront of innovation and education."
#14 "Throughout history, Islam has demonstrated through words and deeds the possibilities of religious tolerance and racial equality."
#15 "Ramadan is a celebration of a faith known for great diversity and racial equality"
#16 "The Holy Koran tells us, 'O mankind! We have created you male and a female; and we have made you into nations and tribes so that you may know one another.'"
#17 "I look forward to hosting an Iftar dinner celebrating Ramadan here at the White House later this week, and wish you a blessed month."
#18 "We've seen those results in generations of Muslim immigrants – farmers and factory workers, helping to lay the railroads and build our cities, the Muslim innovators who helped build some of our highest skyscrapers and who helped unlock the secrets of our universe."
#19 "That experience guides my conviction that partnership between America and Islam must be based on what Islam is, not what it isn't. And I consider it part of my responsibility as president of the United States to fight against negative stereotypes of Islam wherever they appear."
#20 "I also know that Islam has always been a part of America's story."
20 Quotes By Barack Hussein Obama About Christianity and the Bible
#1 "Whatever we once were, we are no longer a Christian nation"
#2 "We do not consider ourselves a Christian nation."
#3 "Which passages of scripture should guide our public policy?  Should we go with Leviticus, which suggests slavery is OK and that eating shellfish is an abomination?  Or we could go with Deuteronomy, which suggests stoning your child if he strays from the faith?"
#4 "Even those who claim the Bible's inerrancy make distinctions between Scriptural edicts, sensing that some passages – the Ten Commandments, say, or a belief in Christ's divinity – are central to Christian faith, while others are more culturally specific and may be modified to accommodate modern life."
#5 "The American people intuitively understand this, which is why the majority of Catholics practice birth control and some of those opposed to gay marriage nevertheless are opposed to a Constitutional amendment to ban it. Religious leadership need not accept such wisdom in counseling their flocks, but they should recognize this wisdom in their politics."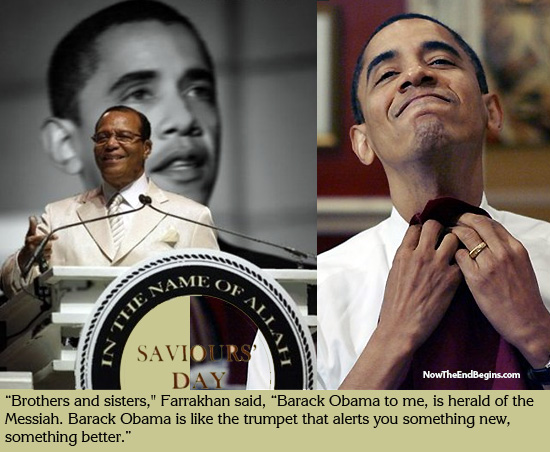 #6 From Obama's book, The Audacity of Hope: "I am not willing to have the state deny American citizens a civil union that confers equivalent rights on such basic matters as hospital visitation or health insurance coverage simply because the people they love are of the same sex—nor am I willing to accept a reading of the Bible that considers an obscure line in Romans to be more defining of Christianity than the Sermon on the Mount."
#7 Obama's response when asked what his definition of sin is: "Being out of alignment with my values."
#8 "If all it took was someone proclaiming I believe Jesus Christ and that he died for my sins, and that was all there was to it, people wouldn't have to keep coming to church, would they."
#9 "This is something that I'm sure I'd have serious debates with my fellow Christians about. I think that the difficult thing about any religion, including Christianity, is that at some level there is a call to evangelize and prostelytize. There's the belief, certainly in some quarters, that people haven't embraced Jesus Christ as their personal savior that they're going to hell."
#10 "I find it hard to believe that my God would consign four-fifths of the world to hell.  I can't imagine that my God would allow some little Hindu kid in India who never interacts with the Christian faith to somehow burn for all eternity.  That's just not part of my religious makeup."
#11 "I don't presume to have knowledge of what happens after I die. But I feel very strongly that whether the reward is in the here and now or in the hereafter, the aligning myself to my faith and my values is a good thing."
#12 "I've said this before, and I know this raises questions in the minds of some evangelicals. I do not believe that my mother, who never formally embraced Christianity as far as I know … I do not believe she went to hell."
#13 "Those opposed to abortion cannot simply invoke God's will–they have to explain why abortion violates some principle that is accessible to people of all faiths."
#14 On his support for civil unions for gay couples: "If people find that controversial then I would just refer them to the Sermon on the Mount."
#15 "You got into these small towns in Pennsylvania and, like a lot of small towns in the Midwest, the jobs have been gone now for 25 years and nothing's replaced them. And they fell through the Clinton Administration, and the Bush Administration, and each successive administration has said that somehow these communities are gonna regenerate and they have not. And it's not surprising then they get bitter, they cling to guns or religion or antipathy to people who aren't like them or anti-immigrant sentiment or anti-trade sentiment as a way to explain their frustrations."
#16 "In our household, the Bible, the Koran and the Bhagavad Gita sat on the shelf alongside books of Greek and Norse and African mythology"
#17 "On Easter or Christmas Day, my mother might drag me to church, just as she dragged me to the Buddhist temple, the Chinese New Year celebration, the Shinto shrine, and ancient Hawaiian burial sites."
#18 "We have Jews, Muslims, Hindus, atheists, agnostics, Buddhists, and their own path to grace is one that we have to revere and respect as much as our own"
#19 "All of us have a responsibility to work for the day when the mothers of Israelis and Palestinians can see their children grow up without fear; when the Holy Land of the three great faiths is the place of peace that God intended it to be; when Jerusalem is a secure and lasting home for Jews and Christians and Muslims, and a place for all of the children of Abraham to mingle peacefully together as in the story of Isra — (applause) — as in the story of Isra, when Moses, Jesus, and Mohammed, peace be upon them, joined in prayer.  (Applause.)"
#20 "I believe that there are many paths to the same place, and that is a belief that there is a higher power, a belief that we are connected as a people."
Muslims Start Praising Allah On Airplane But Didn't Realize Who Flight Attendant Really Was Until It Was Too Late
Trump loves this & so do we!
A Muslim couple from Ohio thought it was a splendid idea to chant about "Allah" while looking suspicious while they were texting or playing with their cell phone. That's about as frightening as yelling "bomb" and twisting the back end of an alarm clock. Everyone knows that you don't do anything on an airplane that gives people the creeps.
But that's not what happened the day the Ohio couple was ejected out of escorted off of an airplane while trying to claim they were discriminated against. They didn't realize the highly trained flight attendant could tell that people around them were feeling very skeptical of the couple's awkward behavior that sent chills up the spine of just about every passenger who sat near them.
The Cincinnati, Ohio Muslim couple chanted, "Allah" while "hiding" their cellphones from view. This behavior obviously caught the highly trained flight attendant's attention and made her very "uncomfortable." For the sake of the safety of both passengers and crew, she urged the pilot to have them removed from the airplane.
You simply can't act like this on a plane, train, or any mass travel automobile. You freak people out when you do this. Freaking people out gets you kicked off the airplane. That's a no-brainer. In all honesty, people don't care who or what you're texting, but if you're acting like you don't want anyone else to see what's on your screen, then you better understand that people are going to think the worst and be quite weary of your presence on the plane. That's exactly what happened and the precise reason why this couple was removed. It wasn't because they're Muslim, it was because of their shady behavior.
The Delta flight attendant said every time she walked by the couple from Cincinnati, they were texting rather covertly on their phones. The Muslim man and woman also appeared to be sweating profusely according to the Delta staffer. The couple blamed their perspiration on a long boarding wait on the tarmac.
Sweating profusely while everyone else is not? That's called your nerves are wrecking havoc on your perspiration system because you might be up to no good. Ever give a speech in grade school and were super nervous to do it? You may have sweat bullets. But when you might be up to no good on an airplane and you're nervous about what might happen, then you might be sweating as well.  If no one else was sweating like this, then I'd have to call shenanigans on the couple whose covert texting and profuse sweating called some well-trained eyes to them.
Everyone else on the plane was forced to deal with the same wait. The other passengers were also subjected to the same "poor air circulation" on the plane, and they did not have beads of sweat running down their faces.
I guess not everyone else was texting covertly either? This doesn't make sense. Weird texting behaviors, profuse sweat bullets dripping all over your faces, and chanting about "Allah" all paints a horrible picture to most people. We can't exactly state that these folks are, or were, up to no good for sure, but the presentation of their behavior simply scared people and it's nothing personal. People have a right to be scared of something when they're on a huge mass transit vehicle such as an airplane and they see people acting like this. Maybe we're trained to think the worst, but the behavior people witnessed was quite eerie to the average traveler.
"I was scared because it looked like some random guy was taking pictures of our passports on his personal phone," said Nazia Ali, the Muslim woman from Cincinnati, after she and her husband, Faisal, were kicked off the airplane.
If you're scared and think someone is taking photographs of your passports on their personal phone, then why don't you ask them what they're doing? If they were really violating your personal space and items, then speak up about it. However, texting like you don't want anyone to see, sweating like you're extremely nervous, and talking about "Allah" on an airplane simply won't get you from point A to B. You're going to have to step off the flight and think about what just happened and how to prevent it. You'll have to understand this is not a thing against Muslims, but a thing where you're scaring the Jesus out of folks and anyone doing this would be removed, regardless of their skin color, sex, or religion.
Anyone who acted like this on an airplane would be removed.
Nothing discriminatory about it, but you know they'll try and say it was.
FOLLOW us on Facebook at Freedom Daily!
Somali Muslims Take Over U.S. Town, Start Dropping Like Flies After Finding Hidden Surprise Too Late
While Dearborn, Michigan is considered the Muslim Mecca of America, there's one U.S. town that now has them beat. However, at the rate they just began dropping like flies, the problem may soon solve itself, but they won't go down alone without a fight. The Governor of Minnesota thought he was doing a good thing by opening the doors to droves of Somali Muslim refugees despite how any of the citizens felt about it. Those who disagreed were told to leave, but they stayed out now something new is happening there that's never been seen before.
When Minnesota's Governor Mark Dayton opened the doors of his state to hordes of new refugee residents, he invited in a whole host of unforeseen problems that not only the migrants are paying for, but the original residents are as well. Unkept people from other countries with practices that shouldn't be acceptable in America, bring rather disgusting baggage with them, which just backfired on them.
Minneapolis is the epicenter of the Somali Muslim migrants in the state and within the growing population of these people is a particularly nasty thing in common they didn't know they shared until it was too late. Since only two out of every ten refugees are vaccinated, they are passing around measles which is spreading into surrounding communities with no sign of stopping. The problem is becoming so prolific it could soon reach an "epidemic" status.
According to MPR News, the outbreak has dramatically increased with the start of the month-long Muslim holiday of Ramadan:
"Health care and religious leaders are working in tandem to control Minnesota's measles outbreak, which has stricken the state's majority-Muslim Somali community."
"With another three weeks of Ramadan and its numerous gatherings and prayers yet to come, officials face the challenge of getting through the holy month without the highly contagious disease spreading further."
With all of the free healthcare and access to doctors and clinics that refugees are given on arrival, they have no excuse but to get vaccinated and slow the spread of this disgusting ourbreak. Even their imams are urging them to get the shot to stop it, but it's up to each parent to take themselves and their children in to do it.
"One of the imams, and I'm paraphrasing, he said, 'If you don't immunize, it's like killing the Muslim children.' I think that's such strong messaging," Ashkar said, according to MPR.
By last Friday, there were already 73 known cases of the outbreak, which leaves one to wonder how many more there are considering that these uneducated people may not know what their symptoms are or how to deal with it. It's too late before they figure it out after being in contact with so many other Muslims before symptoms show. Although they're dropping sick at an alarming rate within their own community, citizens who didn't want all of these refugees certainly don't deserve their measles.
MPR News reports:
"After several days without any new cases and speculation the outbreak may have run its course, additional cases were reported last week. Even if there are no new cases, it would be well into July before health officials could conclude the outbreak has ended."
"The clear majority of measles cases have been in Somali-American children in Hennepin County. False information suggesting the measles vaccine causes autism spread among the Somali community, driving down immunization rates."
To put this outbreak into perspective, Minnesota has now had more cases of measles within just the last eight weeks, than every other state in the nation combined has had all year. It's no coincidence that the increased Muslim population has grown at the same rate with it. ven though the problem is most prolific within their migrant groups, mosques, and other places Muslim mingle, it's only a matter of time before it spread,
The only people who can help to stop the outbreak from getting worse of the Muslim religious leader who seem to be the only authority these people will listen to. "They are a person who can take scripture, Islamic principles and can also relate that back to how people make health decisions," Ashkar explained.
Even though the problem is most prolific within their migrant groups, mosques, and other places Muslim mingle, it's only a matter of time before it spread, especially with the trend of Americans opting out of vaccination. We wouldn't have measles in America if it weren't for refugees.
Residents Are Being Overrun By Muslims And Now Residents Are Terrified To Leave Their Homes After What Just Happened
If you have not noticed lately, Europe has been going to hell in a handbasket thanks to liberal policies. These policies implemented by the "enlightened" left have done more harm than good, and there seems to be no end in sight. One of those systems that seem to be dragging Europe down into the gutter is the constant influx of Muslim refugees entering the area. The left pulls at the public's heartstrings saying that these refugees are women and children who are escaping war-torn regions, however, the images and videos that have been uploaded online depict a different story. More often than not these refugees are adult males who have come to the western world to push their Islamic caliphate.
Now, neighborhoods are being taken over by these Muslim migrants, and it has become so bad that residents are afraid to leave their own homes, and if we aren't careful, it could happen to America too.
If there were ever a cautionary tale of why you do not allow Muslims to flood into your country, it would be Europe. It seems like every day we hear about another terrorist attack, violent scuffle, or crime wave committed by Muslim migrants. However, instead of countries closing their borders to stop the massive influx of refugees entering, government officials continue to wave them in despite the negative consequences.
One country that has been virtually taken over by Muslim migrants is Sweden with dozens of no-go areas popping up on a regular basis. These areas are so dangerous that even law enforcement refuses to enter without sufficient backup and still the government has not lifted a finger to deport these violent groups.
Within the last year, neighborhoods in Sweden have been turned into a war-zones with refugees bombarding police with bricks and Molotov cocktails. Instead of it getting any better it is only taking a turn for the worse where entire neighborhoods have been overrun, and citizens cower in fear indoors terrified to leave their homes.
Rioters set cars on fire, loot shops in #Rinkeby, Stockholm https://t.co/Hjp6Hi9rQg pic.twitter.com/zUrdSCHoG3

— RT (@RT_com) February 21, 2017
Here is more from Breitbart:
Almost half the residents in many troubled no-go zones in Sweden say they are too afraid to leave their homes in the evening and at night due to rampant violence and criminality.
According to a survey conducted by the Swedish National Council for Crime Prevention (Brå), residents of troubled suburbs in heavily migrant populated cities like Malmö are increasingly fearful of being robbed or injured by criminals. Nearly half, 48 percent, of respondents in the survey who live in Malmö suburbs feel that the area is too dangerous to go out at night, SVT reports.
The number of fearful residents is high in other areas of the city, the population of which, according to reports, is growing solely due to mass migration. In Northern Malmö, 36 percent said they were afraid to go out in the evenings and in the nearby city of Lund, 22 percent said they felt unsafe at night.
The survey also examined residents' opinions on crime in Swedish society in general. In some areas like the city of  Ystad, 58 percent of those surveyed complained that they had deep anxiety over the levels of criminality in their area.
Leaked Report: Sweden Sees More Than 50 Per Cent Rise in 'No-Go Zones'https://t.co/96h4syMUDn

— Breitbart London (@BreitbartLondon) June 13, 2017
Last month, the Moderate Party said the military should be deployed to aid police in no-go zones because police face danger when answering calls in the areas. In some cases, "youths" have purposely called emergency services to a certain area to attack them.
In one case in Malmö, youths set two cars on fire during the evening and when firefighters arrived they attacked them with rocks and bottles as they attempted to put out the fire. Due to the attack, the firemen were forced to leave the area which led to a building being burned to the ground.
Paramedics and ambulance workers have also been attacked in no-go zones leading to the Swedish Ambulance Driver's Union demanding military-style protective gear for emergency workers operating in the areas.
Sweden's other major cities like Stockholm and Gothenburg showed similar survey results and many in Sweden have become more concerned over the criminality in no-go suburbs despite years of reports of riots and violence. 
No one should feel like a prisoner in their own home or community, but that has happened to the Swedish people thanks to the liberal policies enacted over the last several years. Instead of Sweden's government protecting their own people by stopping the influx of refugees into the country they continue to allow them to pour in and now they are at a breaking point.
This is why we the American people need to remain vigilant and make sure that with the 2018 elections quickly approaching we do what we can to ensure that conservatives are elected to office. Or, what we are seeing happen across Europe and in Sweden will begin to happen here and once it begins it will be difficult to fix it.
Hopefully, for the sake of the innocent people in Sweden and Europe, their governments will wise up before it is too late.