Anti-Trump Protesters Waving Mexican Flags Riot Outside Trump Rally, Destroy Cop Car, Violently Attack Supporters
Trump has exposed the enemy within. These scum thugs waving Mexican flags hate America, Americans, and everything that our country stands for. They violently attempt to deny us our First Amendment rights of peaceful assembly & free speech. I wouldn't be surprised if the illegal scumbags protesting & rioting are tied to Mexican cartels.
The faster all illegals are deported, and a wall is built, the better. If they want a war, we'll bring it to them. The sleeping giant is awake again.
~FD
A Donald Trump rally in California turned into an all out riot when protesters got out of control.
While the Republican presidential front-runner gave a speech in the Pacific Amphitheater in Costa Mesa, California, ironically talking about how safe it was to be at one of his rallies, mayhem took over outside.
The violent thugs, made up of almost all young Latinos according to the Los Angeles Times, carried Mexican flags, stomped on cars, destroyed a police cruiser, attacked passing motorists with rocks and violently assaulted at least one Trump supporter leaving him bloody.
Dozens of protesters have taken to the streets in #CostaMesa pic.twitter.com/6WgKsFLUMl

— Ruben Vives (@LATvives) April 29, 2016
Trump supporter got hurt. pic.twitter.com/W7t1WDQOGM

— Matt Pearce (@mattdpearce) April 29, 2016
Costa Mesa, now. pic.twitter.com/iA1PyeG7D6

— Matt Pearce (@mattdpearce) April 29, 2016
"I'm protesting because I want equal rights for everybody, and I want peaceful protest," one of the protesters, 19-year-old Daniel Lujan, told the Times.
"I knew this was going to happen," he continued. "It was going to be a riot. He deserves what he gets."
Costa Mesa police told the Times that 17 people, 10 males and seven females, were arrested on suspicion of unlawful assembly.
"We could be peaceful and do things different," Arianna Perez, 19, told the Times. "but if we did, we wouldn't get our voice heard."
Social media captured pictures and video of the chaos.
Car burning tires, honking and chanting outside of Vanguard University in #CostaMesa pic.twitter.com/HgKUzOMLXD

— Ruben Vives (@LATvives) April 29, 2016
"If trump wins, civil war will happen and I'm coming after you first," says a Mexican to a blonde with fake boobs. "I'm ready for you bitch"

— Mary Carreon ♫ (@MaryKayyy) April 29, 2016
Police trying to clear protesters from blocking street at #Trump rally, in #CostaMesa, California pic.twitter.com/yw2jQin0SJ

— NetAdvisor™ (@NetAdvisor) April 29, 2016
— Matt Pearce (@mattdpearce) April 29, 2016
Back window has been smashed out of a Costa Mesa police cruiser. Protester: "I think Donald Trump did it!" pic.twitter.com/FTj4JoiAdN

— Matt Pearce (@mattdpearce) April 29, 2016
From earlier, when protesters were trying to flip the police car pic.twitter.com/6tY3dzMOgx

— Jim Dalrymple II (@JimDalrympleII) April 29, 2016
#Trump protesters getting violent. Throwing debris at cars driving by pic.twitter.com/sLqrI1n6Zp

— Gina Ferazzi (@GinaFerazzi) April 29, 2016
Via BizPac Review
Rowdy protests prior to Donald Trump's Southern California rally Thursday evening devolved into all-out rage when the GOP front-runner finished speaking to a capacity crowd at the Orange County fairgrounds. 
Hundreds of protesters swarmed the streets outside the sprawling Costa Mesa venue. Some smashed the rear window of a police car, while a few jumped atop the vehicle. Protesters unsuccessfully tried to flip the car before authorities intervened. An anti-Trump crowd temporarily blocked a freeway onramp, bringing benches and chairs to sit on.
Video: Anti-Trump protesters try to flip police car in Costa Mesa, Calif – KABC via @breaking https://t.co/X60PUcIchn

— helga silva (@helgasilvaNOW) April 29, 2016
The police car, from a few minutes ago pic.twitter.com/o2ChcXadT3

— Jim Dalrymple II (@JimDalrympleII) April 29, 2016
They've now set up benches at the on ramp to 55 Fwy. #CostaMesa pic.twitter.com/sOd2JblUZa

— Ruben Vives (@LATvives) April 29, 2016
Protesters now Newport Blvd and Fair drive where protesters watch vehicles doing donuts. #CostaMesa pic.twitter.com/fHpcTOVlGb

— Ruben Vives (@LATvives) April 29, 2016
As of this writing, police are still determining the total number of people taken into custody. Authorities attempted to break up crowds along city streets throughout the night, tackling pockets as they formed.
#OCSDPIO POST Trump Rally Protest ongoing. Number of detained and arrests still being determined

— OC Sheriff, CA (@OCSD) April 29, 2016
Post Trump Rally protests in street at Fair&Fairview CM- law enforcement attempting to disperse crowd. No arrests pic.twitter.com/aJT4HGzepK

— OC Sheriff, CA (@OCSD) April 29, 2016
— Chelsea Edwards (@abc7chelsea) April 29, 2016
Just witnessed 3 arrests as police ask pedestrians to disperse & move out road: pic.twitter.com/wCuqFgrdxh

— Jeremy Diamond (@JDiamond1) April 29, 2016
Police have declared Trump protest as unlawful assembly. Protestors told to disperse pic.twitter.com/GDpA4bCdjA

— Steve Angeles (@StevieAngeles) April 29, 2016
Arianna Perez, 19, with the sign: "We could be peaceful & do things different, but we wouldn't get our voice heard." pic.twitter.com/xjkDOUY3et

— Matt Pearce (@mattdpearce) April 29, 2016
Even before Trump took the stage in front of thousands to talk his usual fare about building a wall between the U.S. and Mexico and making America great again, his supporters and detractors faced off. Punches were thrown, expletives were shouted. Authorities in riot gear and mounted police had to break up the two sides, forming a barrier between them.
Punches thrown at #Trump rally in Costa Mesa pic.twitter.com/SAYRYKkOfD

— Maya Sugarman (@mayasugarman) April 29, 2016
Later in the evening, fighting between the pro and anti-Trump crowd picked up again, with a handful of supporters intentionally jamming their cars into protest crowds. One Trump supporter's face was bloodied after being punched.
It wasn't all violent, though, at one point, demonstrators line danced.
No words for protestors line dancing outside the Trump rally in Costa Mesa. pic.twitter.com/R2izVHTJEK

— Nidia Becerra (@nidia_b) April 29, 2016
From earlier, protesters dancing pic.twitter.com/ObD6ToEtaY

— Jim Dalrymple II (@JimDalrympleII) April 29, 2016
Via Mashable
Following Donald Trump's rally in Costa Mesa, California, Thursday night, hundreds of protesters lined the streets, blocking cars leaving the OC Fair & Event Center, while others jumped on police cars.
The Orange County Sheriff's Department said about 20 people were arrested, and there were no major injuries. There were nearly 200 officers outside the Trump rally, according to the Sheriff's Department.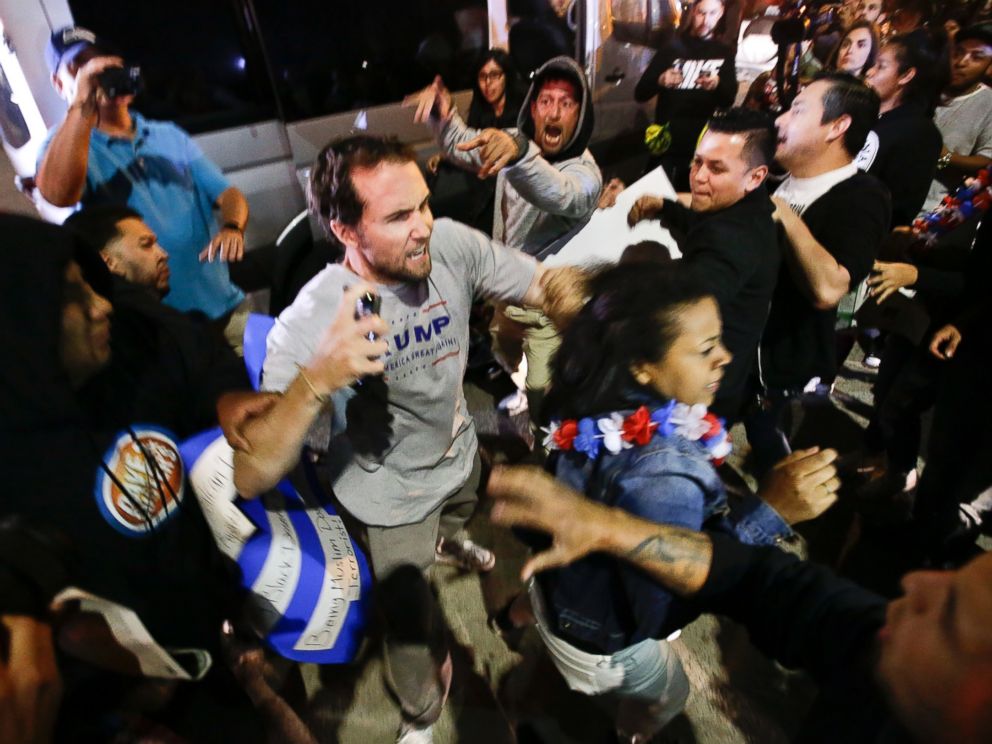 The protesters were met with police in riot gear and others mounted on horseback.
Protesters jumped on police cars and other vehicles, and tossed water bottles and other objects at the police. At least one police car was damaged by the protesters. Protesters were also filmed trying to flip over a police car.
A video posted by Christian Hurtado (@l3vitated) on
Currently, police officers are working to disperse the crowd.
Rebeca Olguin, a Bernie Sanders supporter who was at the scene and posted a video of the mayhem on Instagram, told ABC News she came to protest Trump and his campaign.
"There were some who were peacefully protesting while others were being more open about sharing their opinions," she wrote in an e-mail to ABC News.
Before the event started, the venue closed once it had reached capacity and individuals were trying to jump the fence to get in. They were escorted outside the gate.
The rally — which attracted 18,000 supporters and was held in advance of the state's June 7 primary — opened with families of people killed by undocumented workers from the Remembrance Project. They joined Trump on stage, as they have at previous rallies. "Trump is here to save us all," said Jamiel Shaw, Sr., whose son Jamiel Shaw, Jr., was killed in 2008 when he was 17. Trump in turn took back the microphone and vowed to "Build the Wall."
Via ABC News
Via WZ
Shocking News On Immigration Here In The U.S.
This past week, Steven Camarota appeared on Fox News show, "Tucker Carlson Tonight". He presented what can only be described as shocking news on immigration here in the U.S.
Camarota is the Director of Research at the Center for Immigration Studies (CIS). This organization is an independent, non-partisan, non-profit, research organization investigates and reports on immigration.
His report came from his latest article entitled, "U.S. Immigrant Population Hit Record 43.7 Million in 2016".
That number means that immigrants are now about 15% of our estimated population of 300 million.
Here are some excerpts from Camarota's report:
The nation's immigrant population (legal and illegal) hit a record 43.7 million in July 2016, an increase of half a million since 2015, 3.8 million since 2010, and 12.6 million since 2000.

As a share of the U.S. population, immigrants (legal and illegal) comprised 13.5 percent, or one out of eight U.S. residents in 2016, the highest percentage in 106 years. As recently as 1980, just one out of 16 residents was foreign-born.

Between 2010 and 2016, 8.1 million new immigrants settled in the United States.

Mexican immigrants (legal and illegal) were by far the largest foreign-born population in the country in 2016. Mexico is the top sending country, with 1.1 million new immigrants arriving from Mexico between 2010 and 2016, or one out of eight new arrivals.
The largest percentages of growth of immigrants from various regions of the world include 38% from South Asia; 34% from Sub-Saharan Africa; 29% from the Middle East; and 29% from predominantly Muslim countries!
The largest percentages of growth of immigrants into various U.S. states include 48% in North Dakota; 41% in West Virginia; and 20% in Michigan and Nebraska.
If think these numbers are shocking, try this: the current immigration number reported as 43.7 million means that immigration has doubled since 1990, tripled since 1980, and quadrupled since 1970!
Now here is the scary part of Camatora's report: if we keep the current rate of allowing immigrants into the U.S., the 43.7 million will become 47.9 million in 2020; 56.9 million in 2030; 65.1 million I 2040; 72.3 million in 2050; and 78.2 million in 2060.
And these numbers relate to incoming immigrants only and does not consider their children or grandchildren!
The question that needs to be asked is this:
"Is it in the best interests of our country to continue this rate of immigration?"
If you believe the answer to this question is no, then you need to contact your representatives and senators in Congress and let them know of your concern. You can do that by going to this website and referring Camarota's report in your letters or email messages.
Now hop to it!
FOLLOW us on Facebook at Freedom Daily!
ICE Just Raided Cher's Transgender Kid, DISGUSTING Find Made Inside Is WAY Worse Than We Thought
Cher has seen her day in the spotlight for years as a successful singer but has since slipped into obscurity after her liberal views and gender confused kid got the best of her career. Having been so outspoken about our current administration just backfired on her, when her daughter, now her son, just got raided by ICE who made a discovery that's going to have a nasty ripple effect throughout all of Hollywood.
Cher's oldest child, Chaz Bono, who was born a female named Chastity Bono, apparently had far more hiding in the closet than just his/her gender identity issues. The singer's spawn is now making demands she's not entitled to as President Trump is in charge and doesn't care about what she thinks she needs when she's actively breaking the law, and her mother's status can't get her out of this one.
Bono saved a few bucks or perhaps attempted to be a social justice warrior, in hiring a staff of illegal housekeepers to keep this entitled transvestite comfortable in her own home. When the Immigration and Customs Enforcement (ICE) showed up to deport the illegal "help" to the housekeeper, Bono pitched a royal fit in the only way celebrities and their kids know how to do — on Twitter, as Biz Pac Review reported.
"My housekeeper's helper along with husband & children were arrested by ICE. @JerryBrownGov What R you doing about this?" Chaz had the audacity to ask on the social media site.
https://twitter.com/ChazBono/status/840614443167842309?ref_src=twsrc%5Etfw
She's completely clueless of the cause and is making demands for her housekeeper's "hired help" — which means her housekeeper was paid in such substantial amount that the the help was able to afford hiring their own "help." Unfortunately for this entitled transvestite, she/he had to learn the hard way that just because you think you deserve something, doesn't mean you're going to get it, especially if you openly admit to hiring illegal immigrants not just as housekeeping, but non-essential staff to your housekeepers.
Where there is one illegal housekeeper in Hollywood employed, there are likely far more, and you can pretty much guarantee that this is just the tip of the "ICE"-berg for arrests. Trump is about to hit all those liberal elites in Tinsel Town where it hurts since until it came to their illegal help, they were largely unaffected by the changes and only want to appeal to their audience they trashed Trump to.
Trump Was RIGHT! Look Who Was Just BUSTED For Starting DEADLY Cali Fire That Killed 41 So Far – Here's Why
This is Sick & they Have to pay!
The California wildfires have been raging for quite some time which has caused unprecedented damage in the region.
Now, it is important to note that fires in the California area are not unheard of, but they typically occur in December and January, and not October.
These fires have forced thousands of residents to leave their homes in terror not knowing what they will return to when they are able.
Law enforcement officials have been working tirelessly to figure out who started these horrific wildfires and it appears they may have the culprits that prove President Trump was right yet again. 
On Monday, firefighters have been able to gain control of the raging wildfires in the northern California area.
However, even though these brave firefighters have been able to make headway in containing the fire the death toll has risen to 41.
Over the last week, these raging fires have scorched more than 200,000 acres, destroyed or damaged more than 5,500 homes, and displaced 100,000 people. Though by some miracle on Sunday, the winds changed and the firefighters were able to take advantage of that situation and contain some of the fires.
View from the air: Santa Rosa, California, neighborhoods, businesses destroyed by wildfires. Story: https://t.co/Lbu0Po3Aig pic.twitter.com/Byee9e0ldg

— AP West Region (@APWestRegion) October 14, 2017
Now that the firefighters have been able to make some headway in these deadly fires, law enforcement has been focusing on what caused them, and what they found is shocking. As officials were studying the fires, they noticed a pattern of where the majority of them occurred. It seems that areas hardest hit by these fires were in areas within the legal marijuana business, and they are now suspecting foul play.
As it turns out the areas that are being hit the hardest happens to be pot farms.
CNN Money reported:
Deadly wildfires in Northern California are burning up marijuana farms in the so-called Emerald Triangle.
Blazes have destroyed a number of farms in Mendocino County right before legal recreational sales begin in California.
Cannabis business owners who lose their crops have little reprieve.
"Nobody right now has insurance," said Nikki Lastreto, secretary of the Mendocino Cannabis Industry Association. "They might have insurance on their house, but not on their crop."
Here is more from Got News:
The suspicious timing and sheer destruction of the fires have led them to believe the Mexican drug cartels – infamous for their ruthless tactics – had a hand in starting them. These cartels, which run a large share of the world's multi-billion dollar illegal drug trade, certainly have the means to pull of an attack like this.
They also have an enormous incentive to drive up prices and hurt their competitors, and these fires are already accomplishing that. If Mexican drug lord involvement is confirmed, it will likely spark an international crisis between the United States and Mexico over the latter's failure to rein in its criminal cartels.
Facebook photos provided to GotNews show the wildfires have caused staggering damage, with several before-and-after pictures revealing the extent of the devastation:
The New York Times reported yesterday that tens of thousands of marijuana growers live in this area, the vast majority of whom have no insurance. Furthermore, since marijuana remains an illegal drug under the Controlled Substances Act, the industry still uses cash.
GotNews can confirm that millions of dollars in cash has already been lost to the fires, in addition to tens of millions more in property damage.
According to NBC News, thousands of acres of marijuana have already been burned, and the fires have also wiped out "recent investments in infrastructure to comply with licensing regulations in preparation for recreational marijuana legalization next year."
The total damage caused by these fires will be unclear for a while, as many of them are still burning.
So, what does this all mean and how does this prove that President Trump was right?
As stated previously law enforcement officials are suspecting that Mexican cartels started these devastating fires. The cartel does not like competition especially when it comes to making drug money and if California is now legalizing marijuana you can bet that the drug lords are not happy.
These ruthless individuals will continue on their path of destruction unless there is something to stop them. What that something is would be a wall between the Mexican border and the United States to prevent these people from entering our country. There is no reason that these criminals should be allowed to sneak into America and create havoc on innocent people.
These fires appear to be a message sent from the cartels to scare the legal marijuana farmers from continuing to grow their crop. Now, whether you agree with marijuana or not is not the issue considering that these farmers have the right to grow it, and no illegals should be able to prevent it from happening.
SHARE IF YOU WANT PRESIDENT TRUMP'S WALL BUILT TO PREVENT ILLEGALS FROM ENTERING AMERICA!
H/T [The Gateway Pundit]
FOLLOW us on Facebook at Freedom Daily!