BREAKING!!! SHE Knew Of TERROR PLOT! SEND HER TO GITMO NOW!!!
The widow of mass shooter Omar Mateen is currently gearing up for her upcoming trial in Orlando.  Noor Salman's attorneys and federal prosecutors continued a hearing Friday to discuss whether sealed evidence and an expert witness' testimony should be allowed at her March trial. The hearing was closed to the public. Investigators believe Salman knew her husband "was going to do something bad" prior to the events that transpired at the Pulse Nightclub.  Salman is charged with providing material support to a terror organization and obstruction of justice. Mateen killed 49 people and injured at least 68 more when he opened fire in the gay nightclub in Orlando on June 12, 2016.
The Orlando Sentinel reports that a statement written by an FBI agent and signed by Salman states she was in denial that her husband could hurt other people when he left their home with guns and ammunition. The statement was obtained during an 18-hour interview and written by an FBI agent wherein Salaman allegedly stated – "I knew when he left the house he was going to Orlando to attack the Pulse Night Club."
However, Miami psychologist and expert on false and coerced confessions, Bruce Frumkin, plans to testify Salman's statements to the FBI in the hours just after the horrific shooting occurred were not true. U.S. Judge Paul Byron, an Obama appointee from 2014, ruled in favor of the defense on Friday allowing Frumkin to testify.  Prosecutors sought to block the testimony of Frumkin as his testimony may significantly damage their assertions of Salman's guilt.
The 12-page statement at issue was taken in the hours after the June 12 shooting where Salman was questioned for hours without an attorney after authorities learned her husband was the gunman behind the attack. She has pleaded not guilty, claiming she was suffering from post-traumatic stress disorder or PTSD after suffering years of abuse at the hands of Mateen.
Salman's lawyer Charles Swift argued that Salman's statements to the FBI in the hours after the attack should be excluded from trial. She was in custody and not given proper Miranda warnings, her lawyers said. U.S. attorneys argued that she was not in custody, free to leave at any time and that all her statements were voluntary. Frumkin will testify along with defense attorneys that Salaman of much the same though details of his exact testimony is not known at this time.  She claims to have no idea of Mateen's plot, but her defense conflicts with the signed statement she gave to the FBI, which details her knowledge of Mateen's planning and his path to carry out an attack on behalf of the Islamic State.
According to testimony from the FBI, she told agents multiple times she knew her husband's plans detailing how he was going to attack the Orlando club when he left their home, stating how she knew "my fears had come true and he did what he said he was going to do. I was in denial and I could not believe that the father of my child was going to hurt other people."
Salman's statement also includes her testimony of Mateen's behavior during the two-year span of time leading up to the attack, detailing how Mateen would browse jihadist websites on a daily basis, frequently watching videos of beheadings.  He routinely railed in anger and frustration at what he perceived to be the mistreatment of Muslims in the Middle East and spoke often of retaliation against Americans.
"He said if he did jihad everybody would know who he is," Salman wrote in the statement. Salman's attorneys have been fighting an ongoing battle against the use of this testimony in court.  Frumkin's rebuttal seeks to damage the credibility of this testimony in court.
Salman's signed statement to the FBI details how Mateen bought a rifle approximately four days prior to the attack and she saw it in the trunk of his car.  She detailed how she asked him about the rifle and he became angry at her, telling her not to say "anything to anybody." He then covered it up and claimed it was for his job as a security guard.
Shortly before the shooting, Mateen started looking at places and making comments about attacking them — including Downtown Disney, now called Disney Springs, and City Place in Palm Beach — according to Salman's statement. The couple, with their young son in the vehicle, drove around Pulse a week before the shooting. He asked Salman when driving by Pulse, "How upset are people going to be when it gets attacked?" the statement said.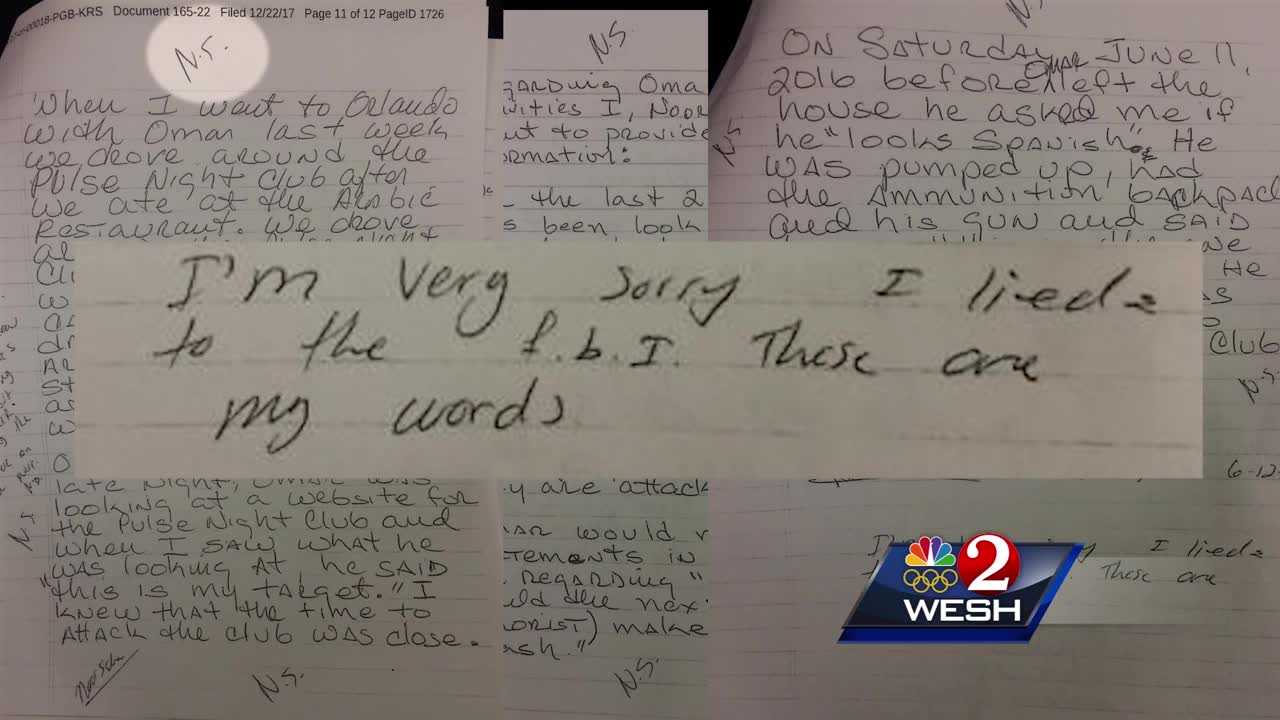 Federal prosecutors state Mateen was casing potential targets though they claim it is currently unclear as to why exactly Pulse was specifically targeted.
He also bought what FBI agents term as a "significant" amount of ammunition and Salaman's testimony states he went to the shooting range "a lot" with claims it was for work. Mateen spent thousands of dollars in the weeks before the shooting, including on a rifle, jewelry for his wife and toys for their son, she said. He also made Salman a beneficiary on his bank accounts, telling her it was "in case something happened," she wrote in the statement.
Two days before the shooting, Salman saw Mateen looking at the website for the club. When she saw what he was doing, he said, "this is my target," the statement reads. Salman told FBI agents, "I knew that the time to attack the club was close."
The night before the attack, he left the house and looked "pumped up," she wrote in the statement, adding he told her, "This is the one day."
He had a handgun in a holster around his waist and put on a backpack that had ammunition inside, she wrote, adding she knew "this was the time that he was going to do something bad." Mateen was armed with two guns — a 9mm semiautomatic pistol and a .223-caliber assault rifle — when he attacked the club.
"I knew when he left the house he was going to Orlando to attack the Pulse nightclub," she wrote ending her statement with an apology stating, "I'm very sorry I lied to the FBI. These are my words."
FOLLOW us on Facebook at Freedom Daily!
BREAKING News From DC! THEY Caught HIM!!! ENJOY PRISON
ROT IN HELL SCUMBAG
This is just unbelievable on every level!
The United States Justice Department has now announced that an ex-CIA agent suspected by FBI investigators of helping the Chinese intelligence dismantle American spying operations and identify informants in China has finally been arrested.
In addition to this stunning revelation, it's also been confirmed that the way this former officer managed to act in favor of China´s interests is the most disturbing detail of this case, which involves the FBI and their corruption that runs through the core of the organization.
Since the agency took five years in executing actions against the suspected spy it gave him five long years in which he had more than enough time to successfully sell multiple batches of classified US Intelligence information.
But what appears to be one of the most curious details about this man is the fact that he decided to travel to the states back in 2012 in order to live with his family in Virginia. During that time agents of the bureau searched his luggage during hotel stays in Virginia and Hawaii and were able to find two small books which contained classified information giving the identities of CIA assets in China. But what's perhaps the most disturbing part of this whole saga is that after being questioned by FBI officers in 2013, this traitor was actually allowed to return to Hong Kong. This is something the treasonous anti-American Barack Hussein Obama Administration should have never let happen.
LATEST: Ex-CIA officer Jerry Chun Shing Lee landed at JFK on a Cathay Pacific jet last night. He was taken into custody in what may be the biggest spy case in nearly 30 years. w/ @KenDilanianNBC @rwindrem and Pete Williams: https://t.co/BR2LidII2F pic.twitter.com/VGchOiVqjr

— Tom Winter (@Tom_Winter) January 17, 2018
But now this traitor came back to the states where he has now been arrested. And to add to the mystery no one seems to understand his motive for his return if he had prior knowledge he would be arrested the moment he got off the plane.
Conservative Daily Post Reports:
JUST IN: Obama FBI Gave Arrested CIA Officer FIVE Years To Sell Classified Material To China, Sources Killed
The FBI lasted five years in executing actions against the suspect, a time in which this person successfully sold classified information.
Yesterday, the Justice Department announced that an ex-CIA agent suspected by investigators of helping the Chinese intelligence dismantle American spying operations and identify informants has finally been arrested. In addition to the way this former officer managed to act in favor of China´s interests, one of the most revealing details of this case involves the FBI. After all, this agency lasted five years in executing actions against the suspect, a time in which this person successfully sold classified information.
Naturally, the collapse of the spy network represented one of the worst intelligence failures in the history of the United States. The name of the ex-CIA officer is Jerry Chun Shing Lee, a 53-year-old man who was quite useful to the Chinese regime.
His arrest capped a strong FBI inquiry that started in 2012, just two years after the CIA began losing its informants in China in the most mysterious way. When this situation was taken place, the main question was how the Chinese intelligence managed to get the agency's most dearly held secrets and the information of so many sources.
Why the bureau refused to arrest Lee after originally finding the classified material in his books remains unclear. James Comey was the FBI director during that period.
At the time, some intelligence officials concluded that there had to be a mole inside the agency that was exposing its list of informants. Other intelligence officials believed that the Chinese regime managed to hack the agency´s covert communications. This one was used to communicate with the foreign sources of information.
Apparently, Lee has been living in China since 2007, the year in which he decided to leave the agency. At that time, he moved to the city of Hong Kong and started to work for a well-known auction house.
This man was apprehended at the Kennedy Airport in New York on Monday. Eventually, Lee was charged in federal court in Northern Virginia with the unlawful retention of national defense information.
The name of the ex-CIA officer is Jerry Chun Shing Lee, a 53-year-old man who was quite useful to the Chinese regime.
What seems to be one of the most curious details about this man is the fact that he decided to travel to America in 2012 in order to live with his family in Virginia. Reports revealed it was exactly during that trip that agents of the bureau searched his luggage during hotel stays in Virginia and Hawaii and found two small books that contained classified information. After being questioned by FBI officers in 2013, he went back to Hong Kong.
So far, it remains unclear why Lee decided to return to the United States this month, considering that he probably knew he was going to get arrested. While many believe this could be a part of a major plan, it is possible that this was nothing more than an intelligence move by the CIA and FBI.
In the books, the 53-year-old man wrote several details about certain meetings between the agency´s informants and undercover agents. According to court papers, Lee wrote the real name of these individuals, as well as their phone numbers. Prosecutors assured that the information that Lee had in those books reflected the same data contained in the classified cables that this man had written while he was working at the CIA.
The number of informants lost in China rivaled losses in Russia and even the Soviet Union during the betrayals of Robert Hanssen and Aldrich Ames, formerly of the FBI and the CIA.
Thanks to Lee´s act, more than a dozen informants of the agency were imprisoned or killed by the Chinese regime. According to the New York Times, the number of informants lost in this country rivaled losses in Russia and even the Soviet Union during the betrayals of Robert Hanssen and Aldrich Ames, formerly of the FBI and the CIA.
One of the most curious details about Lee´s case is that the sworn affidavit unsealed yesterday doesn't say whether there is any kind of evidence that he disseminated the classified data to the Chinese regime or any other foreign agents.
The affidavit was signed by FBI Special Agent Kellie O'Brien. He stated that agents of the bureau interviewed Lee in five different opportunities back in May and June 2013. Apparently, Lee didn't mention having the classified documents. In addition, this man didn't mention anything about the documents during certain encounters with former CIA colleagues.
According to court documents, Lee served in the U.S. Army from 1982 to 1986. He eventually joined the CIA in 1994 as a case officer, and eventually served in China during his career. Some former agency officials said that those who knew him always claimed Lee left the CIA quite annoyed.
Why the bureau refused to arrest Lee after originally finding the classified material in his books remains unclear. If convicted, this man faces up to 10 years in prison.
Please share if you agree we need to get to the bottom of this mess….
Melania Handed Note About Barron During Meeting, Shocked When She Reads It!
SHE NEEDS SUPPORT NOW!
The president and First Lady have been traveling abroad for White House business since Friday, on a week-long tour touching down in several countries. Melania Trump is far away from home and missing their 11-year-old son who she's extremely close to and involved with in his everyday activities as a very hands-on mom. Adjustment to life as the First Family has come with more challenges than most, given the vicious nature of those who don't like Donald Trump.
While on their short 24-hour stop in Israel, Melania stopped by a children's hospital with the Prime Minister's wife, Sara Netanyahu, to visit children facing insurmountable problems. As she showered them with genuine love and attention, she undoubtedly thought about her own boy who was back at home and being watched over by people she and the president trust. Later, when she was meeting with the Israel's First Lady Nechama Rivlin, she was handed a note about Barron in a gift that left her absolutely stunned.
It's no secret that Melania's first and most important priority his her young son Barron. He's who she stayed in New York for during the stressful first months of Donald Trump's presidency. He's also the one she's fiercely protected against an adversary she never thought he would be relentlessly attacked by — grown adults of a different political party than his father's.
Being a person in the public eye can be lonely despite the number of people who know your name and give you attention. The relentless ridicule and comments made about this child is not something any kid should ever have to face, especially since he didn't choose to be the First Son of the United States. Nechama understands this struggle all too well as she too has faced similar scrutiny in her own country, as part of what comes with the territory of being the wife of a world leader.
While Nechama and Melania spent some time together, the gracious First Lady of Israel leaned in and handed Melani a gift. It wasn't for the Melania, rather Nechama decided to do something special for Barron and within the gift of the book was a much deeper meaning that was especially touching for our First Lady.
Independent Journal Review reports:
"The first lady got copies in three different languages, but it's the content of the book that matters."
"According to descriptions, the book illustrates a mother and son, alone on a walk. Her boy is named Ben. The son is worried that he is alone in the world because he is "special," but his mother reassures him with a hug."
If anyone is in need of some reassurance, it's Barron who has been the brunt of undeserved torment by adults in this country who simply hate who he was born to. Nobody knows how to comfort him the way his mother does. This incredible story written about two other people well before the Trumps moved to the White House, seems to perfectly represent this mother and son relationship now and the struggles young Barron is facing today.
The Israeli First Lady's thoughtful gift was as much of a pleasure for her to give Melania as it was for our First Lady to receive it. Nechama could see that Melania was visibly "moved" by what the note said in the book and "immediately understood." "It was important for me to give the Barron, who remained at home and is only 11 years old, a souvenir from his parents' visit to Israel," Nechama wrote on Facebook.
The Israeli First Lady also saw something in Melania that countless Americans fail to see, describing her as "a charming woman inside and out, sensitive and special, in her Facebook post. Melania exudes these incredibly compassionate qualities which are prevalent in her time spent with sick children in hospitals around the world and her warm approach to world leaders. As she walked with Nechama, who is ill herself and hooked up to a breathing machine, you can see the genuine love and concern for this woman in Melania's face, which was captured in a photo from the visit.
What the world needs now is compassion for people which both Nechama and Melania show on the daily basis, both in their homes and abroad. It's incredibly touching that with any number of gift options that this world leader could have given America's First Lady, she thought to give her something meaningful for her persecuted kid who doesn't deserve the torment he endures.
BREAKING: MAJOR LIBERAL NEWS Outlet Just RAIDED!!
THEY ARE GOING DOWN! TRUMP GOT 'EM!
Now, this is an interesting twist of events.
This morning over two dozen investigators from the Manhattan District Attorney's Office raided the offices of Newsweek and its parent company, IBT Media.
IBT Media was co-founded by Jonathan Davis and Etienne Uzac and from we have been able to uncover the IRS placed a $1.2 million federal tax lien against Uzac back in December 2017. Although the reports are still a bit sticky the IRS agents were observed photographing servers in the offices of Newsweek Magazine but they did not go as far as to download any files at the offices located at 7 Hanover Square. What they appeared to be doing was photographing the serial numbers on the machines instead of finding out what the contents actually are.
Looking into reports that the Manhattan District Attorney's Office @ManhattanDA raided Newsweek/IBT Offices today….sources say police have been there for hours. The DA has declined to comment.

— Avi Asher-Schapiro (@AASchapiro) January 18, 2018
Interestingly enough IBT has previously been linked to a Christian church which was founded by the Korean-American evangelist David Jang and Olivet University. That's the same university located in California that Jang's followers founded, The IRS had not responded to a call by press time and the Manhattan DA has declined to comment. So we will see where this all leads to in the coming weeks.
Asked a Newsweek insider about that Trump/erectile dysfunction story

This is brutal pic.twitter.com/iHFSWuMz4W

— Jon Levine (@LevineJonathan) January 18, 2018
Even the far left Salon.com agrees:
Newsweek rehashes bogus scenario in which Hillary Clinton could still win the 2016 election
A story with no value and no newsworthiness is causing people to wonder what Newsweek was thinking
There exists, in some circles, a fantasy in which President Donald Trump is impeached, and Hillary Clinton is somehow named president. Those circles tend to be Republican ones, and one can argue they exist as some sort of nightmare fuel for conservatives itching for a reason to back Trump in his prolonged fight against special counsel Robert Mueller.
But a day after the president and his party tried to publicly shame the press with the term "fake news," Newsweek gave us a story that makes absolutely no sense — one in which Trump was impeached, Vice President Mike Pence was impeached and Paul Ryan somehow gifted the presidency to Clinton instead.
That fantasy was borne out of a blog post in October penned by Harvard Law professor and activist Lawrence Lessig, who wrote that Mueller's investigation would eventually lead to Trump's impeachment. While that is improbable, it's not completely impossible.
But Lessig took his theory a step farther, saying that, in some world, the presidential chain of succession would reach Paul Ryan, who would literally hand the most powerful office in the nation from himself to Clinton — a member of the opposite party and his party's enemy number one.
Soak in this magical fairytale:
[If collusion is proven] the first step is obvious. Trump should resign or, if he doesn't, he should be impeached.
The second step should be obvious as well: Pence should resign or, if he doesn't, he should be impeached. He benefited from the criminal (and treasonous) conspiracy just as much as Trump. He shouldn't benefit even more by becoming the residual President.
Under the law as it is, this leaves Paul Ryan as President. And the hard moral question that Ryan would then face is whether he should remain as President. By hypothesis, we're assuming the office was effectively stolen from the legitimate winner by a criminal and treasonous act of the (previous) leader of Ryan's own party. Ryan's being President is just the fruit of that poisonous tree. So should he just ignore that? Or should he acknowledge the wrong, and act to make it right?
President Ryan would have the right to nominate a Vice-President. That right is specified in the 25th Amendment. That nominee then becomes Vice-President once confirmed by a majority of both houses. That's how Gerald Ford became Vice President. And that's how he eventually became President without ever running for that office.
If Ryan became President because the Trump/Pence campaign committed treason, who should he nominate as his Vice President? The answer seems unavoidable: He should nominate the person defeated by the treason of his own party, and then step aside, and let her become the president.
The theory is, to put it mildly, bonkers. No one should give it more than one second of thought.
But that's exactly what Newsweek did on Thursday, revisiting Lessig's old blog post to advance it with one simple question: Does he still believe that? That question is the only reason the Newsweek article exists. It was answered with a sure, why the hell not? Per Newsweek:
On Wednesday, Lessig told Newsweek this scenario was still a possibility.
"This is one way it could happen," Lessig said. "But that's very different from saying I think it will happen, or should happen, or [that] the evidence is there for it to happen."
Since the essay was published, there hasn't been "any evidence that's come out that's resolved the question, whether there was some conspiracy to steal the election," the professor said.
So there you have it. Nothing has changed whatsoever. Indeed, if anything, improbable scenario has become less probable, as Lessig admits (he also concedes that there is no grounds for thinking it would be probable). The only possible news value here is that Newsweek asked Lessig if something has changed, and found out that nothing has. It's pure air blowing in the wrong direction.
Many online came to that same conclusion.
No Newsweek, Crooked Hillary will never be our Commander In Chief, And you know this fact very well.
As you can clearly read in the above article, Newsweek Magazine, which was at one point a great publication for up and coming writers and journalists has, in the Trump era, become nothing more than a swamp propaganda extension of the deep state. An extension where they rely on shock headlines and fake news articles twisted in multiple leftist slants in order to sell their rag of a magazine. Let's hope and pray Newsweek has its days numbered, for the sake of the nation.
Please share if you agree Newsweek needs to end its publication….