BREAKING News From Las Vegas!! The US ARMY Just Filed a Major Lawsuit
JUST AFTER SHOOTING….
The United States Army filed a trademark challenge against a Las Vegas hockey team over its use of a gold and black color scheme and the name "Golden Knights."  The notice takes issue with the Golden Knights' logo, coloring scheme, and name, which the hockey team shares with the Army's parachute team with claims elite parachute team has owned the name and colors for decades.
The official complaint charges the Las Vegas Golden Knights hockey team with trademark and copyright law violations due to the Army Golden Knights parachute team's use of the name and color scheme since 1969 with assertions that the Army owns "common law rights in color scheme black+gold/yellow+white."
In its challenge filed with the U.S. Trademark Trial and Appeal Board, the Army says the NHL team "has chosen and used a similar black+gold/yellow+white color scheme on uniforms, marketing, advertisements and its hockey arena, mimicking the opposer's colors and further adding to the likelihood of confusion of the public." The Army cites as proof of the alleged theft statements, interviews, and even Tweets by those associated with the team as having chosen the name and colors because they were linked to the armed forces.
The Golden Knights Parachute Team versus the Vegas Golden Knights Hockey Team
Three grounds of opposition are listed in the filing —
Trademark Act Section 2(d): priority and likelihood of confusion
Trademark Act Sections 2 and 43(c): dilution by blurring
Trademark Act Section 2(a): false suggestion of a connection with persons, living or dead, institutions, beliefs, or national symbols, or brings them into contempt, or disrepute.
The filing claims that the Army "believes it will be damaged" by the registration of the mark, that they have long used the mark (since "at least 1969") in connection with its U.S. Army Parachute team, as well as for recruiting efforts, and public relations for the U.S. Military. The similar color scheme is also noted in the notice of opposition, claiming the Army owns "common law" rights to "black+gold/yellow+white". [you can read the entire filing here]
As part of their grounds of opposition, the Army references numerous quotes made to the media by Vegas Golden Knights owner Bill Foley as well as General Manager George McPhee including those published in the Washington Post following the unveiling of the Golden Knights uniforms in June of 2017. In that article McPhee suggests the color scheme was chosen because "Foley is a 'West Point Guy'" in reference to the United States Military Academy in West Point, NY.
The WaPo article states in part –
The uniform's black, gold and gray color scheme was inspired by West Point's color schemes. The Golden Knights' majority owner, Bill Foley, is a West Point graduate, and he wanted black, gold and gray — the same colors Army's teams use — to be part of the color scheme.
"Bill Foley is a West Point guy, sort of using those colors," Golden Knights General Manager George McPhee said. "You know his history at West Point. You know about the classmates he had that he lost serving this country. So, those colors mean a lot to us, and will mean a lot to our players. And we're really proud of the logo. It's clean, it's symmetrical, it's kind of bold, and again it stands for something."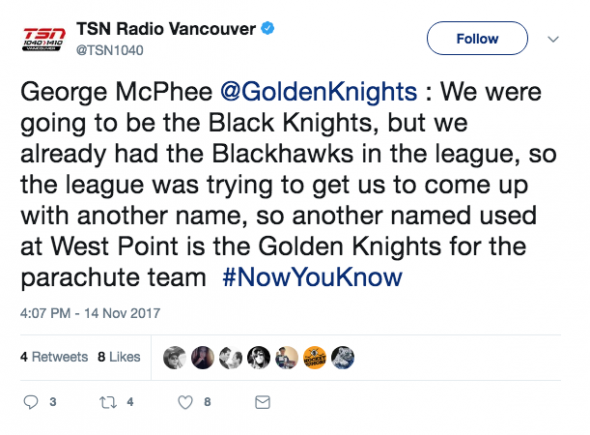 Also cited as additional "proof" are 2016 comments made by the team's general manager, George McPhee, stating – "We were going to be the Black Knights but there's already a Blackhawks in the league … so another name used at West Point is 'Golden Knights' for the parachute team".
The Vegas Golden Knights have until February 19, 2018, to respond to the notice of opposition or they may risk losing the trademark. The full schedule of deadlines is listed below –
The Army has been unhappy with the hockey team's choice since it announced the new name and uniforms in November 2016. The team issued a strongly worded statement to dispute the Army's challenge –
"We strongly dispute the Army's allegations that confusion is likely between the Army Golden Knights parachute team and the Vegas Golden Knights major-league hockey team. Indeed, the two entities have been coexisting without any issues for over a year (along with several other Golden Knights trademark owners), and we are not aware of a single complaint from anyone attending our games that they were expecting to see the parachute team and not a professional hockey game. That said, in light of the pending trademark opposition proceedings, we will have no further comment at this time and will address the Army's opposition in the relevant legal forums."
Many are finding the Army's challenge to the hockey team's name and colors to be suspect, however. Trademark and copyright expert Jennifer Ko Craft is a member of the  Intellectual Property and Media, Sports & Entertainment team for law firm Dickinson Wright and Craft explains why she believes the Army is overstepping –
"Sometimes, you need to step back and put aside what the cases and rules say, and ask yourself — would someone mistakenly buy a ticket to a Vegas Golden Knights hockey game, thinking that they are buying a ticket to an Army Golden Knights parachute event? I just don't see it, and I would be surprised if the TTAB (Trademark Trial and Appeal Board) rules in the Army's favor."
Further at issue is the fact that neither the Army nor any government entity has ever filed for any trademark or copyright protections for the parachute team's name and symbols but is instead relying on "common law" to make its case.
BREAKING!! HE DID IT! Here's Trump's HISTORIC Accomplishments In Just His FIRST YEAR!
Although the NeverTrump movement and the Democrats will never admit it President Trump has had an awesome first year in office.
President Donald J. Trump had what can be coined as the best first year for any President in US history since Franklin D. Roosevelt took office as the Great Depression was winding down. And these great accomplishments were possible even though the corrupt Barack Hussein Obama Administration and the Democrat Party along with their lackey's in the mainstream media have done nothing but try to convince people we are in the worst times our nation has never seen.
President Trump was inaugurated on January 20th, 2017. Only one year short ago today and since then his accomplishments have been nothing short of spectacular with a touch of miraculous. Along with the fact that he has kept every promise he made during the campaign season, from putting America and Americans first, to fixing our dismal economy under Obama, to making good on judicial appointments and cracking down on illegal aliens in our nation.
Complete list of Trump's first-year accomplishments:
The Economy
The US stock market is a barometer of economic activity and since President Trump was elected President it has skyrocketed.
The stock market on Wednesday, January 17th, 2018, this past week, says it all. On that day the Dow broke 26,000 points for the first time in its history. As a result the Dow broke the record for the fastest 500, 1,000, 2,000, 3,000, 4,000, 5,000, 6,000 and 7,000 point increases between major milestones in the history of the Dow. All of these increases occurred since Donald Trump was elected President.
The Dow today stands at 26,071.7. It is up 42% since the 2016 election and 31% since last year's inauguration. The Dow had more all-time closing highs in 2017 than any year in history. President Trump enjoys 95 all-time highs since his election and 78 since his inauguration. The Dow is up an amazing 7,739 points since the election.
Americans of all walks of life are seeing their 401k's explode because of President Trump.
Today there are more people working than at any time in US history. More than 2 million new jobs were created in 2017 under President Trump and as a result more than 160 million people are working in the US today.
President Trump increased the GDP growth rate to above 3% in the 2nd and 3rd Quarters and the 4th Quarter was sizzling. President Trump could reach a 3% GDP growth rate his first year in office, an annual GDP that the US hasn't seen in a decade. At the end of the 3rd Quarter the national GDP reached $19.5 trillion for the highest recorded GDP in US history.
The President's tax plan passed in late December and is already benefiting Americans and American companies. Employees will see increases in their pay next month due to the lower Federal taxes. Millions of Americans have received bonuses due to the tax cuts and major companies have announced plans to move capital and operations to the US due to these cuts. The benefits of these cuts haven't even transpired yet but the excitement amongst workers and companies is electric. 2018 is poised to have one of the greatest economies in US history!
Foreign Policy
President Trump vowed to destroy ISIS. Despite President Obama saying that ISIS will be around for a generation, these murderers and terrorists in the Middle East were decimated over the past year. Both Syria and Iraq have declared victory over ISIS and due to President Trump's resolve, less than 1,000 ISIS fighters are estimated remaining.
President Trump met with the Pope, leaders of 50 Muslim countries and Israeli and European leaders in his first trip abroad. He demanded that the Muslim leaders remove radicals from their countries.
The President refused sending Pakistan security assistance in the millions due to the Pakistani's harboring terrorists. He stopped an Obama last minute $221 million transfer to Palestine and cut aid to Palestinians in half. He showed that the US is unwilling to work with Muslim entities that support radical Islam.
On President Trump's successful trip to Asia he bundled an estimated $300 billion in deals for the US. He met with Asian leaders and was the first US President and foreign leader to dine in China's Forbidden City since the founding of modern China.
US Policy
The President named and successfully put in place a new Supreme Court Justice, Neil Gorsuch. He signed more than 90 executive actions in his first 100 days alone. The actions included –
* Dismantling Obama's climate change initiatives.
* Travel bans for individuals from a select number of countries embroiled in terrorist atrocities.
* Enforcing regulatory reform.
* Protecting Law enforcement.
* Mandating for every new regulation to eliminate two.
* Defeating ISIS.
* Rebuilding the military.
* Building a border wall.
* Cutting funding for sanctuary cities.
* Approving Keystone and Dakota pipelines.
* Reducing regulations on manufacturers.
* Placing a hiring freeze on federal employees.
* Exiting the US from the TPP.
What an awesome year it has been. And he's only getting started.
In contrast, by this point in the Barack Hussein Obama presidency, we had huge unemployment numbers and were growing every day. We were bleeding jobs at a breakneck speed and our deficit was set to double under the huge entitlement plans the Democrat Party was promoting. We had a president who took the time to go to every nation who hates us and apologize for what he coined as our arrogance and need to force our own culture on the rest of the world. He would put us Americans down every chance he had, while at the same time propping up our enemies and cultures that are nowhere near as great as ours and who have never contributed to society anywhere near as much as we have.
Please share if you can't wait to see what President Trump accomplishes in year two!
FOLLOW us on Facebook at Freedom Daily!
BREAKING NEWS!!! Here It Is!! Congress MEMO RELEASE! THEY'RE GOING TO PRISON!!
#ReleaseTheMemo has the rallying cry for Conservatives, Republicans, and those on the Right for the FBI/FISA/Russia memo.  We have been shouting it from the rooftops publically lobbying Intelligence Chairman Devin Nunes for the release of the memo for the last few days and it seems we are finally being heard.  Many members of Congress themselves taking to social media themselves to lobby for the public release of the memo.  Men like Rep. Dave Joyce of the 14th District of Ohio who tweeted –
"Great news! Our efforts to ReleaseTheMemo have been effective and the HPSIC plans to begin the process to release the FBI/FISA/Russia memo. This may take up to 19+ Congressional work days but Americans deserve to know the truth."

Great news! Our efforts to #ReleaseTheMemo have been effective and the HPSIC plans to begin the process to release the FBI/FISA/Russia memo. This may take up to 19+ Congressional work days but Americans deserve to know the truth.

— Dave Joyce (@RepDaveJoyce) January 20, 2018
Zero Hedge reported all hell is breaking loose in Washington D.C. and rightfully so after a four-page memo detailing extensive FISA court abuse was made available to the entire House of Representatives Thursday. It demonstrates that the government views our fourth amendment as simply words on paper and the contents of the memo are so explosive it could and most definitely SHOULD lead to the removal of senior officials in the FBI and the Department of Justice and the end of Robert Mueller's special counsel investigation.
Rep. Matt Gaetz (R-FL) on FISA memo: "I think this will not just end with firings, I believe there are people who will go to jail!" #ReleaseTheMemo pic.twitter.com/7pxs2mEBQ5

— Ryan Saavedra 🇺🇸 (@RealSaavedra) January 19, 2018
As a result of this revelation, many House Republicans approached Speaker Paul Ryan about incorporating a vote to make public this explosive new FISA abuse memo as part of government shutdown negotiations. The four-page document, circulated to the full House details the egregious abuses of surveillance by the FBI, DOJ, and Obama administration against the Trump campaign during and after the 2016 US presidential election.
Releasing this classified info doesn't compromise good sources & methods. It reveals the feds' reliance on bad sources & methods.

— Lee Zeldin (@RepLeeZeldin) January 18, 2018
While the report is classified as Top Secret, I believe the select committee should, pursuant to House rules, vote to make the report publicly available as soon as possible. This is a matter of national significance and the American people deserve the truth.

— Ron DeSantis (@RepDeSantis) January 18, 2018
The revelations contained within this Republican majority authored report is astounding, to say the least.  Rep. Matt Gaetz (R-FL) describes it as "jaw-dropping and demands full transparency" while the top-ranking Democrat on the House Intel Committee, Adam Schiff (D-CA) attempts to dismiss the memo as little more than "profoundly misleading" talking points drafted by Republican staffers.
Schiff calls it "rife with factual inaccuracies and referencing highly classified materials that most Republican Intelligence Committee members were forced to acknowledge they had never read, this is meant only to give Republican House members a distorted view of the FBI. This may help carry White House water, but it is a deep disservice to our law enforcement professionals."
As reported by Bloomberg –
Gaetz said the effort was led by Freedom Caucus Chairman Mark Meadows of North Carolina and caucus co-founder Jim Jordan of Ohio.
Jordan confirmed that some conservatives had "highlighted" in continuing resolution talks that it was "extremely important" that the memo go public. He said it was not something they were requiring of the Republican leadership in return for votes. "But it was something we definitely talked about — that needs to happen," Jordan added.
Meadows earlier referred to "subplots" of promises the Freedom Caucus was able to extract from the leadership before he agreed to support the continuing resolution.
"Mr. Meadows and Mr. Jordan and many conservatives want to include in this negotiation a requirement that the House make public intelligence documents that highlight the unfair treatment of the president" by the FBI and the Justice Department, Gaetz said.
Gaetz said he couldn't describe the contents of the entire memo put together by the House Intelligence Committee "because to do so would reveal classified information, in the absence of a vote to do so," he said. "Just 218 votes and the American people can read this intelligence information that goes to the fundamentals of our democracy."
"Part of me wishes that I didn't read it because I don't want to believe that those kinds of things could be happening in this country that I call home and love so much," said Meadows.
Other Republican Congressmen have weighed in with their opinions as well expressing their disgusted most notably Rep. Steve King (R-IA) stating – I have read the memo. The sickening reality has set in. I no longer hold out hope there is an innocent explanation for the information the public has seen. I have long said it is worse than Watergate. It was neverTrump & alwaysHillary. #releasethememo
I have read the memo. The sickening reality has set in. I no longer hold out hope there is an innocent explanation for the information the public has seen. I have long said it is worse than Watergate. It was #neverTrump & #alwaysHillary. #releasethememo

— Steve King (@SteveKingIA) January 19, 2018
Calls for the memo's release have dominated social media since its existence was made known, with many suggesting it be leaked in a similar fashion to Dianne Feinstein's publication of transcripts of a closed-door testimony before the Senate Judiciary Committee by opposition research firm Fusion GPS co-founder Glenn Simpson.
Hey @AdamSchiff you were very vocal after and almost certainly leaked info during my private testimony. All of a sudden you are rather quiet about this memo. I thought you were all about transparency? 🤔 #FullOfSchiff #ReleaseTheMemo

— Donald Trump Jr. (@DonaldJTrumpJr) January 19, 2018
I viewed the classified report from House Intel relating to the FBI, FISA abuses, the infamous Russian dossier, and so-called "Russian collusion." What I saw is absolutely shocking.

This report needs to be released–now. Americans deserve the truth. #ReleaseTheMemo pic.twitter.com/oP2UNujKQL

— Mark Meadows (@RepMarkMeadows) January 19, 2018
There are 60M+ Americans about to be red pilled. Like the Matrix, their entire reality is about to come crashing down. Nothing they think they know to be true is. It's all been a lie. #ReleaseTheMemo pic.twitter.com/lX7x8KpQUE

— TruthInGovernment (@TruthinGov2016) January 19, 2018
Representative Jody Hice of Georgia's 10th District joined the call for transparency to #ReleaseTheMemo stating by way of social media – "Earlier this morning, I examined the classified, four-page memo from @HouseIntelComm regarding the FBI, DOJ, and the so-called #RussianCollusion. To put it simply, "WOW." I joined the call to #ReleaseTheMemo. Americans deserve truth and transparency."
Earlier this morning, I examined the classified, four-page memo from @HouseIntelComm regarding the FBI, DOJ, and the so-called #RussianCollusion. To put it simply, "WOW." I joined the call to #ReleaseTheMemo. Americans deserve truth and transparency. pic.twitter.com/r2RJnLNaUL

— Rep. Jody Hice (@CongressmanHice) January 19, 2018
Rep. Ron DeSantis states of the memo and the necessity to release it to the American people – "While the report is classified as Top Secret, I believe the select committee should, pursuant to House rules, vote to make the report publicly available as soon as possible. This is a matter of national significance and the American people deserve the truth."
FOLLOW us on Facebook at Freedom Daily!
BREAKING News From California!! SHE'S GOING TO JAIL!!
Reports are saying the mayor of Oakland, California, is now vowing to face jail time to protect illegal aliens from facing America's immigration laws as the Trump administration plans to ramp up its enforcement of our nation's immigration laws.
The loony leftist liberal mayor of the crime-infested city of Oakland California Libby Schaaf is now saying she would go to jail in opposition to ICE officials if they come in to deport illegals in her town.
In an interview with local area news media, Schaaf branded President Trump as the "bully in chief." She also added that It was no surprise that the "bully in chief" is continuing to try to intimidate Oaklands most vulnerable residents. She continued by saying that the city of Oakland hs been very clear that their values are to protect all of their residents regardless of where we come from, and they are exercising their legal right to be a Sanctuary City and to protect their residents.
She finished off the interview by saying that Sanctuary Cities are the ones that are correct in this matter and that for the federal government to come in and enforce Federal Law is illegal. What????
Schaff is willing to go to jail to protect these criminals she calls their "Most Vulnerable Residents." Yet she doesn't give a damn about the crime-infested streets of Oakland, which is one of the most dangerous cities in America. Every weekend Oakland suffers countless shootings and other violent crimes and she is silent. Oakland has 325% higher crime rate than the national average, but the moment the American President does what he's bound to do by the United States Constitution and protects its law-abiding citizens by enforcing the law she all of a sudden gets concerned. Not about American Citizens, but about foreign national criminals living in our nation illegally.
Is your city safe or it is crime infested?
The safety of residents in the United States varies from city to city. Some cities are quite safe with friendly neighborhoods and stable businesses. Others are rather unsafe with residents at risks of crimes such as murder, burglary, and rape. It is important for US residents, families, investors and professionals to be able to identify safe cities where they can live, invest, work and raise their families.
The safest cities in America
The following cities are considered the safest in America. Some factors considered in putting the list together range from violent crimes, drug crimes, sex crimes. These include incidents of violent crime, motor vehicle accidents, drug use and other measures of safety. Investors, families, new residents and most other people love these cities as they can safely raise their families and invest. Here are some of the safest cities in America.
Bellevue, Washington
Plano, Texas
Honolulu, Hawaii
Irvine, California
Toledo, Ohio
Some of the most dangerous cities in America
These cities are labeled dangerous due to the high crime levels reported as well as safety issues such as drunk driving, drug usage, homelessness and so on. Here is a list of some of these cities.
Detroit, Michigan
Philadelphia, Pennsylvania
Oakland, California
St. Louis, Missouri
Memphis, Tennessee
A violent crime takes place in the USA every 26 seconds. Americans are more likely to tweet about incidents like drive-by shooting or meth labs and rapes on social media site Twitter than other users. Common crime tweets include shooter. Killed, killing, drive by, robbed, robbery, stolen, stealing, gunshots and so on. This information has been well tabulated and clearly explained on the ABODO blog.
Current trends in crime in the US
Certain factors are very clear regarding crime in America. According to information from the FBI, some types of the offenses have increased while others have gone down. Basically, about 1.2 million incidents of violent crime are reported across the US since 2014. They include robberies, rapes, homicides and aggravated assaults. The police often report such crimes.
The most common is aggravated assault. It accounts for 63% of all violent crimes reported. Robberies accounted for 28% of all crimes reported in the USA, rape at 7.2% while murder accounts for 1.2% of all crimes reported by law enforcement agencies.
Incarceration in the US
The USA has the highest number of incarcerated individuals in the whole world. There were over 2.2 million adults incarcerated in US federal and state prisons and county jails by 2014. This represents a figure of 1 in 110 adults incarcerated in America, the highest in the world.
Incarceration is the most common form of punishment and rehabilitation in America. However, the "tough on crime" approach taken in the 1980s has seen American jails filled with non-violent offenders. The prison system has failed to rehabilitate these individuals and most come out worse than they initially were.
Judges have largely been subjected to or exposed to legislation that limits their discretion on sentencing. Most guidelines compel judges to issue a minimum sentence, mandatory sentencing, and hardly any non-custodial sentencing. This has seen more and more people wind up in prison for minor, non-violent offenses. Read more about incarcerations in America here.
How to stay safe and avoid crime in America
According to the police, it takes three things for a crime to take place. These are a criminal, a victim, and an opportunity. It is important to take safety precautions and reduce the opportunity for criminals to avoid being a victim.
It is advisable always to plan ahead. For instance, travel with a friend rather than alone and always ensure you are on time at least for the last bus or train. It is also important to inform family or friends of your whereabouts. Stay in well-lit areas and always look at your surroundings. If any suspicious activity is noted, always walk away and alert someone.
It is advisable to avoid danger spots such as deserted streets, poorly lit parking lots, and desolate areas. These are ideal areas for criminals to strike. It is advisable to try and get to public places with lights, people, and stores and so on.
Please share if you will be happy to see Libby Schaaf go to prison…
FOLLOW us on Facebook at Freedom Daily!