BREAKING: Top US Admiral Fired For Questioning Obama Purchase Of Mansion In Dubai
A stunning new Foreign Intelligence Service (SVR) report circulating in the Kremlin today states that one of the United States Navy's top commanders was relieved of his command a few hours ago after he sent out an "email/posting" revealing that President Barack Obama was in the process of purchasing a multi-million dollar seaside luxury villa in the United Arab Emirates city (UAE) of Dubai.
According to this report, the Commander of the US Navy's Carrier Strike Group 15, Rear Admiral Rick Williams, posted a "pointed" query on 8 January [since deleted] to the US Naval Institute's "Readiness Kill Chain" "recipients/responders" list as to why Navy security and intelligence personal had been dispatched from Naval Support Facility Thurmont (aka Camp David) to Dubai on what he termed an "Obama house hunting mission".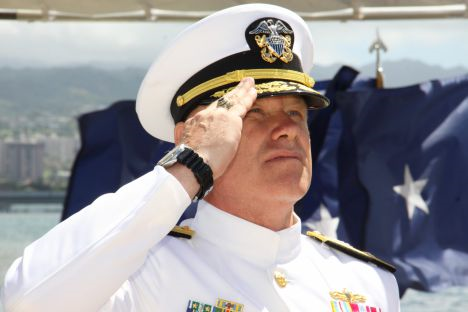 Rear Admiral Rick Williams
Within 18 hours of Admiral Williams posting this query, this report continues, the US Navy's Third Fleet Commander, Vice Admiral Nora Tyson, acting on direct orders from her Commander-In-Chief, President Barack Obama, fired Admiral Williams stating her action was "due to a loss of confidence in his ability to command" because of "allegations of his misuse of government computer equipment".
When further questioned by Russian Today journalists via email to provide more details about Admiral Williams firing, this report notes, the Pentagon failed to reply—but then began releasing "anonymous" stories to the US press that Admiral Williams had been viewing pornography on his computer.
To such an absurd claim that Admiral Williams (or any US Navy officer or seaman in fact) could view pornography on their computers, SVR analysts in this report note, is an impossibility due to the US Navy/Marine Corps Intranet (NMCI), which not only blocks such sites, but also requires each single user to log in with their own unique password and username and whose records are meticulously kept and reviewed on a daily basis (thanks to Edward Snowden)—and which one would logically think one of the highest ranking officers in the US Navy would surely be aware of.
As to the "Obama house hunting mission" Admiral Williams was making his query about before being fired, this report continues, SVR intelligence "assests" in the UAE identified it as being a luxury seaside villa located in the Palm Jumeirah development of Dubai being offered for sale at the price of $4.9 million (18 million United Arab Emirates Dirham), and which a deposit on it was made this past week by the Washington D.C. based global public affairs company Podesta Group.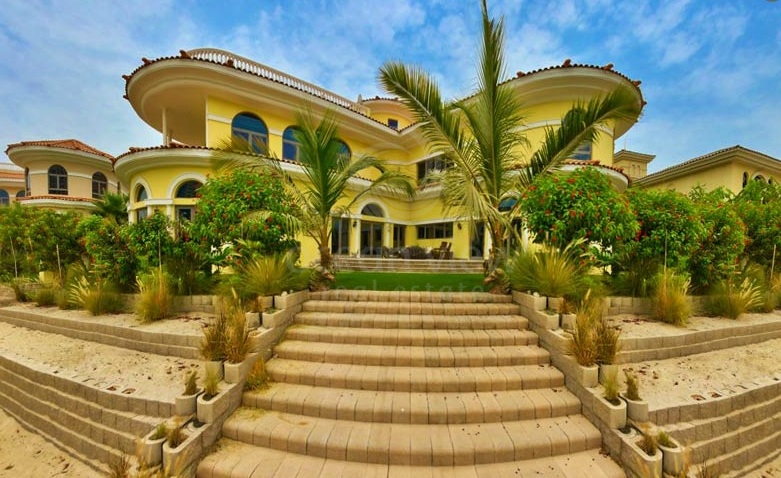 Luxury seaside mansion in Dubai purchased this week for President Obama
Important to note about the Podesta Group, this report notes, is that its leader is Tony Podesta, who aside from being one of the most powerful oligarchs in the US, is a close personal friend of President Obama too.
Equally important to note about the Podesta Group's purchasing of this Dubai luxury seaside mansion for President Obama, this report says, is that is being legally represented in this purchase by the equally powerful Washington D.C. based global law firm DLA Piper—both of whom have long been identified as being the nexus power brokers behind Saudi Arabia's massive multi-million dollar "PR machine" operating behind the scenes corrupting the entire United States political establishment.
To if Saudi Arabia itself is behind the purchase of this luxury seaside villa in Dubai for President Obama this report doesn't state—but to the cost of it being to high after it cost the job of one of America's top Naval Commanders is beyond dispute. via Beforeitsnews
BREAKING!! Kate Middleton Just Rushed To The Hospital And Seen Without Her Wedding Ring!
SHE NEEDS OUR SUPPORT!
With a number of recent catastrophes and drama within the Royal family, we've recently seen that being married to an heir of the Queen isn't all fairytales and perfection. American actress Meghan Markle probably thought that she would forget her roots and waltz into this life of privilege and praise, but quickly learned that there's a lot behind the title that maybe not have anything to do with storybook endings.
Kate Middleton came before Meghan Markle and has so far worn the proverbial British crown with impressive class. She exudes elegance and tradition and carries herself with a level of respect and compassion that hasn't been seen since Princess Diana. She's not just England's Princess, America has adopted her as our own sense of royalty for the incredible example she sets as someone of such celebrity status that's not often seen here in the states. It's for that reason, that we take exceptional notice of her recent trip to the hospital while being seen without her ring, that has citizens of the U.S. realizing what's really unfolding right now.
The Duchess of Cambridge has a lot on her plate right now with not only royal duties some may not realize come with the privilege, but she's also expecting her third child with Prince William while having two young toddlers still to care for. She's the picture of multi-management and one has to wonder where she gets the daily energy from to do it all and look flawless in the process. Like our own "reality" here in America, Middleton is a very hands-on mom like Melania Trump is. However, both of them now have one very special thing in common now.
Both the role of Duchess and First Lady of the United States come with far more responsibilities than people realize or give credit for. However, both of these women take their positions very seriously. What we just saw out of incredible Kate Middleton this week is something reminiscent of our own First Lady and needs not to be underestimated.
Like Melania, Kate has a heart for kids who can't be home playing and being with their families. She genuinely cares for little tots, but it's what she did when she went to visit sick kids in the hospital that is exceptionally impressive for this day and age.
The Daily Mail reports:
It is not every day a child meets a royal like the one they read about in storybooks and see in movies.
So it is of little surprise these excited primary school pupils wanted to make the most of the few moments they had with the Duchess of Cambridge when she visited their school today.
Pregnant Kate, 36, visited Bond Primary School in Mitcham, south-west London, this afternoon to see the work of the Wimbledon Junior Tennis Initiative.
When it came time for her to leave, the pupils she had met politely lined up to bid the royal visitor farewell.
But when Kate leaned down to shake hands with the first child in the queue, the little girl reached out for a cuddle instead – and the royal was very happy to oblige.
The heart-warming moment, which was captured on camera, continued as the girl's classmates followed her lead and each gave Kate a hug farewell – much to the delight of the duchess.
Perhaps intentionally, Kate wore minimal jewelry, including a flashy wedding ring befit for a princess. She opted instead for a relatable look as to focus most of the attention of the kids and not her flash and fashion.
While some have been or may be quick to be critical of her volunteer work, claiming it's just a royal duty for a person of her privilege, what fails to be recognized in her case as well as Melania's is that regardless of they title they love this particular way they can be genuinely involved. It's completely clear by the reactions and interactions caught in these pictures that Kate is enjoying every second of volunteering her time. This is something that people here in America can learn from our First Lady's example who does the same, as well as by this royal leader who sets an incredible example across the pond. The world needs more of this kind of love for strangers and the suffering – and that's something everyone can or should agree with.
What's truly empowering for women in a feminist movement that's so prevalent and vile these days is that if these women really wanted to make a difference, they could in an impactful way by simply being compassionate. The true representatives of real feminine virtue are leaders like Melania and Kate who never talk about their impact, they only represent by their example with what really matters – acts of genuine compassion and not divisive hate and entitlement.
BREAKING NEWS!!! IT HAPPENED! Trump Just BANNED Them ALL!!! HELL YEAH!!!
GO TRUMP GO!!!
When you have an unapologetic president like Donald Trump, things get done in record time and he does what needs to be done without making excuses for it. He's not concerned who he offends and doesn't feel that he has to answer to anyone but the American people who voted for him.
His supporters are really happy to have a leader who makes good on his campaign promises and more importantly, has made America great again already in his first year in office. However, proving that he can't be swayed from his path of progress and isn't going to let anyone try to force him off track he just banned them all in one sudden announcement that's already been met with massive liberal outrage.
Trump's rightful despise for "certain" people has been no secret. He's let the country know their time is limited and now it's just run out after one overstepped his bounds and tried to get in Trump's way. He immediately paid a brutal price for it and so did everyone else like them who get banned in a sudden sweeping move they weren't prepared for.
The heated relations between President Trump and the mainstream media have just reached a boiling point in the Oval Office. Accusing him of their favorite claim used against him, earned CNN's top reporter and White House correspondent a boot out the door and an order to not return. There really couldn't be a more embarrassing and enraging action to receive and Acosta earned it.
According to Fox News:
President Trump kicked CNN star Jim Acosta out of the Oval Office Tuesday after the network's senior White House correspondent badgered him with racially charged questions.

Acosta has made a habit of grandstanding and interrupting when Trump and his surrogates are available to the media. Tuesday was no exception, as Acosta yelled, "Mr. President," three times before finally getting Trump's attention.

"Did you say that you want more people to come in from Norway? Did you say that you wanted more people from Norway? Is that true Mr. President?" Acosta frantically shouted.

"I want them to come in from everywhere… everywhere. Thank you very much everybody," Trump responded as Acosta continued to bark questions.

"Just Caucasian or white countries, sir? Or do you want people to come in from other parts of the world… people of color," Acosta shouted.

Trump then pointed directly at Acosta and simply said, "Out!"

A Trump staffer in the background can be heard saying, "Jim, thank you," before the CNN star presumably exited the room.
Democrats will twist this response to mean something it was not, by saying that Trump can't take the heat and just bullies people out of his office. The fact is, he's the Commander-in-Chief and he deserves some respect from the press if they want to receive respect in rerurn. Acosta got what he had coming to him when he acosted Trump with his questions that served no other purpose but to corner him into saying what he wanted to hear that CNN would inevitably slam him for later.
Like clockwork, Acosta took his "punishment" to Twitter to berate the president and use the reaction for exactly what is expected of this liberal reporter. His entire intent was to push a narrative about Trump that's to say he's a mental midget with a rage disorder and acts irrationally in the moment. His immediate followup proves it:
"Acosta then took to Twitter, accusing White House aides of obstructing him from asking questions," Fox News addded, with his followers referring to this move as Trump's "latest outburst." That is to say this is a frequent issue when in fact it's the liberal reporters like Acosta who have outburst issues. His history in Trump's White House has proved that and it was about time he got kicked out.
Fox News explains:
Acosta has been among the most outspoken critics of President Trump and is a significant part of CNN Worldwide President Jeff Zucker's apparent anti-Trump programming strategy. Trump has famously dubbed CNN "fake news" and pointed directly at Acosta and called him by the disparaging moniker in the past.

Last December, Acosta was shut down by White House Press Secretary Sarah Sanders when the liberal reporter tried to hijack a press briefing. Acosta told Sanders that journalists make "honest mistakes" but that doesn't make them "fake news" before attempting a question. Sanders quickly cut him off.

"When journalists make honest mistakes, they should own up to them. Sometimes, and a lot of times, you don't," Sanders said as Acosta tried to interrupt.

"I'm sorry, I'm not finished," she said. "There is a very big difference between making honest mistakes and purposefully misleading the American people… you cannot say it's an honest mistake when you're purposely putting out information you know is false."

Acosta has also gotten into combative arguments with other members of the administration including Senior Policy Adviser Stephen Miller. Meanwhile, CNN has been mocked for a variety of anti-Trump segments, such as focusing on the president's soda intake amid unfolding breaking news related to a terror attack in New York City.
It's about time that someone puts the mainstream media in place and Trump is the man to do it. He welcomes question and coversation with his opponents but not combative attacks from reporters like this. Acosta needed a time out and got it.
BREAKING NEWS From Florida! They Killed HER!
TRUMP IS PISSED!
It seems that homicide investigators are having to work overtime lately with a number of strange deaths that seem to keep coming up. The latest is out of Florida where a woman's life has been cut tragically short and could have been prevented. Unfortunately, she's not the first nor will be the last after a murder-for-hire hit went wrong. Whose responsible is also a big part of the problem that President Donald Trump is working quickly to eradicate from the United States.
Janice Marie Zengotita-Torres was just 42 when her life came to a sudden, horrific end this week near her home in Kissimmee, Florida. She leaves behind a 14-year-old son who is now without his mother to care for him and will struggle for the rest of his life with what happened to her. Making it worse is that Janice's killers got the wrong person and even though they realized that before killing her, the pulled the trigger anyway because "dead men don't talk." However, if Trump had been in office before now or his predecessor done his job, it would have never come to this and a boy would still have his mother today.
The New York Post reports:
Midway into a Florida murder-for-hire plot, a boyfriend-girlfriend hit team realized they'd zip-tied and duct-taped the wrong woman — and then killed her anyway, officials said.

Victim Janice Marie Zengotita-Torres, 42, of Kissimmee, was forced into the trunk of her own car, tortured for her ATM card and then suffocated with garbage bags, officials said.

The mother of a 14-year-old son, she was found Monday, dumped in Ormond Beach, six miles north of Daytona, ABC News reported.

Even after accused hit team Alexis Ramos and Glorianmarie Quinones Montes realized they had the wrong woman, they still "continued with their plan of murder," said Osceola County Sheriff Russ Gibson.
Ramos and Montes are no strangers to criminal activity as the murderers were here in the country illegally to begin with. When you come to this country and get away with it, being able to stay and benefit of American workers, you have no respect for other people and apparently human life too. Had they not been allowed in and deported before now, Janice's life would have been spared along with the countless others who have been killed by illegal aliens.
"Ishnar Lopez Ramos was charged with ordering the hit, originally intended for a romantic rival," the Post reports. "It was just a mistaken identity," Gibson gave as an insensitive and lame excuse for what happened, although the Sheriff explained that he didn't mean that in a way that takes the tragedy out of the situation. "I don't say that lightly, that this woman lost her life for no reason. This mother, this wife, this daughter — for no reason, at all," he added.
This serves as a tragic example of exactly what Trump is talking about when it comes to his immigration plan and deporting all those allowed in the country by Barack Hussein Obama and have no business being here. The incident comes at a time when Trump is actively deporting people by the droves and people are protesting this move. Perhaps it's because they haven't suffered the loss that this 14-year-old has, they don't know the pain and tragedy that didn't need to happen and was avoidable if liberals' shady and dangerous agenda hadn't gotten in the way.
There were few groups that Obama looked out for more than the illegal immigrants. Maybe it's because of his own questionable status, or maybe he felt the pressing need that all Democrats feel to import their voters, but Obama made more allowances for law breakers than just about anyone in history. Sadly for them, that gravy train stopped when President Trump took over and started looking out for Americans first.
None of that is the fault of the American taxpayer, but we're the ones being made to feel like monsters if we support only legal immigration.
Let's face it, if you've got two lines of people wanting citizenship, and only a limited number can be accepted (because sadly, that's the case) you'd choose the line of people who haven't proven themselves to be lawbreakers, criminals, or killers. It's just common sense, something Obama never seemed to be a fan of. He's is and always has been more concerned for protecting the wrong people than caring for the citizens of this country who want to feel safe when they go outside and not on the receiving end of a case of mistaken identity that ends their lives.