Happy Mother's Day to Melania Trump, Look How She Just Made First Lady Motherhood Great Again!
There is nothing more important to the First Lady than being a good mother. Which is why she stayed in New York City until her and her husbands son Barron finished middle school. Yet liberals castigated her for not fulfilling her First Lady duties. Her top priority has always been being a mom and her husband and stepchildren have always attested to that fact. Reports have indicated that despite her immense wealth and socialite status she employs no nannies and drives her son to and from school herself.
She once told Parenting magazine the following,
""I am a full-time mom; that is my first job. The most important job ever. I cook him breakfast. Bring him to school. Pick him up. Prepare his lunch. I spend the afternoon with him. I think the No. 1 parenting secret is that it is so important to have a good listening skills. I listen to what Barron says, what troubles him and what he is excited about. Then I can guide and support. I don't push my thoughts or likes or dislikes. I want him to grow to be his own person. I think is important to give a child room to make mistakes in order to learn."
Media reports indicate she and Barron will be moving to Washington D.C. to live in the White House in June after he finishes school. It has been rumored that Barron will be enrolling in the very prestigious and high-end St. Andrew's Episcopal School located in the suburbs of Maryland. Which is contrast from former schools of First Children.
St. Andrew's tuition costs a whopping $38,000 a year and they are known for their small class sizes which max out at about 11 or 15 students. In total the school body is made up of 580 students. The small size of the school and classes will likely give the First Son the privacy he needs during his father's time in the White House.
Clearly the First Lady takes a hands on approach to raising her son and it is something she should be applauded for. Children are not toys to be taken out when you are proud of their accomplishments. The First Lady is doing exceptionally well. She spoke on Mother's Day to military spouses, mothers, and families.
The Trumps welcomed service members, spouses and mothers to the East Wing for remarks and a performance by the Army Chorus and the Marine Band.
"This is one of the many opportunities for us to thank the incredible military mothers who love and care for our nation's heroes, and they are heroes, so thank you very much, and the mothers are heroes, too," Trump said. "It is your sacrifice that protects our nation safeguards, our liberties and makes sure our beautiful American flag always waves proudly above our very glorious land."
As the mothers, spouses, and service members nodded, Trump made a vague reference to some of the tensions of the week.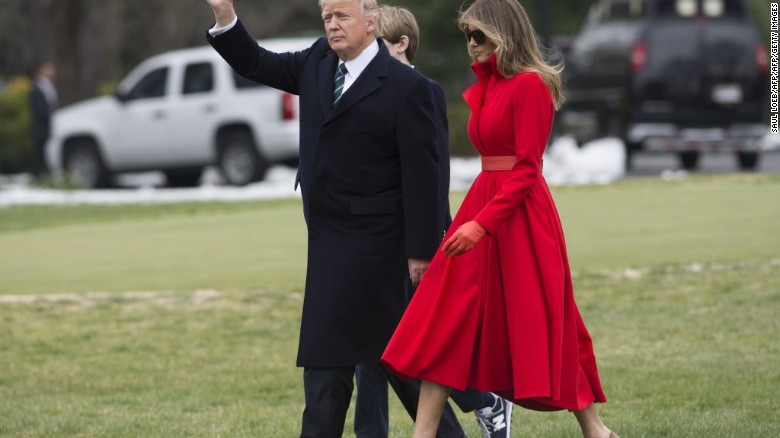 In her speech she said,
"I, too, am a mother. However, I have no idea what kind of different challenges each of you must face as the parent of a soldier. And while you stand with many other parents so strong and so proud, I am sure that you sometimes march on this journey alone. While your sons and daughters are away serving so selflessly, having a community share even some of that burden must make all the difference in the world.
In fact, it has been said that having a child means allowing your heart to walk around outside of your body. For the mothers of someone who has, or is, serving our country, this must be especially true. I want you to know you're among that community today and we are all so proud to be part of it with you. I also want to say thank you for all that you do for your selflessness and for your own sacrifice on behalf of our country."
She also said,
"Thank you for all that you do, for your selflessness and for your own sacrifice on behalf of our country. Let today's celebration with this community of strong and selfless moms be a first step in building relationships, and in your knowing, that my husband and I, along with … everyone here at the White House, hold you close in our hearts and thoughts each and every day."
Despite what the mainstream liberal media would like to say the First Lady is a class act and a family woman who cares and loves her son deeply. The United States is lucky to have her as their First Lady. She is an exemplary role model for the American people.
BREAKING! SHE Survived Clinton Attack!!
She's on a warpath right now and it's tearing up Twitter and social media outlets as we speak. This day is all about the survivor and the attacker and a day in remembrance of what happened in the 90's. It's being considered as a terrible attack that happened in the White House that left a young woman's reputation damaged and a President impeached. This is the story of Bill Clinton and Monica Lewinsky and she's celebrating her 20th year of that horrible time in American politics. The White House was disgraced. A woman's dress defaced. And everyone in the world had their eyes on the White House as an impeachment process added to the fledgling reputation of former President Bill Clinton.
Monica Lewinsky claims she's a survivor after what happened with her sexual encounter with Bill Clinton. Some call it an attack. Some call it mutual. Everyone calls it repulsive because Bill Clinton was caught in a raunchy expose with an intern while he was married to Hillary Clinton. But Hillary didn't leave his side. She stayed on the path of politics, not caring much about what her husband was into (or putting into) and she used Bill's name and reputation to push her career forward while he took a back seat after his romp with Lewinsky.
Bill Clinton was probed 20-years ago and the memory and backlash of the sexual encounter have always left a stain on the reputation of Lewinsky. That didn't stop her from being successful in her ventures after the impeachment of Bill Clinton. She refused to allow the incident with the former President of the United States to stop her in on the path to success. She pushed forward, full steam ahead, and she brandished herself a survivor. She wasn't physically attacked with punches, kicks, or weapons, but her character was nearly assassinated. She went from being an intern to a name everyone knows. People know her, her dress, and something about cigars that we won't get into. And now, still, Lewinsky pushes on as she claims herself a survivor from what was possibly her most tumultuous year.
Gateway Pundit reports:
"Twenty years ago today Special Counsel Kenneth Starr contacted Attorney General Janet Reno to get permission to expand his probe of Bill Clinton.
Janet Reno agreed and submitted the request to a panel of three federal judges. The judges agree to allow Starr to formally investigate the possibility of subornation of perjury and obstruction of justice in the Jones case. Tripp and Lewinsky meet again at the Ritz-Carlton. FBI agents and U.S. attorneys intercede and take Lewinsky to a hotel room, where they question her and offer her immunity. Lewinsky contacts her mother, Marcia Lewis, who travels down from New York City by train. Lewis contacts her ex-husband, who calls attorney William Ginsburg, a family friend. Ginsburg advises her not to accept the immunity deal until he learns more.
Three days later, an January 19, 1998, Matt Drudge at The Drudge Report broke the story first on the Monica Lewinsky Scandal.
And that led to the impeachment vote of President Bill Clinton."
Is the combination of Matt Drudge and Monica Lewinsky the reason for Bill Clinton's impeachment? Perhaps as a secondary reason. The true reason for Bill Clinton's impeachment is Bill Clinton himself. His inability to remain distant from Monica Lewinsky, regardless of who approached who is the sole reason an impeachment was ever more than an idea. If he allowed himself to be in close quarters and inadvertently in a sexual encounter with an intern, then the full blame must be placed on him. Citizens have extremely high standards for the President of the United States of America and sexual encounters with an intern are not on the unwritten list of approved behaviors.
Monica Lewinsky shared her 20-year anniversary Tweet and it began a chain of survivor Tweets. It's a great story to see her posting positive messages to the public. However, we must remember that it takes two to tango. Since she was an intern, then it must have been the world's biggest accomplishment to "hook up" with the President. But for Bill Clinton, he let down his wife, his country, and his intern when he allegedly engaged in sexual activity.
Bill Clinton should have said NO so that Monica Lewinsky didn't have to say #MeToo.
But let's not forget – the encounter with Bill Clinton was only the beginning. Don't forget what Hillary did to try and ruin her life. Hillary may not have slept with Monica Lewinsky, but Mrs. Clinton is very capable of doing a lot of other things. Monica has gotten off easy.
Enjoy her Tweets. Her's is somewhat whiny, but there are some true survivors in the pack and may God be with them all.
🙏🏻♥️⚡️ for 20 years, i've marked 16 jan as the day i survived another year from 1998. on this 20th (!!!) anniversary, thinkin' maybe we could try a survivor's chain. whaddya think? (too corny?) RETWEET if you survived the unimaginable in your life 🙏🏻♥️⚡️

— Monica Lewinsky (@MonicaLewinsky) January 16, 2018
Been there, done that, out on the other side now and glad you are as well!

— Renee Wallace (@portianay) January 16, 2018
@MonicaLewinsky Syrvived brain tumor, stage 3 colon cancer, and divorce. Still here! Now I've done 25 marathons and an Ironman to celebrate, not fast though. I even did a TEDx talk. Yours was amazing and so inspiring. Mine was how I never say never anymore.

— Steve DeLuca (@SRDeLuca) January 16, 2018
Your Twitter is the best thing to come out of the shit show that I remember as the 90s. Thank you!

— Dan Nguyen 🗝️ (@dancow) January 16, 2018
I had my life forever altered October 15, 1984, when my cancer was discovered. I try to celebrate my survival every day. Since then, I have had health issues. But, I am still alive.

— Debbi Rose (@PurpleVegasRose) January 16, 2018
Warner Todd Huston laid her out.
You were a willing participant with Clinton, not a "survivor." You make a mockery of real victims.

— Warner Todd Huston (@warnerthuston) January 16, 2018
No, she absolutely should not run for any sort of office. Don't get yourself in over your head.
you should run for office.

— Winifred (@WaywardWinifred) January 16, 2018
This is the best Tweet on Monica Lewinsky's chain of survivors!
I survived the O-Hasbeen Administration…. BARELY😲😳 It was a most difficult time ….
Thank GOD for @realDonaldTrump !!!

— Déplorable Heidi🚂💨 (@hidehunt1) January 16, 2018
FOLLOW us on Facebook at Freedom Daily!
BREAKING!!! IT'S HAPPENING!!! Obama Can't Run From This!!
The Congressional investigations are running deeper than expected. They were looking into the Trump dossier and remained focused on the FBI and Justice Department, but now they're going after someone unexpected. They're digging ditches in the Obama State Department and cracking open closet doors to see what skeletons tumble out like a bag of bones. They're suspecting there might be a little bit of a problem with the collection and dissemination of sensational and still-unverified allegations about President Trump. The information is said to have been collected by an ex-British spy who allegedly worked on the Clinton Campaign.
The former spy is Christopher Steele, and he's said to have connections within Obama's Justice Department, the FBI, and the Obama State Department. Steele is mentioned in a book, by author Luke Harding, titled "Collusion: Secret meetings, dirty money, and how Russia helped Donald Trump win." Apparently, the book is a far reach, but that's what Steele wanted his book to be about, and that's how he published it. It's like anyone can publish a book now.
Washington Examiner reported this excerpt from Harding's book:
"The [soccer] episode burnished Steele's reputation inside the U.S. intelligence community and the FBI. Here was a pro, a well-connected Brit, who understood Russian espionage and its subterranean tricks. Steele was regarded as credible. Between 2014 and 2016, Steele authored more than a hundred reports on Russia and Ukraine. These were written for a private client but shared widely within the State Department and sent up to Secretary of State John Kerry and to Assistant Secretary of State Victoria Nuland, who was in charge of the U.S. response to the Ukraine crisis. Many of Steele's secret sources were the same sources who would supply information on Trump. One former State Department envoy during the Obama administration said he read dozens of Steele's reports on Russia. The envoy said that on Russia, Steele was "as good as the CIA or anyone." Steele's professional reputation inside U.S. agencies would prove important the next time he discovered alarming material, and lit the fuse again."
Washington Examiner lists that "fuse" as the Trump dossier that has turned the world on its head as nothing but a mere distraction that will mostly prove that Trump has nothing to do with any collusion. It's a finger pointing tactic utilized people the people who are most likely involved or guilty but placing the blame or accusations upon others to blow smoke upon someone else.
Washington Examiner continues:
"It is hard for an outsider to discern clearly what is going on inside the dossier investigations on Capitol Hill. But it appears some investigators are looking beyond the 35 pages of reports done by Steele for Fusion GPS, the opposition research firm working for the Clinton campaign and the Democratic National Committee, that were published in January 2017 by BuzzFeed. They're looking into whether Steele did other reports about Trump, perhaps similar but not identical to what was in the dossier published by BuzzFeed. And they are looking into whether those reports made their way to the State Department. They're also seeking to learn what individual State Department officials did in relation to Steele, and whether there were any contacts between the State Department and the FBI or Justice Department concerning the anti-Trump material.
It's not clear whether State Department activity related to Steele's Russia project took place in the months leading up to the 2016 election, during the transition, or both.
Hillary Clinton was, of course, secretary of state from 2009 to 2013.
People who know Steele have described him as deeply concerned by what he discovered, or perhaps thought he discovered, about Trump. The recently-released testimony of Fusion GPS founder Glenn Simpson suggested that Steele was motivated to act in large part by Trump's alleged sexual escapades in a Moscow hotel room, alleged activities that were described in the first installment of the published dossier."
Any escapades that involve Trump in a Moscow hotel room sound more like something Bill Clinton would possibly participate in. It's hard to imagine that Trump would be called out for things like this now, but nothing else the rest of his life and career. Trump has had a reasonably clean reputation. It seems as though people are throwing numerous accusations and allegations at Trump. They're hoping something will stick, but so far nothing has brought him down. There can only be so many false accusations before people become tired of hearing about it. There can only be so many false accusations on Trump that bear no witness, no evidence, and have no relevance nor merit worth investigating. People have become blind to the false allegations because everything seems to turn up empty. There's no substance in anything that the left brings to the public about Trump.
How long will the leftists continue to resist and cause problems instead of working together to provide solutions? They've been a thorn in the side of Trump's presidency since day one, but Trump keeps winning. Can you imagine if the Democrats were helpful?
Donald Trump defeated Republicans and Democrats to wear the crown of America, but it's made him the king with the target on his back.
Whoever goes after Trump next better bring their "A" game, because Trump keeps kicking the peasants to the curb.
FOLLOW us on Facebook at Freedom Daily!
BREAKING!! They Broke Federal Law!! TRUMP Just ORDERED Their ARREST!!
It's finally happening folks. The lawlessness our nation has been facing is finally coming to an abrupt end thanks to President Donald Trump and his administration!
Homeland Security Secretary Kirstjen Nielsen confirmed today that her department has officially asked federal prosecutors to do their job and look into the filling of criminal charges against sanctuary cities and states that refuse to cooperate with federal deportation efforts and Federal Laws.
This confirmation comes just days after the looney far-left state of California enacted a new sanctuary law which went into effect on January first of this year. The law severely restricts cooperation between state and federal governments, but of course, it doesn't limit the help the federal government is forced to provide to California when their disastrous extreme far-left ideals fail and they come calling.
So as our failure of an Attorney General Jeff Sessions hides in the back room, Nielson calls these anarchist states and cities to task. This unprecedented move follows the Justice Department issuing a stern final warning to various sanctuary cities around the country. These include Cook County, Illinois, Chicago, Illinois, New Orleans, Louisiana, New York, New York and Philadelphia, Pennsylvania which are on the Justice Department's hit list for failing to enforce federal immigration laws.
What are sanctuary cities and why are they so controversial in the illegal immigration debate?
As the new year kicked off, California officially became a "sanctuary state" – a designation that means the nation's most populous state will limit just how much local law enforcement officials will cooperate with federal immigration authorities.
The law was signed by Gov. Jerry Brown in October but didn't go into effect until Jan. 1. It, in part, bars police from asking people about their immigration status or participating in some federal immigration enforcement activities.
"These are uncertain times for undocumented Californians and their families, and this bill strikes a balance that will protect public safety, while bringing a measure of comfort to those families who are now living in fear every day," Brown said when he signed the bill into law.
President Trump has promised to crack down on so-called sanctuary cities and signed an executive order nearly one year ago that moved to strip federal grant money from cities that "harbor" undocumented immigrations.
A federal judge permanently blocked in December as he said the Trump administration lacks the authority to impose new conditions on spending that have already been approved by Congress. He said Trump's executive order violated the Fifth and Tenth Amendments.
What are sanctuary cities?
While the exact specifications can vary, sanctuary city policies overall limit just how much local law enforcement officials comply with federal immigration authorities.
San Francisco, for example, passed an ordinance in 1989 that prohibits city employees, funds or resources from assisting Immigration and Customs Enforcement (ICE) in enforcing federal immigration law unless it's required by state or federal law.
It also passed an ordinance that limits when law enforcement officials can give ICE notice that an immigrant has been released from a local jail and prohibits law enforcement officials from cooperating with detainer requests from ICE.
Berkeley, near San Francisco, is reportedly the original sanctuary city. It passed a resolution in 1971 that protected sailors who wanted to resist the Vietnam War.
It's difficult to nail down a concrete number of just how many cities are considered to be a sanctuary for immigrants – some cities have an ordinance or policy in place; others do not.
Aside from cities, five states – California, Oregon, Connecticut, Rhode Island and Vermont – have enacted laws that limit how much police can contribute assistance to federal immigration agents, according to the New York Times.
The Immigrant Legal Resource Center (ILRC) argues that counties – not just cities – should establish sanctuary policies for undocumented immigrants.
How are they viewed?
The debate about sanctuary cities intensified in July 2015 when Katie Steinle, 32, was killed as she strolled along the San Francisco waterfront with her father. Steinle was fatally shot by a man with a criminal record who had slipped into the U.S. multiple times illegally.
A California jury acquitted the man accused of shooting Steinle of the more serious charges, including murder, involuntary manslaughter and assault with a deadly weapon. Jose Ines Garcia Zarate was only convicted of being a felon in possession of a firearm.
While he is expected to be deported, the Justice Department is considering bringing federal charges against him.
Attorney General Jeff Sessions addressed a roomful of federal prosecutors and law enforcement officials last year and criticized cities, like Philadelphia, that are "giving sanctuary" to criminals. He asked them to "reconsider the harm they are doing to their residents."
ILRC argues that local law enforcement jurisdictions do not have a "legal obligation to assist with civil immigration enforcement, which is the responsibility of the federal government."
"A local decision to offer resources to federal immigration enforcement authorities is completely voluntary," the legal organization said in a 2016 report.
ILRC called Trump's threat to restrict federal funding of sanctuary cities "purely retaliatory in motivation."
Many mayors of these cities have also bucked the threat and continued to affirm protection for immigrants.
"We are not going to sacrifice a half-million people who live amongst us, who are part of our communities, whose family members and loved ones happen to be people in many cases who are either permanent residents or citizens," New York City Mayor Bill de Blasio, a Democrat, said last year.
This is what we as Americans have been waiting for decades. The lawlessness and the fact that our own government, the very government we pay for dearly with our blood, sweat, and tears are finally being brought to the realization that they work for We The People, not for every reject that decides they will have a better life here in the states and takes it upon themselves to come into our nation to take advantage of our kindness and generosity, which borders on insanity.
Let's hope California officials decide to fight this and end up in Federal Prison, now that would be a great day for all American Citizens.
Please share if you want to see these lawless politicians behind bars…
FOLLOW us on Facebook at Freedom Daily!