Happy Mother's Day to Melania Trump, Look How She Just Made First Lady Motherhood Great Again!
There is nothing more important to the First Lady than being a good mother. Which is why she stayed in New York City until her and her husbands son Barron finished middle school. Yet liberals castigated her for not fulfilling her First Lady duties. Her top priority has always been being a mom and her husband and stepchildren have always attested to that fact. Reports have indicated that despite her immense wealth and socialite status she employs no nannies and drives her son to and from school herself.
She once told Parenting magazine the following,
""I am a full-time mom; that is my first job. The most important job ever. I cook him breakfast. Bring him to school. Pick him up. Prepare his lunch. I spend the afternoon with him. I think the No. 1 parenting secret is that it is so important to have a good listening skills. I listen to what Barron says, what troubles him and what he is excited about. Then I can guide and support. I don't push my thoughts or likes or dislikes. I want him to grow to be his own person. I think is important to give a child room to make mistakes in order to learn."
Media reports indicate she and Barron will be moving to Washington D.C. to live in the White House in June after he finishes school. It has been rumored that Barron will be enrolling in the very prestigious and high-end St. Andrew's Episcopal School located in the suburbs of Maryland. Which is contrast from former schools of First Children.
St. Andrew's tuition costs a whopping $38,000 a year and they are known for their small class sizes which max out at about 11 or 15 students. In total the school body is made up of 580 students. The small size of the school and classes will likely give the First Son the privacy he needs during his father's time in the White House.
Clearly the First Lady takes a hands on approach to raising her son and it is something she should be applauded for. Children are not toys to be taken out when you are proud of their accomplishments. The First Lady is doing exceptionally well. She spoke on Mother's Day to military spouses, mothers, and families.
The Trumps welcomed service members, spouses and mothers to the East Wing for remarks and a performance by the Army Chorus and the Marine Band.
"This is one of the many opportunities for us to thank the incredible military mothers who love and care for our nation's heroes, and they are heroes, so thank you very much, and the mothers are heroes, too," Trump said. "It is your sacrifice that protects our nation safeguards, our liberties and makes sure our beautiful American flag always waves proudly above our very glorious land."
As the mothers, spouses, and service members nodded, Trump made a vague reference to some of the tensions of the week.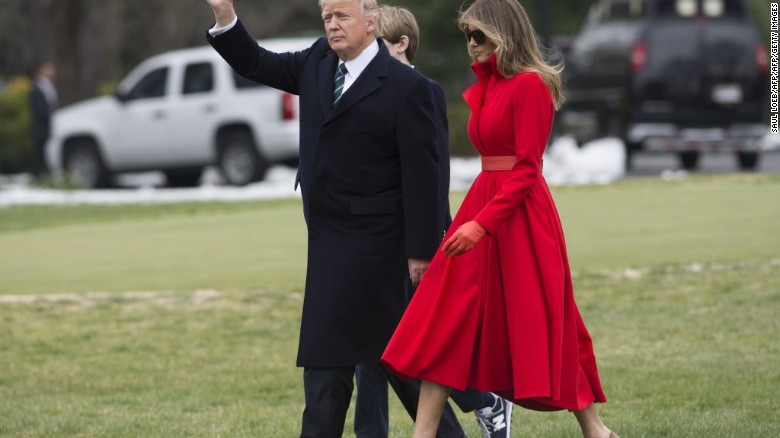 In her speech she said,
"I, too, am a mother. However, I have no idea what kind of different challenges each of you must face as the parent of a soldier. And while you stand with many other parents so strong and so proud, I am sure that you sometimes march on this journey alone. While your sons and daughters are away serving so selflessly, having a community share even some of that burden must make all the difference in the world.
In fact, it has been said that having a child means allowing your heart to walk around outside of your body. For the mothers of someone who has, or is, serving our country, this must be especially true. I want you to know you're among that community today and we are all so proud to be part of it with you. I also want to say thank you for all that you do for your selflessness and for your own sacrifice on behalf of our country."
She also said,
"Thank you for all that you do, for your selflessness and for your own sacrifice on behalf of our country. Let today's celebration with this community of strong and selfless moms be a first step in building relationships, and in your knowing, that my husband and I, along with … everyone here at the White House, hold you close in our hearts and thoughts each and every day."
Despite what the mainstream liberal media would like to say the First Lady is a class act and a family woman who cares and loves her son deeply. The United States is lucky to have her as their First Lady. She is an exemplary role model for the American people.
Look What Just Happened To Major Show Host After Exposing D.C.'s SICK Pedophile Ring
This is disgusting!
It was not that long ago that WikiLeaks dropped the Podesta emails that depicted pedophilia in our very own government. Of course, the mainstream media has done its best to sweep this disgusting crime under the rug. However, there are those out there who determined to root out these perverts. President Trump is one of those people, who announced that he would investigate the elite pedophile scandal, and another is Dr. Phil.
Dr. Phil recently interviewed a former sex slave by the name of "Kendall" and pushed the topic of elite pedophilia into the mainstream. The account that "Kendall" told millions of people was truly horrific, but Dr. Phil paid a price for telling the truth.
One day after this heinous report aired, a Dutch media company pulled the plug on the Dr. Phil show ending their 15-year partnership. The timing of this happening could not be more suspicious considering the topic that was discussed.
Also, what needs to be considered is the Netherlands history with pedophilia. In 2013, a Dutch court ruled that an abhorrent organization that promotes the legalization of sex between adults and children has the right to continue to promote it.
Then the organization's founder, Marthijn Uitenboogaard, went on record, saying that society is too overprotective of children.
"A child can see a lot of violence on television, on every cartoon, there's violence, on movies people get killed," he explains, "But when Janet Jackson's breast is shown at the Super Bowl people say: 'Oh children are watching this.' Nakedness and everything concerning sexuality is a taboo and violence is the norm. And I think that should be the other way around." He further believes "almost everyone has pedophile feelings in them. Only the percentage is different, some have more than others."
Besides that commentary, there have been many high ranking politicians in the Dutch government exposed as pedophiles. Also, recent reports show that worldwide child trafficking is on the rise according to recent statistics from (UNODC) United Nations Office on Drugs and Crime.
It is entirely possible that the Dutch television station desired different programming which is why they canceled the show. However, is it also possible that this was retaliation for reporting on rampant pedophilia rings around the world?
Or this could be just another example of how far these sick individuals will go to keep their depraved secret hidden.
H/T [ The Free Thought Project, InfoWars ]
FOLLOW us on Facebook at Freedom Daily!
NAACP Riots At NFL Headquarters For Kaepernick — Get WRECKED Moments Into It With Who Showed Up
American-hating third-string quarterback Colin Kaepernick is still in the news and he's still without a job. On Wednesday evening in New York City, the NAACP held an event to protest the "injustice" of Colin Kaepernick still not being signed to an NFL team, asserting that the football organization is "racist" and has violated Kaepernick's "basic human rights" for not offering him a multi-million dollar contract to play ball. As liberals continue to throw a fit over their crappy former quarterback remaining unemployed, NFL executives and coaches are dropping a bombshell on the true reason they've rejected Kaepernick, and it's making these race-baiting morons look like even bigger jackasses than they already are.
As we exposed several weeks ago, Kaepernick along with his Muslim girlfriend have been busy scamming millions of Americans over the summer, by pushing the false narrative that no NFL team has signed Kaepernick because he's black, in the hopes that the "media frenzy" over the NFL's "racism" would eventually bring in a more lucrative deal for for Kaepernick to cash in on.
And a "media frenzy" is exactly what Kaepernick and his Muslim girlfriend have accomplished. Still making headlines, the NAACP has gotten involved, now actively pushing the ridiculous propaganda that the NFL is some sort of "racist" organization for not signing Kaepernick, despite the fact that 70% of NFL players are black.
Last season, Kaepernick helped lead the San Francisco 49ers to one of their worst seasons in history, where the team only won two games and a single home game all year, setting franchise lows in the 16-game season. On top of being a crappy football player, Kaepernick's anti-American stunts on the football field hurt viewership for the NFL, and created huge distractions distractions for the 49ers.
But facts don't matter to the race-baiting morons of America. Despite Kaepernick's embarrassing record to accomplish anything on the football field other than act like a spoiled jackass, liberals along with the NAACP are still pushing the massive propaganda that Kaepernick remaining unsigned has something to do with "racism," where the NAACP is now inciting riots over the NFL "punishing Kaepernick for exercising his free speech." But unfortunately for liberals, top NFL executives and coaches are finally ending this nonsense and revealing the actual truth behind their decision to not sign whiny Kaepernick, blowing a massive hole in their racist narrative.
ESPN has just published the 2017 QB Tiers survey, where they ask 50 coaches and evaluators to place 36 quarterbacks in one of five performance tiers. Tier 1 signifies the best, and Tier 5 signifies the worst. "Kaepernick came in 29th with a 3.88 average, placing him ahead of six potential starters. The 2016 QB Tiers poll, conducted before Kaepernick's first anthem protest, had him 28th, with a 3.83 average," ESPN reported. 
While Kaepernick's stats are humiliating enough, here's the damning other facts that coaches and NFL executives are revealing, the first one being that they believe that Kaepernick is only on the football field to push his political agenda, and is not serious about playing football. "Some in the league question whether Kaepernick is serious about continuing his career in the NFL" one coach said. 
"It is really not about his ability," another exec said. "It's about the risk of what happens to the team concept when you sign a guy — a quarterback — who has put his personal agenda ahead of what we are all charged to do, which is put the team first."
Another NFL exec stated that  Kaepernick's inability to perform "arose before he first protested during the anthem."
"An offensive coordinator quoted in the 2016 QB Tiers survey said watching Kaepernick talk about football made him think something was missing and that the QB may have lost the desire to play. This was after reports surfaced that suggested Kaepernick had become increasingly distant."
Perhaps most humiliating of all for Kaepernick was top NFL execs' belief that he's just not good enough, as many view him as a third-string quarterback with very little skills to offer any new team.
"Many voters said they see Kaepernick as a Tier 3 player in a system designed for him, and a Tier 4-5 player outside that framework. They also said teams won't tailor their offenses for Kaepernick if he is only a backup."
"I like the arm strength and I like the athleticism, but the worst thing that happened with him was when people tried to make him a pocket passer," a personnel director said. "He is much better when he can waggle or boot and do some of those things."
Unfortunately for Kaepernick, his inability to land a job has nothing to do with the NFL's "racism" at all, but because many top execs and coaches view him as a cancer to the team, not to mention the unfortunate fact that he's simply a crappy football player. Looks like the NAACP will have to find their race-baiting story somewhere else. When you look at the actual facts, their allegations against the NFL is ludicrous at best.
H/T [ESPN, Daily Wire]
Desperate Obama Just Showed Up Where Trump Was And Tried To Take Over As President – Blows Up In His Face
Just go away already!
It's natural to be a little bit jealous of whoever gets hired to take your old job, especially if you've been removed against your will, but former President Obama seems to be taking it to a whole new level. Not only is he refusing to leave D.C. and creeping suspiciously close to the Trump family in his talk as well as his choice of neighborhood, but he's decided recently to remind the United States what we're missing with him out of office.
The former Communist in Chief thought it would be a good idea to show up on President Trump's home turf and throw some shade at the President's policy in regards to the Paris agreement. Obummer should really know better than to go to the Trump dominated form of social media and try to show him up, but ever the glutton for punishment, that's exactly what he tried to do.
He was successful in on thing; it does have us reflecting on what we're missing with the Obama's out of the White House, but I'm not sure he'll be thrilled with the result.
Via Daily Wire:
"We just checked the U.S. Constitution and, we were right: There's only one president at a time.
But Barack Obama, who moved out of the White House on January 20 and, we all hoped, into obscurity, is trying to be the shadow president, refusing to duck out of the spotlight as he tries to discredit President Trump at every turn.
On Thursday, when Trump pulled the United States out of the Paris Climate Accord — one of Obama's signature policies — the former president went bat crazy.
Speaking as a private American citizen, Obama said: 'The nations that remain in the Paris Agreement will be the nations that reap the benefits in jobs and industries created. But even in the absence of American leadership; even as this Administration joins a small handful of nations that reject the future; I'm confident that our states, cities, and businesses will step up and do even more to lead the way.'
Remember that Obama signed the agreement without the consent of the U.S. Congress, an executive overreach of extraordinary magnitude. But when Trump decided that the accord was just too costly ($1 billion-plus already in taxpayer money) for a measly return (two-tenths of one degree Celsius reduction in global temperature by the year 2100), Obama spoke as if he is still president.
And, of course, he praised his own bold vision.
'A year and a half ago, the world came together in Paris around the first-ever global agreement to set the world on a low-carbon course and protect the world we leave to our children," he said.
'It was steady, principled American leadership on the world stage that made that achievement possible. It was bold American ambition that encouraged dozens of other nations to set their sights higher as well. And what made that leadership and ambition possible was America's private innovation and public investment in growing industries like wind and solar — industries that created some of the fastest new streams of good-paying jobs in recent years, and contributed to the longest streak of job creation in our history.'
As Trump speaks, Obama issues statement on Paris deal pic.twitter.com/clpLdNoFpP

— Jordan Fabian (@Jordanfabian) June 1, 2017
Now, Trump is less than 150 days into his (first) term as president. He's just getting started. But here are few things Obama left behind when his time in the White House was over. A crumbling health care system that is on the verge of implosion; $9,334,590,089,060.56 (that's trillion) in new debt; a Middle East in absolute shambles; the terror group ISIS stronger than ever and growing fast; the U.S. border so porous some American cities are overrun with illegal aliens; and the list goes on and on.
I don't think it's any great shock to any of us that the Democrat who left office might disagree on some policy with his Republican replacement. The surprise is that Obama thinks people might still want to listen to what he has to say on the matter. Obama was the world's worst about unilateral decision making that bordered on the illegal. He made decisions on a daily basis that were questioned by scholars the world over as to their legality, so his disapproval of the sitting President's completely legal, though liberally frowned upon policy, doesn't hold much weight.
If Obama wants to tell us what he's actually upset about, i.e. that he's not still in the White House, then that's an issue for a different day. But for today, we don't give a rip what you think about the Paris agreement, Mr. Former President, because (thankfully) you're not in office anymore, and America can actually do what's good for us for a chance, instead of what lines the DNC pockets.
Thank you, and good night.
(Source: Daily Wire)
FOLLOW us on Facebook at Freedom Daily!