Look What This Liberal Woman Did To Tiffany Trump The Second She Sat Down For Show, Gets Completely WRECKED For It
Psycho liberal whore just got drop-kicked in the Face!
The left has been throwing a never ending temper tantrum ever since Donald Trump was elected. There have been marches and protests to demonstrate their absolute disdain for Trump and his policies.
While I don't understand their vitriol for the president to begin with I am actually more confused over the hatred they show for his family. Instead of focusing on the issues they disagree with they suddenly become a bunch of bullies. Take for example what happened to Tiffany Trump when she attended New York Fashion Week a couple days ago.
During Fashion Week the who's who of the entertainment world is on full display in New York.
Tiffany Trump was in attendance and to support her designer, friend Andrew Warren. Christina Binkley, who according to her Twitter account was a former Wall Street Journal columnist, snapped a couple photos of Tiffany in order to make fun of her.
In the photos, you can see that Tiffany is surrounded by empty seats, and according to Ms. Binkley, that is because no one wanted to sit next to her.
Empty seats next to Tiffany Trump. pic.twitter.com/axvYJAFupl

— Christina Binkley (@BinkleyOnStyle) February 14, 2017
Nobody wants to sit next to Tiffany Trump at Philipp Plein, so they moved and the seats by her are empty. pic.twitter.com/XcxNYI6Kf8

— Christina Binkley (@BinkleyOnStyle) February 14, 2017
Thankfully, some good people set Binkley straight on these photos and called her exactly what she is, a bully.
And here's the kicker. No one actually left their seats because of Tiffany. The seats were reserved for German fashion designer Philipp Plein according to Tiffany's friend, Andrew Warren. USA Today explains,
"Seated next to Trump was her socialite BFF Andrew Warren, who shared his own version of events on Instagram. "That seat was never empty it was reserved for (Plein's) family," he captioned his selfie with Trump."
So, this is what it has come to now folks. These tolerant individuals have resorted to bullying tactics and public shaming because they don't like Donald Trump. Seriously, these people won't sit next to this young girl and they have the audacity to call Trump supporters the hateful ones. I mean what is this? High school again?
I mean what is this? High school again?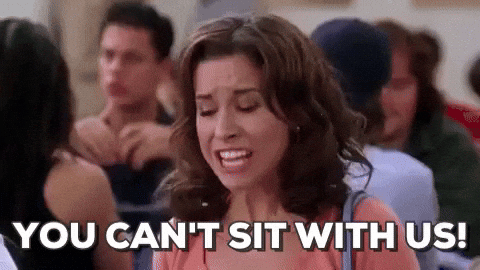 Maybe one day the left will begin to practice what they preach about love and tolerance. At least we could only hope that they grow up and start to act as adults. However, if I were you, I would not hold my breath.
H/T [ Daily Mail ]
FOLLOW us on Facebook at Freedom Daily!
Kaepernick Makes Surprise Visit To Federal Prison To Trash America And Make Sickening 'UnThanksgiving' Day Message
Colin Kaepernick, the statistically dwindling former 49ers quarterback who likes to be on his knee has joined an ungrateful protest that seems to be against America. Kaepernick joined the "Indigenous People's Sunrise Gathering on Alcatraz Island" which is being touted as the "Un-Thanksgiving" celebration. It's a little gathering that features Native American activists and commemorates the people's occupation of Alcatraz. This reportedly lasted from 1969 until 1971 and perhaps forced changes in the government to favor things required by "Indian affairs." There's also speak of the holiday being talked up as the "current-day American genocide" but that's no responsibility of mine or yours.
Colin Kaepernick was quoted as saying "Our fight is the same fight. We're all fighting for our justice, for our freedom" which doesn't make much sense. He's a millionaire former pro quarterback, so not sure what fight he's fighting. Perhaps he's battling all the white privilege he has since he was raised by adoptive parents who seemed to be better off than most. What struggles does Kaepernick have in his life? His only problems are not being hired by any NFL team on account of his falling stats and extreme baggage. His bank account and home is likely bigger than most, so he's not homeless or poor, which means he has the financial freedom to do as he pleases.
From Breitbart:
Former San Francisco 49ers quarterback Colin Kapernick joined the annual "Un-Thanksgiving" protest Thursday by Native American activists at the Indigenous People's Sunrise Gathering on Alcatraz Island.
The demonstration is held each year to commemorate the occupation of Alcatraz in 1969 by Native American activists, which lasted until 1971 and which is credited with encouraging changes in the federal government's policy toward "Indian affairs," the East Bay Times reports.
If European's came to America and stole land from people, then that's history and simply what happened. Neither I, you, or Colin Kaepernick can change history. To protest and be thankless and ungrateful for what we all have today is disrespectful to those who truly have nothing. Kaepernick can protest all he wants while people sleep on the street and live their daily life being thankful to find a half eaten sandwich in the trash.
With all due respect, if you can't protect your land, then you don't deserve the land anyway. But that's neither here nor there. Whatever happened decades before any of us were born is pointless to protest. We're here NOW and we need to worry about today's problems, not the battles fought in the past. It's just like slavery – no one on this planet has ever owned a slave nor were they a slave, so continuing to use it as a talking point is essentially pointless. Leave history in the past and work on the present.
Kaepernick should encourage people to work hard and fight for the homeless, the Veterans (oh wait, he disrespects them), and building communities that focus on reducing crime and increasing education. It seems like Kaepernick wastes more time instead of being productive.
Kaepernick talks about the resistance and the fight.
He added, according to the San Francisco Chronicle:
If there's one thing that I take away from today and seeing the beauty of everybody out here, it's that we're only getting stronger every day, we're only getting larger and larger every day. I see the strength in everybody.
The dancing, the rituals – that is our resistance. We continue to fight. We continue to fight for justice. We fight for our freedom, and we continue on that path.
Resistance to what? Fight what? What justice are they fighting for? What freedom are they fighting for? None of this "resistance" talk makes any sense. I'm not sure what they're resisting against as there simply is nothing against them to resist. The "resist" movement is mostly people who enjoy protesting who have no true cause, or can't grasp the concept that they're fighting for things they already have, but they're too blind to realize it.
There's already justice in America and when people stop defending criminals, then they'll realize justice already prevails in most situations.
The people fighting for freedom already have freedom thanks to the military who fought for our freedom. How can anyone say they're protesting, resisting, or fighting for the freedom they want – when they already have it? That doesn't make much sense and sounds like a pointless reason to protest or "resist" anything. If they want to talk about resisting something, then let's talk about those extremely not-at-all-affordable Affordable Care Act. Remember when Obama said we could keep our doctor, but we couldn't keep our doctor? That's something worth resisting. What part of the ACA is affordable? I resist!
Today, I was on Alcatraz Island at the Indigenous People's Sunrise Gathering, in solidarity with those celebrating their culture and paying respects to those that participated in the 19 month occupation of Alcatraz in an effort to force 🇺🇸 to honor the Treaty of Fort Laramie. pic.twitter.com/KdNtY3dp72

— Colin Kaepernick (@Kaepernick7) November 24, 2017
It's great that he's out there doing things, but why not do something for the homeless veterans in his neighborhood? Why not clean up the streets where American people struggle to eat?
Colin Kaepernick is still not on any NFL team, despite the fact that he's probably better than a handful of backup QB's. He's not an elite player, he's not worth big money, and he comes with social justice warrior baggage that no one wants to carry for him. Teams have resisted to hire him, so I guess his resistance worked against him.
If you can't get the Cleveland Browns to hire you, then you know you're the problem.
Kaepernick should be thankful for the millions he earned while given the once in a lifetime chance to be a professional athlete. Hopefully he's secretly thankful for that opportunity while he's out there protesting for things that he already has…except for a job.
As Military Hero Sang The National Anthem Fans Immediately Watched The Disgusting Display On The Giants Sideline
As the boycott of the National Football League picks up steam, the spotlight on the players who are protesting the National Anthem keeps getting brighter. Even though their protest is on the verge of bankrupting the NFL, the league has decided that it won't put a stop to their disrespect, that this is the one area where the players will have free reign.
Despite what is being said by the players (that the protest is meant as no disrespect toward the military or those who have served in the past) it's hard not to see this as a slap in the face to everything patriotic. The entire premise of the protest is to draw attention to what they're calling a broken system. They're saying that the country is, as a whole, racist and that police are targeting the black community.
Since most of their former fans don't agree, or at least don't appreciate the protest, everyone at the NFL's jobs hangs in the balance. What the NFL needs right now is some good press, but with players like New York Giants Olivier Vernon around, they're not about to get it. Vernon, like many other players, insists that he means no disrespect to the military, but his actions at a game on Thanksgiving would say otherwise. The defensive end knelt while the anthem was being sung by a military hero just before the Giants game against the Washington Redskins, and people aren't happy about it.
This shouldn't come as any great surprise though since Vernon recently told Newsday that he planned to keep kneeling until he feels that his cause has been made right. No word on what that will look like, or it's ETA, but until then, Vernon will be kneeling:
"Vernon is the only Giants player who continues to protest during the national anthem, and he plans to do so for the foreseeable future.
Still hoping to raise awareness about social injustice and racial inequality in America, the defensive end will not relent in the face of criticism that continues to come his way from fans who believe he is disrespecting the military by not standing for the anthem.
'What it would take for me to stand is if people can understand what the whole message is behind it,' Vernon told Newsday. 'That would actually help a whole lot, but everybody doesn't see things that way and tries to distort what the message was from the beginning, which is basically social injustice on African-Americans and police brutality.'
Vernon understands that not everyone respects his decision to take a knee, but he remains convinced that the best way to draw attention to the issues he's most concerned about is to continue his form of protest.
Would there ever come a time that he would stand for the anthem?
'Unless we can work something out and find the solution and try to address what the real issue is,' he said, 'I'll continue to take a knee. I really don't care what people outside have to say. I just believe in what's right and what's wrong, and I'm going to show support for what I believe in.' Vernon said he continues to be criticized for not standing but that he tries to ignore most of it.
'I get [criticism] all the time,' he said. 'If it was anything that actually bothered me, I would care. There's stuff that some people say that comes out of their mouth that is just ignorant and uneducated, so I just keep it moving and I don't really address anything anybody has to say. If they can't come at me on something intellectual, then I don't have a response for you.'
He also isn't concerned by the recent television ratings decline, at least some of which has been attributed to fans being turned off by the anthem protests.
'At the end of the day, there's a First Amendment right as an American citizen,' Vernon said. 'You have a right to protest peacefully. Protests aren't supposed to be comfortable. Some people aren't going to understand.'"
At the end of the day, he shows up for work and puts on a uniform just like millions of other people. And just like the rest of us, he has to do what his boss says, or he'll lose his job. If his boss says that it's ok to kneel on the job, then he can do it, but if his boss says he has to stand while working, then he'd better stand. And if that company goes out of business because it's employees have made themselves so unpleasant, and the owner refused to ask them to stop being unpleasant or fire them when they didn't, then both he, and the owner will be out of work.
None of that has anything to do with the constitution; it has to do with how a free market works in a free country, like the one we live in, and the one that our military veterans have fought and died for. Call me old-fashioned, but I think that deserves enough respect to stand for a few moments, once per game
[H/T: Newsday]
Share if you will always stand for the anthem! 
Jerry Jones Just Delivered The Final Blow To NFL Commissioner and Pissed Off Every Anti-American Player!
The National Football League, led by Commissioner Rodger Goodell has spent this season on the express train to bankruptcy. Because of the National Anthem protest, let by the players, the former fans of the league have decided to boycott, which has led to massive losses for the league. The most recent estimations guess that the league has lost about $500 million in TV advertising dollars alone, not counting ticket sales, merchandising losses and the potential of an additional billion dollars lost in tax subsidies.
All of which could have been reversed if the league were willing to just tell their players to stand for the National Anthem. It's a move that the NBA made months ago, with great success, and it's a move that already had the groundwork in the league bylaws. However, the since they refused to require even the slightest respect out of their players, the fans (including the President) have washed their hands of the game.
The steep decline is coming to a halt as rock bottom approaches and the President along with Cowboy's owner Jerry Jones are leading the charge. Jones was quick to say that his team wouldn't be participating in disrespecting the anthem and has been working to fix the problem with the league by making it what people want again. President Trump also wants to see those who disrespect America punished, and together they are bringing the heat to the NFL and Commissioner Goodell. USA Today reports that the President's most recent tweets might be causing a pretty big stir:
"President Donald Trump has been preoccupied with the sports world this week, and he started Friday morning with tweets about the NFL and Tiger Woods.
Trump criticized the NFL for the third time this week — Friday's tweet took aim at the players and commissioner Roger Goodell. Trump wrote that Goodell has lost control and added that "players are the boss."
'Can you believe that the disrespect for our Country, our Flag, our Anthem continues without penalty to the players. The Commissioner has lost control of the hemorrhaging league. Players are the boss!'"
Can you believe that the disrespect for our Country, our Flag, our Anthem continues without penalty to the players. The Commissioner has lost control of the hemorrhaging league. Players are the boss! https://t.co/udXP5MR8BC

— Donald J. Trump (@realDonaldTrump) November 24, 2017
It's not the President's job to keep the league financially stable, however, as a businessman, it would be difficult for him to look at this poorly run business and not see how they could improve. It his, however, his job to keep America in the best position possible, and it wouldn't look good at all to the outside world if the President were patting people on the back who persistently insult their own country. We had 8 years of that, and it's what American voted against last November.
"On Wednesday morning, Trump blasted the NFL after reports that the league would consider keeping teams in the locker room during the national anthem next season. He also attacked LaVar Ball, calling him an "ungrateful fool" after Ball failed to credit Trump's efforts in the release of three UCLA basketball players after a shoplifting incident in China. Ball's son, LiAngelo, was among the players who had been detained.
Early Monday, Trump tweeted that Oakland Raiders running back Marshawn Lynch should be suspended after Lynch sat during the anthem on Sunday."
Since the league is a business of its own, it's allowed to do whatever it wishes, and the customers are allowed to take their business elsewhere. But since so many have chosen to do that, the teams are also losing huge amounts of money. When it comes to teams like the Cowboys, owned by Jerry Jones, they haven't been spared the loss even though they have banned kneeling.
According to Fox News Insider, Jones appreciates all the help that President Trump is trying to be to the league, and he also plans to do something about the problem with Commissioner Goodell and his instance on crippling the league:
"The owner of the Dallas Cowboys said he 'appreciates' President Trump's weighing in on the national anthem protests by National Football League players.
The NFL is now thinking about a new idea – keeping teams in the Locker Room during the National Anthem next season. That's almost as bad as kneeling! When will the highly paid Commissioner finally get tough and smart? This issue is killing your league!…..

— Donald J. Trump (@realDonaldTrump) November 22, 2017
'I certainly think that the thing he is addressing is certainly a part of how we want to make our game better,' Jerry Jones told CNN on Wednesday.
'There's no question because of our visibility, our substantiveness, that we are looked to for social responsibility as well. This is all part of what I've been talking about with the commissioner, and certainly I appreciate not only the president, but I want everybody to be a fan of the Dallas Cowboys,' Jones said.
Jones originally knelt with his team for the national anthem, but since then has stated players will be benched for doing so.
NFL players have taken various other poses besides standing as a statement against racial injustice in America. However, veterans and others have taken offense at what they see as a snub to the American flag."
In other words; the NFL is never going to get its reputation back as long as we keep losing fans, and they're not going to stop losing fans until they start being more respectful. It would be great if the respect that they should show to the anthem and flag came from a sense of loyalty, but if it has to come from the loss of money, that will work too.
It looks like the NFL might be on it's way out for good, and not a moment too soon.
[H/T: USA Today, Fox News Insider]
Share if you're proud to be a part of the NFL boycott!