via Daily Mail: The Moroccan knifeman wearing a fake suicide belt who was shot dead trying to attack a police station in Paris today was carrying a letter in which he pledged allegiance to Islamic State.
Sallah Ali had been trying to enter the police station in Barbes, northern Paris, shouting 'Allahu Akbar' and threatening officers with a knife on the anniversary of the Charlie Hebdo attacks.
The 20-year-old convicted thief was carrying a mobile phone and a sheet of paper showing the black flag of ISIS – and claims of responsibility written in Arabic, according to officials in France.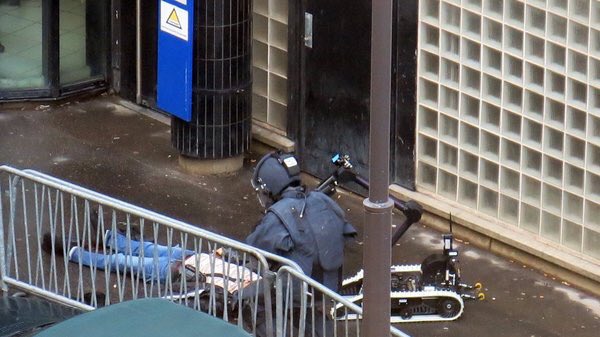 Paris prosecutor Francois Molins said: 'A mobile phone and a piece of paper, on which appear the Daesh (ISIS) flag and a clear written claim in Arabic, were found on the individual.'
A police union source said Ali, who is originally from Casablanca, was wearing a belt made out to look like a suicide vest – but a bomb disposal unit has since confirmed that it was a fake.
Police have cleared hundreds of people from the area, which has a high percentage of residents with a multi-ethnic or immigrant background, over fears that other assailants could be at large.
A Paris police official said officers are viewing the incident outside the Goutte d'Or commissariat – close to the Gare du Nord Eurostar hub – as 'more likely terrorism' than a standard criminal act.
Earlier, Luc Poignant, a police union official, said Ali may have been wearing an explosives vest, and cried out 'Allahu Akbar' or 'God is great' in Arabic.
A witness said he had heard 'two or three shots' this morning, before the man was on the ground. Ali was said to have 'sworn allegiance' to Abu Bakr al-Baghdadi, the reclusive leader of ISIS.
He had been sleeping rough in Paris, but in 2013 had been arrested for theft in Sainte-Maxime, the upmarket French Riviera seaside resort. His fingerprints were recorded at the time.
His body, dressed in light blue jeans, a grey combat-style jacket and black boots, could be seen lying outside the police station until well into the afternoon.