Racist NFL Players Caught Hiding Sick Secret Weapon On The Field That Could Be Deadly – NFL Does NOTHING
This is Sick!
While most of the responsible adults in America with any foresight whatsoever have already abandoned the National Football League because of it's disrespect to the nation, there is at least one more habit that players have that could put holdouts over the edge. Anyone who considered the NFL to have any integrity left is now faced with a trend that completely blows that theory out of the water.
While we know that many common drugs are banned by the league for use by the players, it turns out that players can get a boost from something else, a backdoor if you will. Taking a medication orally is the most common way of getting a substance into your bloodstream, but it's not the only way. Players and even team staff have been caught sniffing performance-enhancing substances, and the league doesn't seem to care.
Dallas Cowboys player Ezekiel Elliott was the subject of an ESPN exposé about the players, throughout the league who have started huffing an ammonia mixture for a little sideline pick-me-up between downs:
"…Elliott and a handful of his Cowboys teammates are breathlessly engaged in the latest, strangest sports ritual: huffing the stomach-turning noxious fumes found in smelling salts.
The ammonia-based inhalant is manufactured for the express purpose of treating or preventing fainting, but at some point, NFL players and other athletes discovered they could repurpose the decongestant properties and adrenaline-pumping side effects into a perfectly legal, low-tech pick-me-up … even though there's zero proof of any performance benefit. In fact, this will be the first of at least eight capsules for Elliott today. Using hand movements reminiscent of his trademark "feed me" gesture, Elliott inhales a capsule before donning his helmet for each Dallas drive in a 35-30 loss to the Rams. He's far from alone, on either team. Directly behind Elliott, two members of the Cowboys' game-day staff, dressed in matching blue slacks and white polos, are busy sniffing away on their own ammonia capsules."
It's understood that professional athletes are under a tremendous amount of strain, both physically and physiologically, while they play the game. However, these habits are a notch or two above having a cup of coffee with your morning paper, and the after-effects are really not at all know. The article likens them to a decongestant, but it's worth noting that any medication, over the counter or otherwise, has a recommended dosage. If there's a decongestant that recommends that you take 8 over the course of a couple of hours, I've yet to see it.
It's is a basically unregulated substance because it's more commonly used for cleaning, and we're recommended to not have it near our faces, and yet these players are huffing it like it's their life support. The reality is that this substance that is supposed to help them be more alert and attentive while playing, might, in reality, be causing them to ignore the warning signs of brain damage.
Here's more from our source about the affects this dangers habit could have on professional athletes:
"Near the end of the first half, six members of the Dallas defense can be seen simultaneously hitting the salts before taking the field. The group includes veteran cornerback Orlando Scandrick, who jogs onto the field while using his right hand to make the sign of the cross and his left hand to sniff salts, and defensive end Demarcus Lawrence, the NFL's sack leader through four games.
Lawrence says he can't drink coffee for a quick jolt during the game because it might affect his stomach, so he has turned to smelling salts. "The ammonia wakes you up, opens your eyes," Lawrence explains. "You'll be on the bench, you start to get a little tired and you got to wake your body up, and that's what that little ammonia does for you."
But that simple explanation, like the entire smelling salts fad itself, doesn't quite pass the sniff test.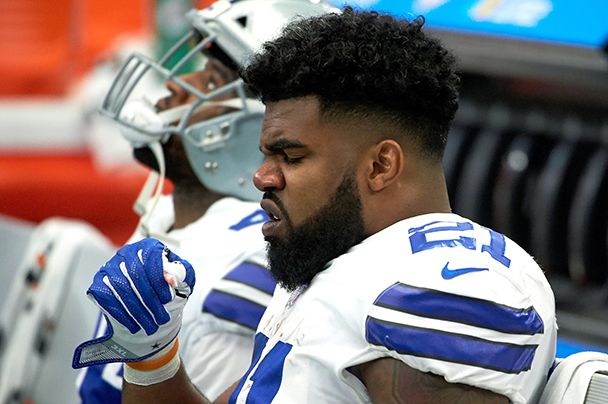 The initial discomfort is quickly followed by a sensation that your breathing pathways have not just opened up but expanded exponentially while ramping up your alertness to an almost euphoric level. This phase is short-lived, however: Lawrence says that for him, it lasts about one set of downs. Also, the initial wave can sometimes be followed by prolonged bouts of nausea that serves as a vivid reminder of why household ammonia products come with the warning: Avoid inhalation of vapors.
"The claim is that smelling salts arouse your consciousness and focus, but how many of us in our daily lives think it's appropriate during a tough day at work to open a bottle of ammonia and start sniffing the fumes?" says Dr. Joseph Estwanik, a fellow with the American College of Sports Medicine. "Ammonia's intended use is for cleaning. Giving a highly trained elite athlete ammonia to help them perform at their peak is like throwing a drowning man a cup of coffee."
The company that manufactures the NFL's capsules, the New Jersey-based James Alexander Corp., has repeatedly stated that the product is designed to treat or prevent fainting. A company spokeswoman had no response when asked about the widespread misuse of smelling salts in the NFL. Ignoring the topic seems to be the common response when it comes to the league's secret little helper. Even though the capsules are typically distributed by athletic trainers, the National Athletic Trainers' Association wouldn't discuss the topic and doesn't have official guidelines on the use of ammonia capsules.
There is one clear, though indirect, danger to using smelling salts: In the past, they've been routinely used to mask and combat concussion symptoms in sports such as boxing and football. In 2011, after quarterback Terry Bradshaw began experiencing the effects of brain damage suffered during his Hall of Fame career in Pittsburgh, he wrote: "When I played for the Steelers and I got my bell rung, I'd take smelling salts and go right back out there. All of us did that."
For that reason, the practice of using salts has been banned for decades by major boxing organizations, and in the NFL, league spokesman Brian McCarthy says "team medical staffs do not use [smelling salts] in any way for the treatment of any concussion or other injury.
"We have seen no proven performance enhancement and minimal risk," he says. "Team medical staffs monitor all aspects of their players' care."
In college football, salts are already common. And Estwanik wants the NFL to outlaw ammonia before the league's huffing habit becomes just as widespread on the high school level, where there isn't enough medical supervision to prevent the use of ammonia to mask conditions such as asthma, dehydration and head injuries."
[H/T: ESPN]
FOLLOW us on Facebook at Freedom Daily!
Horrific Video Catches What 3 Racist Black Nurses Did To Dying WWII Vet As They Laughed
This is the most horrific thing, Ever!
Thanks to the former president Barack Hussein Obama and his manufactured race war, racial tensions in our country are now at an all-time high.
But now the so-called "race wars" have reached a new all-time low after a video popped up online which appears to show a horrible act of racism in a nursing home. It's unbelievable what a group of 3 black nurses did to a dying white World War II veteran who was screaming in agony from the confines of his nursing home bed.
Eighty-nine-year-old highly-decorated WW II veteran James Dempsey served his country honorably, and probably never fathomed that the worst experience of his life would come at the very end and at the hands of a nasty staff of racist nurses. After suddenly being unable to breathe, he pushed the call button in his room six times, frantically telling staff over the intercom that he needed immediate help. Help which never came. Instead, he was laughed at hysterically.
During questioning, Nuckles simply passed off the entire incident as an "honest mistake" after being caught red handed in a lie after being confronted with the video footage."I was just basing everything on what I normally do."
Doing what you "normally do?" Is laughing while World War II veterans die what you "normally do," Wanda Nuckles?
"Not only did she lie about the chest compressions, the staff did not call 911 until an hour later. When nurses had difficulty getting Dempsey's oxygen machine operational during attempts to fix the issue, you can hear Nuckles and others laughing," Popular Military reported.
Retired nursing professional Elaine Harris reviewed the footage and still cannot get over the horror of what she witnessed.
"In 43 years in nursing, I have never seen such disregard for human life in a healthcare setting, is what I witnessed," Harris said.
Harris went on to criticise the nursing staff, "claiming that the nurses failed to respond, assess and act- not to mention the failure to continuously perform CPR," Popular Military went on.
"That is absolutely inappropriate. You never stop compressions," said concluded.
What's even more startling is that the Atlanta nursing home tried to bury the story from being leaked to the public, but due to the incredible perseverance of the local news outlet 11Alive, these women will forever be shamed. "Attorneys representing the Atlanta nursing home tried to prevent 11Alive from obtaining the video. They asked a DeKalb County judge to keep the video sealed and then attempted to appeal to the Georgia State Supreme Court. The judge ruled in favor of 11Alive and the nursing home eventually dropped its appeal to the state's highest court," 11 Alive reported.
Investigator Steven Haffley pointed out that criminal charges need to be immediately pressed against these 3 individuals and that it's ridiculous that the only punishment they've received is simply losing their jobs as nurses. On top of that, how these nurses acted wasn't even normal human behavior. Haffley stated:
"On a human level, how could you possibly do that?" Steven began. "I might not like some of the protesters, but if I saw someone dying on the street, suffering in pain, calling out for help, I'd help them. It's just apart of being human…But somehow these nurses don't even have that compassion for a World War II veteran, who's dying in pain. How did they get to be nurses?
"James Dempsey died at the age of 89. He was a decorated World War II veteran from Woodstock, Georgia. He served his country with honor in the time of its greatest need. God bless his soul. I'm so sorry you were treated this way," Steven concluded.
11Alive reports that Dempsey's family have reached a settlement agreement with Sava Senior Care, who fired 10 of the nurses involved after the video was brought to their attention. Horrifyingly, this isn't the first time that Northeast Atlanta Health and Rehabilitation has abused patients, as they continue to have a history of abuse after Dempsey's death due to health and safety violations. They've been given a one-star rating from Medicare, and have also be smacked with $813,113 in fines since 2015.
These savage scumbag nurses called this sick incident where a man died an "honest mistake?" Are you freaking kidding? A man died desperately gasping for air and they laughed hysterically? How is this considered an "honest mistake?" This has to be the sickest display of racism I have ever witnessed in my lifetime.
Nurses take an oath to do good and help people. These 3 characters decided to ignore a man who was a WW2 hero because they are a bunch of racists who hate white people, plain and simple. These sorts of acts were unheard of before the presidency of Barack Hussein Obama, who won only because white liberals in this country suffer from an acute condition of white guilt.
Please share in hopes justice will be served in this awful case….
What This DISGUSTING Muslim Basketball Player Did During Anthem SHOCKED Entire Stadium
Trump is pissed & you will be too!
An ungrateful Anti-American Muslim ball tossing student from Garden City Kansas has been swiftly removed from a junior college basketball team for actually shooting baskets during the playing of our nation's national anthem.
But to add to the insult the 19-year-old student, Rasool Samir, is now claiming that his civil rights were violated when Garden City Community College, in Garden City Kansas, removed him from the team. School officials said that Samir was actually removed from the team because he didn't follow a team rule that states that players must leave the court before the anthem plays.
Samir is no longer a student at the junior college but he, of course, has already filed a complaint with the ACLU claiming that the school violated his First Amendment rights on the basis that he has a "religious objection" to the anthem. Huh? Why are you here then? I bet our welfare system and free stuff don't offend you.
The American Civil Liberties Union of Kansas has sent Garden City Community College a letter asking for clarification as to why former Broncbuster basketball player Rasool Samir is no longer on the team, following an incident between Samir and a Broncbuster booster after Samir shot baskets during the national anthem.
The incident occurred just prior to a Nov. 1 game against Sterling College, GCCC's season opener. Samir was escorted out of the Conestoga Arena by a campus police officer, after Broncbuster Athletic Association member Jim Howard confronted him on the court. Howard, who said he confronted Samir because he felt his actions were disrespectful, was allowed to return to his seat, where he remained for the duration of the game.
Two days later, Samir was no longer enrolled at the college, and GCCC Director of Athletics John Green said it was Samir's decision. However, Samir told The Telegram head men's basketball coach Brady Trenkle told him he had to leave the college.
Now, Samir has filed a complaint with the ACLU, which then sent the letter, dated Nov. 9, to Green. The Telegram obtained a copy of the letter — which can be found here — and in it, the ACLU asks the college to address several allegations that the college may have violated Samir's First Amendment rights.
"We believe any disciplinary action by GCCC against Mr. Samir for abstaining from the anthem is antithetical to our American values and a violation of his First Amendment rights," the ACLU's letter read.
The ACLU also asked for clarification of the college's stance regarding why Samir was no longer at GCCC, citing The Telegram's story in which Green claimed Samir left on his own accord, and then a KWCH-TV story in which Green said Samir had been dismissed for a violation of team rules.
"I think our objective with the letter is to discern the inconsistencies in statements to the media," Lauren Bonds, ACLU's legal director and author of the letter sent to GCCC, said Wednesday afternoon.
Bonds said that her office did receive a response from the college on Wednesday, but the ACLU had not reviewed it completely as of Wednesday afternoon. However, Bonds said that she believes the college's response still contained inconsistencies.
When reached for comment Wednesday, Green directed questions regarding the incident and the ACLU letter to the college's attorney, Randy Grisell of Doering and Grisell PA in Garden City. Following Wednesday night's men's home game with Barton, Trenkle also referred any questions regarding the incident to Grisell.
Grisell did not return a message left for him at his office Wednesday afternoon.
Samir, who is black and Muslim, previously said he wasn't protesting, as many athletes across the country have done by kneeling or performing other actions during the national anthem in protest of police brutality and racial inequality. He told The Telegram and reaffirmed in the ACLU's letter that "he refrained from participating in the anthem because he is a Muslim and his faith prohibits acts of reverence to anything but God," the letter said.
Prior to leaving the college, Samir apologized for shooting around during the anthem, saying he did not "mean any disrespect at all to the fans or the flag at last night's game. I am truly sorry to anyone that felt disrespected, and I am also sorry to the school. I apologize for what happened."
The ACLU contends, and cites in the letter at least a dozen judicial rulings, that any discipline that Samir possibly received because of his abstaining from the anthem is a violation of the First Amendment because GCCC is a public institution.
"It's a kind of compelled patriotic salutes that we don't think should be the basis on if a student-athlete is allowed to participate in athletics," Bonds said.
Bonds said the ACLU has not decided on what step the organization would take next, if the college's response was not satisfactory. However, Bonds said the ACLU has been able to resolve similar cases nationally using a demand letter, while the Nov. 9 letter was to gather information.
"Because we are concerned that Samir was kicked off the team for exercising his First Amendment rights, we ask that you please provide us with GCCC's response to (Samir's) allegations," the letter read. "In particular, we request any documentation you have that establishes Samir: (1) was not chastised by Coach Trenkle for refusing to salute the flag; (2) was not ordered to leave Conestoga Arena for asserting his right to abstain from the anthem; (3) left the team voluntarily; and (4) was dismissed from the team due to a violation of team rules that carries the penalty of dismissal."
Isn't it great how these people come from third world cesspools, they take advantage of our generosity and our facilities and they are offended because of our national anthem? Isn't it about damn time we start actually vetting the people who come into this nation? There are places in this world whose people have no positive influence to bring to our nation and our people. It's not our obligation to be the place where the unwanted from other nations come to escape the slum they originated from. So that once they get here they can disrespect the greatest and most powerful nation ever known to man.
It's really simple. If a person can't even contain themselves long enough to at least show respect for our flag, and everything she stands for, we don't need that person in this country.
Please share if you agree that people who are offended by our flag shouldn't be living in our nation….
Budweiser's New NFL Ad Leaves Every Military Fam In America In Complete SHOCK With What It Shows
As one of the NFL's biggest sponsors, Budweiser let it be known this week that they aren't backing down to many Americans' demands that they pull their support from the sport that allows protests to continue. Now, they have come out with a new commercial that is leaving every Military family in the country in complete shock.
The beer company offered a public statement that didn't condone the National Anthem kneelers but also didn't discredit them. They spoke of support for our military members who have and are defending our freedom but left a lot to be desired in making a real statement through assertive action.
Yahoo Finance compiled the responses of sponsors to the protest, most of which carried the disappointing theme that they considered the actions of players to be freedom of speech. The official report from Anheuser-Busch reads:
"On Monday night, a spokesperson for Anheuser-Busch InBev sent Yahoo Finance this statement, which appears to fall into the play-it-safe, neutral category along with Under Armour and Ford:
"At Anheuser-Busch, we have a long heritage of supporting the institutions and values that have made America so strong.  That includes our armed forces and the national anthem as well as diversity, equality, and freedom of speech.  We proudly employ over 1,100 military veterans and we work every day to create an inclusive environment for all of our employees. Because only together can we achieve our dream of bringing people together for a better world."
While their politically correct statement seems to be playing it really safe on the issue, their commercial sends a very clear message that not everyone is going to appreciate. Perhaps Anheuser-Busch realized the fine line they were walking with who their customers are. True Americans who bleed red, white, and blue and are boycotting the NFL are the ones who drink their beer, not those who support these anti-patriotic protests.
The company's recent commercial represents this, bringing the attention back to where it belongs — on the sacrifice of those who fight to defend our flag that entitled sports stars are kneeling before.
When you reach into the cooler this weekend and pop open a cold one while spending time with those you love, Budweiser hopes you think of them and drink one of their beers while not watching football. With that plan in mind, they created a special commercial to commemorate our nation's independence and many Americans were floored at what they saw.
It's been a year of beer debacles a major brewing company like Heineken going down the misguided path behind liberal coffee giant Starbucks in mixing politics with their products. Budweiser also decided to mix the two but in a much different way that left their customer base in awe and ensured that they are the staple beverage for beer drinkers at cookouts across the country.
Right Wing News reports:
If this doesn't make you bleed red, white, and blue for the rest of the year, I don't  know what will. I mean, what's more American than beer, Marines, Star Wars and helping veterans?
Star Wars star Adam Driver (better known as Kylo Ren) is a Marine veteran who has achieved his dream of becoming an actor. Now, he wants to give back, with the help of Budweiser's "Folds Of Honor" program.
Budweiser created a docu-movie of sort in their moving ad that really tugs at the heartstrings of every country-loving patriot in the country. Driver is seen traveling across the country to meet up the real daughter of an actual wounded Army vet, John Williams, who had been severely injured during a training exercise. The hero's daughter, Hayley Grace Williams, is currently studying to become a nurse and had written into the "Folds of Honor" program in hopes of getting a scholarship to help facilitate her dreams.
"Because of his injury, Williams was not able to go overseas and was medically discharged," Right Wing News explains. "His daughter has been forced to work 40 hours a week to pay for her final year of school, which is going to cost $44,000. In her letter, Hayley explains that the weight she carries is so great that she may not be able to finish her final year of schooling."
While Heineken preaches to red-blooded Americans about "open borders" on their bottles, Budweiser took the patriotic approach rather than using divisive political rhetoric to sell beer. The sales should speak for themselves in that Heineken lost a huge portion of their customer base and Budweiser reinstated they're truly the "king of beers."
Here is what the Heineken bottle reads:
Here's To An Open World
To a world without borders or barriers. To the belief that there is more that unites us than divides us. To find common ground to raise a bottle with the person next to you. Because a stranger is just a friend that you haven't had a cold Heineken with yet.
Open Your World.
While Heineken thinks that what unites people is open borders, Budweiser understands that true red, white, and blue patriotism is what America really needs right now. That means doing more for those who fought and sacrificed for this country, than those who cross the border illegally. There are homeless, hurting veterans that need our attention and help before refugees and illegal immigrants. If liberals really cared about coming together and unifying people, their concern would be for those who defended their right to complain about "open borders."
While we don't get paid to promote any beer brand at Freedom Daily, you can bet that we'll be buying a brew with real American values and not one with an agenda to push, like Heineken. We hope that everyone has a happy and safe Independence Day, drinks responsibly, and supports a brand that backs America and our heroes who fought for this country.