Three RELATIVES of San Bernardino Jihad Killers ARRESTED
Remember how the media clamored to provide these family members with an unchallenged press conference — sponsored, of course, by the terror-tied group CAIR (Council of American-Islamic Relations)?
Syed Raheel Farook, the brother of San Bernardino jihad killer, Syed Rizwan Farook, was arrested this morning. He is a decorated U.S. Navy veteran. Gives you the chills, doesn't it?
Today's arrests are the latest development in the FBI investigation of the San Bernardino jihad mass murder, in which 14 non-Muslim Christmas party goers were slaughtered in cold blood. The massacre was the deadliest terrorist attack on U.S. soil since 9/11.
Family members and members of the Muslim community were complicit. All those arrested attended the same mosque. Enrique Marquez, the SB jihad killer's neighbor,  got Farook the guns used in the mass slaughter of Christmas party revelers (after he converted and became a devout Muslim). So is it any surprise that Enrique's wife,  Mariya Chernykh,  was arrested this morning, too?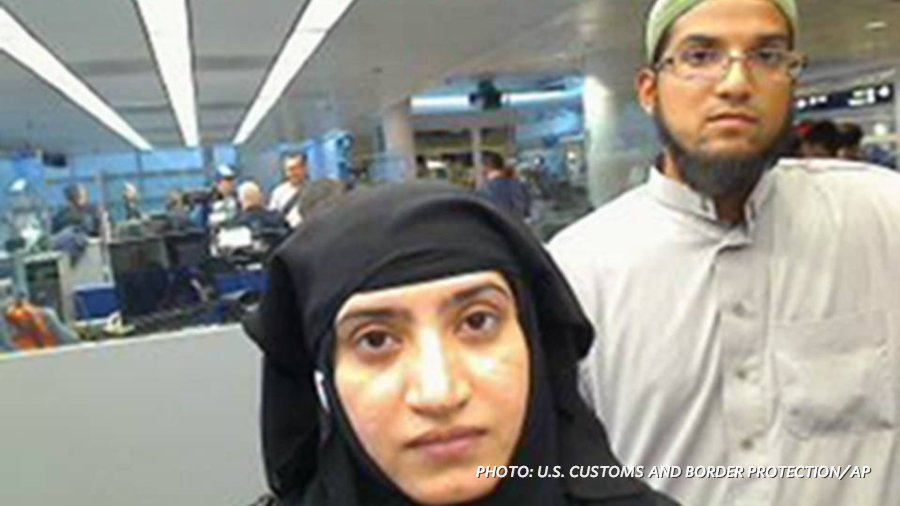 "FBI arrests brother of San Bernardino jihad murderer and 2 others," Los Angeles Times, April 28, 2016:

FBI arrests brother of San Bernardino terrorist and 2 others on marriage fraud charges
FBI serves warrant at home of Farook's brother

The FBI has served another warrant at the home of Syed Raheel Farook, the elder brother of San Bernardino gunman Syed Rizwan Farook. The FBI also served a warrant at the home in February.

Federal agents arrested three people, including the older brother of San Bernardino gunman Syed Rizwan Farook, on charges of marriage fraud and lying to federal investigators on Thursday morning, authorities said.

Syed Raheel Farook, his wife, Tatiana Farook, and her sister Mariya Chernykh were arrested Thursday morning and charged in a five-count indictment filed in federal court alleging that Chernykh entered into a fraudulent marriage with Enrique Marquez Jr., who has been charged with providing weapons used in the deadly Dec. 2 attack at the Inland Regional Center.
ADVERTISING

Two people were arrested at Farook's home in Corona after the FBI conducted a search warrant Thursday morning, according to Sgt. Paul Mercado, a spokesman for the Corona Police Department. A second search warrant was served at Chernykh's home in Ontario, federal prosecutors said.

See the most-read stories this hour >>

In the course of the investigation into the terrorist attack, federal authorities said they determined Marquez received money to marry Chernykh, who took part in the wedding only to gain legal status in the U.S. FBI agents interrogated Chernykh as part of the inquiry into the terror attack, and prosecutors say she lied during those interviews by pretending that she lived with Marquez when she actually resided in Ontario.

All three are expected to appear in federal court in Riverside at 2 p.m., according to the U.S. Attorney's Office.
Full Coverage: San Bernardino terror attack
Full Coverage: San Bernardino terror attack

They were charged with conspiring to concoct the illusion of a marriage between Marquez and Chernykh and face up to five years in federal prison if convicted. Chernykh also was charged with fraud, misuse of visas and other documents, perjury and two counts of lying to federal investigators. Those additional charges together carry a maximum sentence of up to 25 years in federal prison, according to the U.S. Attorney's Office.

"This is the latest step in the comprehensive investigation into the horrific attacks in San Bernardino last year that took the lives of 14 innocent Americans and deeply affected so many more," U.S. Atty. Eileen M. Decker said in a statement. "As I have said previously, we owe the victims, and the entire community of San Bernardino, a thorough investigation that uncovers all criminal activity surrounding these events."

Attorneys representing the Farooks and Chernykh did not immediately respond to requests for comment.

While the investigation into the San Bernardino attacks has centered on a battle to gain access to Syed Rizwan Farook's iPhone 5c in recent months, two law enforcement sources with knowledge of the investigation told the Los Angeles Times on Thursday that no information from the phone was used in the investigation into the marriage fraud conspiracy.

The FBI was prepared to battle Apple over access to the phone in court, but were able to gain access through a third party late last month.

A 12-page indictment that was handed up on Wednesday afternoon accuses Chernykh and Marquez of staging photographs of their relationship and later purchasing a wedding ring long after they were supposed to have been wed in order to sustain the illusion of marriage.

Chernykh made three separate $200 deposits in a bank account she shared with Marquez in late 2015, according to the indictment. Federal prosecutors previously alleged that Marquez was paid $200 per month to take part in the sham marriage with Chernykh.
Marriage fraud indictment for brother of San Bernardino terrrorist and 2 others
Marriage fraud indictment for brother of San Bernardino terrrorist and 2 others

The pair claimed they were married at a "religious institution" in Corona in November 2014, but Chernykh struggled to play the role of blissfully wedded wife early on, according to the indictment.

On Christmas Day 2014, Tatiana Farook told Chernykh to stop posting photos of the father of her child on social media, prosecutors say.

When the couple learned they were going to be interviewed by immigration officials in late 2015, panic set in, according to the indictment. Syed Raheel Farook created a fraudulent lease agreement that suggested Marquez and Chernykh had been living together since November 2014. The agreement said the couple lived with him and his wife at their Forum Way home in Corona, prosecutors say, but public records show Chernykh actually resided in Ontario.

In a November 2015 email exchange, Marquez and Chernykh discussed their mutual anxiety for their upcoming immigration interview because of the lack of contact with each other, according to the indictment.

Days later, Marquez posted on social media that he "was involved in terrorist plots and he might go to prison for fraud," the indictment said.

On Dec. 1, the day before the terror attack, the two sisters traveled to a retail jewelry store in Riverside and purchased a $50 wedding ring for Marquez, according to the indictment.

Federal prosecutors say Tatiana Farook persisted with the lie 24 hours after the deadly attack. When interviewed by the FBI on Dec. 3, she insisted that Marquez and Chernykh had been living together at her Corona home, according to the indictment.

FBI agents have executed three search warrants at Syed Raheel Farook's home since Dec. 2, when husband and wife Syed Rizwan Farook and Tashfeen Malik killed 14 people and wounded several more in a mass shooting at a conference room at the Inland Regional Center.

The two died hours later in a gun battle with police. Federal agents searched the older brother's home, where several Farook family members live, in the days after the shooting.

They conducted a second search in February after the investigation pivoted to look for key evidence that might help the FBI track Farook and Malik's movements after the attack. The hard drive of Farook's laptop has eluded FBI agents and has become something of a holy grail in the investigation as the FBI tries to determine whether Farook and Malik had any help in planning or carrying out the attack.

The Corona neighborhood where Farook was arrested Thursday morning was mostly quiet in the hours after the FBI raids, save for a throng of reporters.

Many residents said they have grown frustrated at the constant attention they've received since the Dec. 2 attacks as the FBI has repeatedly searched Farook's home.

Stacy Mozer, who has lived in Corona for 26 years, said he was surprised to hear that Farook had been arrested on charges related to marriage fraud.

In private conversations, he said, Farook expressed great regret about the shootings his brother and sister-in-law carried out.

"I was very surprised that's why they got arrested," he said. "When they said it was about the marriage thing, well, I was more concerned about the shooting."
Via Pamela Geller
Prominent Muslim Surgeon Just Arrested By NYPD Seconds Before Unleashing Horrid Plan On Innocent – Here's What He Was Doing
Obama caused this!
And once again we are getting reports about a Muslim being Muslim!
A well known orthopedic surgeon in his quest to carry out the next 9/11 has now been charged with trying to plan a Manhattan terror plot.
But here is where things get even direr; He is already under arrest for the ISIS-linked abduction and beheadings of two Filipino workers.
Dr. Russell Salic will be facing charges in the horrific Philippines attacks before authorities even agree to extradite the terrorist to face charges in the United States. Filipino Chief State Counsel Ricardo Paras said a court in Manila was considering the transfer request from the U.S. government regarding the new allegations which were made public Friday, October 13th.
Musa Muhammad stands at the site where 400 Islamist militants launched an invasion of the southern Philippine city of Zamboanga little over two years ago, sparking 20 days of heavy fighting with security forces. The ruins of his old house can be found there, amid several hundred other razed homes. Since then his family has lived in a sports stadium, refusing to move to a newly built house in another part of town.
The Real-Life Hogwarts Express Just Rescued a Family Stranded in Scotland
The Moros ("Moors"), as the Muslims of the southern Philippine region of Mindanao are called, are known for their intransigence. For centuries, they fought the Spanish, Americans and Japanese for their independence. Today, they are fighting Manila too. Some 120,000 people have died, and millions have been displaced, in the past 40 years of insurgency. (Muddying the picture, a separate communist insurgency is also sporadically waged in parts of Mindanao by the New People's Army, which is thought to consist of some 3,200 fighters.)
Yet many Moros, like Musa, are not victims of a heavy-handed central government but the casualties of infighting among their own kin. The battle at Zamboanga, which led to the destruction of Musa's home, started off when factions of one rebel group, the Moro National Liberation Front, wanted to signal their displeasure with the peace negotiations with Manila then being carried out by another rebel group, Moro Islamic Liberation Front. It took 3,000 troops to end the rebel occupation of several districts of the city, in an operation that saw 51 insurgents killed and drove 70,000 people from their homes.
Now those talks have stalled and, in the frustrated void that has followed their collapse, extremism has taken root. Several Moro outfits have pledged allegiance to terrorist group Islamic State of Iraq and Greater Syria (ISIS) and carried out attacks in its name.
One of those groups is the Abu Sayyaf militia, whose head Isnilon Hapilon — now styled Sheik Mujahid Abu Abdullah al-Filipini — has been appointed ISIS's leader in the Philippines. Presently, the Philippine army is attempting to strike at the group's jungle stronghold on the island of Basilan. In one of the bloodiest days for the armed forces in years, 18 soldiers were killed and over 50 wounded on April 9. ISIS claimed responsibility for the killings. Shortly after, Abu Sayyaf beheaded two Filipino hostages.
"It's very likely that [Abu Sayyaf] will declare a satellite of the caliphate in the coming year," says Rohan Gunaratna, an international terrorism expert at S. Rajaratnam School of Security Studies in Singapore. "Once that is done, it will be much more difficult to dismantle these groups."
Already, up to 1,200 Southeast Asians have joined ISIS in the Middle East. Experts now worry that an ISIS stronghold in the southern Philippines will act as a regional lure, providing extremists from across Asia with a place to gain combat experience, before they set act to attack Asian targets or even targets further afield. The Jakarta attack in January that killed four civilians is just a taste of what could come, says Greg Barton, chair in global Islamic politics at Deakin University in Melbourne.
"Next time they won't mess around with pistols but bring assault rifles," says Barton. "That's all it takes to turn amateurs into a lethal bunch of killers."
Some claim that the biggest threat currently is that competing, ISIS-inspired groups would seek to upstage each other with small-scale attacks. However, organized, international networks still exist, even if the influence of al-Qaeda, which once funded training camps in the southern Philippines, has waned, along with that of its affiliates.
Indonesian operatives are already trading Syria-hardened tutors for weapons and training grounds in Mindanao, reports the ISIS Study Group, an intelligence collective run by the Washington, D.C., think tank Center for a New American Security. The area is evidently attracting insurgents from further afield too. Mohammad Khattab, an alleged bombmaking instructor from Morocco, was reportedly among the five killed militants on Basilan earlier in April. There have been rumors of Muslim Uighurs from China in the area. And in January last year, Zulkifli bin Hir — a Malaysian described as a key facilitator between Indonesian and Filipino extremist groups — was cornered and killed in Mamasapano in central Mindanao, but at the cost of 44 deaths among the Philippine army's Special Action Force. Five civilians also lost their lives in an operation that turned the tide of support against President Benigno Aquino III's peace negotiations with the Moro separatists.
"Before the Mamasapano tragedy, it looked really promising," says Richard Javad Heydarian, a security expert at De La Salle University in Manila. "There were even rumors that Aquino would be nominated for the Nobel Peace Prize. Unfortunately a lot of journalists sensationalized the story, fanning anti-Muslim sentiment. Politicians running for office have then been trying to score political points on this."
Further talk of a new, autonomous province within the Philippines for the Moro — it would be called Bangsamoro — has now been suspended until the general elections in May. In the meantime, says terrorism expert Gunaratna, intolerance is putting down deeper roots. As an example, he points to the March 1 assassination attempt on a Saudi cleric, Aaidh al-Qarni. The preacher, who has been on ISIS hit lists, was shot while visiting Western Mindanao State University in Zamboanga for a two-day symposium."Recent arrests in Malaysia and Indonesia clearly show that a new terror attack from ISIS in the region is imminent," Gunaratna warns. "And the next one will be bloodier."
The Philippines is extremely crucial to American national security and foreign policy in Asia. The country is a former U.S. colony with has deep historical and cultural ties to the United States, plus it boasts being the world's 12th largest country by population. It enjoys a lively democracy and the region's fastest-growing economy with an abundant trade and investment relationship with the United States. But sadly Isis knows this and since they don't have the security infrastructure we have here in the United States we can now see Isis making its move to infiltrate and turn the nation into a hotbed of Radical Islam. To the point where they are actually planning attacks there to import to the states.
Although the Phillippines is a staunch military ally of the United States they still suffer from much corruption and Isis just "pays" its way in. And to make matters worse in 2014 former President Barack Hussein Obama dissolved the joint terrorism unit both nations had created in the Phillippines in the wake of the September 11, 2001, attacks on New York and the Pentagon.
Please share if you want to see this "Doctor" brought to justice….
FOLLOW us on Facebook at Freedom Daily!
BREAKING: Authorities Tried To Hide Who Was In The Room Directly Above Vegas Shooter – Here's Why
Wow!
It looks like it's 9/11 all over again!
As we reach the two-week mark in the Las Vegas shooting mystery. Americans find themselves still asking, even more, questions as to what happened on that tragic night where 58 people lost their lives and over 500 were injured. In the midst of a range of theories and conspiracies, this week multiple internet sleuths noted the proximity between a United States ally's government during both this terrorist attack and the 9/11 attacks. Saudi Arabia!
For who knows what reason Saudi Arabia is still being considered a close United States ally and friend. Although they are notorious for their human rights violations and hatred towards the west.
But this is where the story gets even more interesting, in 2007 Saudi's Kingdom Holding Company actually bought 45 percent of the stock in the Four Seasons Hotels and Resorts which owns the Mandalay Bay Casino and Resorts. And to add to the mystery, 45 percent of additional stock is owned by Cascade Investment Management. Which is a company controlled by none other than the extreme far leftist, Bill Gates. And interestingly enough both these companies teamed up in 2010 to work together in order to make the Four Seasons a privately held company.
The Free Thought Project reported:
In Las Vegas, the top six floors of the Mandalay Bay Hotel are owned by the Four Seasons. This hotel became the subject of a deadly terror attack when suspect Stephen Paddock reportedly opened fire out of the windows of his suite on the 32nd floor, sending a spree of bullets down to a crowd of around 22,000 people at a music festival across the street.
While it may have been pure coincidence that a man intent on carrying out a massacre, happened to rent a hotel room near a floor owned by the Saudi Royal Family, there is one important factor: When the Saudi Air Force visited Las Vegas recently, they did not stay at Mandalay Bay—the hotel in which they own 45 percent of the top six floors.
The Las Vegas Review-Journal reported that a "Middle East Air Force" booked the entire W Las Vegas hotel for the month of August, and sources noted that it was the Royal Saudi Air Force. This raises the question of why the members did not stay at the Four Seasons at Mandalay Bay, when half of the stock is owned by the kingdom, and it is typically their location of choice.
The question of whether Saudi Arabia could be involved stems from President Trump's leniency towards the U.S. ally, and from the questions of Saudi Kingdom involvement that arose after 9/11.
As The Free Thought Project reported, in July, a federal judge in Miami reversed her decision to push for the release of crucial documents revealing information on the funding of the 9/11 attacks. The information, which stemmed from a 2002 FBI report, is said to have included evidence of "many connections" between the Saudi family and "individuals associated with the terrorist attacks on 9/11/2001."
It was also revealed last year, after the infamous 28-pages were declassified, that the Saudi government aided the 9/11 terrorists.
Couple all this with the fact that two weeks later the mystery of this shooting is nowhere near being explained this whole episode starts to reak of a conspiracy. What is even more concerning is how Saudi Arabia always seems to be in the middle of messes like this, just like in 9/11 where that nation trained and partially funded the 9/11 hijackers while the official word from the "Kindom" was that they had nothing whatsoever to do with it. Maybe we should have invaded Saudi Arabia instead of Iraq!
Here's more on Saudi Arabia and the nation's ties to terror.
The Foreign Policy Initiative reports:
FPI BULLETIN: SAUDI ARABIA AND TERROR FINANCING
This month, Saudi Arabia launched massive military exercises that underscore its recent offer to send ground forces to fight against ISIS as part of a U.S.-led coalition. While Riyadh and Washington share the objective of destroying ISIS, our counterterrorism priorities are not always aligned. Therefore, Riyadh's recent moves justify a re-examination of whether and when the Saudis can serve as reliable partners in combating violent Islamic extremism. Despite allegations that the monarchy has directly supported violent extremists such as al-Qaeda, there is no public evidence supporting this charge. However, Saudi Arabia's mixed record on combating terrorist financing over the past 15 years reveals that Riyadh is more concerned with its domestic security and regional feuds than it is focused on combating global terrorism.
U.S.-Saudi Mistrust After 9/11
After it was revealed that 15 of the 19 hijackers on September 11, 2001 were Saudis, the Saudi government and royal family were the targets of multiple lawsuits by employers and families of the victims. Prominent U.S. lawmakers also indicated concerns about Saudi Arabia. Senator Mitch McConnell (R-KY) observed that the United States "in some ways, have had a good relationship with [the Saudis] over the years, and in other ways, it appears as if they're funding our enemies." Amid legislative proposals to compel Saudi cooperation, Senator Chuck Schumer (D-NY) criticized Riyadh for a "well-documented history of suborning terrorist financing and ignoring the evidence when it comes to investigating terrorist attacks on Americans." A December 2002 report by the House and Senate intelligence committees investigated these issues, but 28 still-classified pages related to Saudi Arabia resulted in controversy over whether Washington protectedSaudi government figures.
Despite such controversy, the 9/11 Commission Report "found no evidence that the Saudi government as an institution or senior Saudi officials individually funded [al Qaeda]." However, the Commission also noted that "Saudi Arabia has been a problematic ally in combating Islamic extremism. At the level of high policy, Saudi Arabia's leaders cooperated with American initiatives aimed at the Taliban or Pakistan before 9/11. At the same time, Saudi Arabia's society was a place where al Qaeda raised money directly from individuals and through charities." The Report states that although it did not find evidence to incriminate Riyadh, "This conclusion does not exclude the likelihood that charities with significant Saudi government sponsorship diverted funds to al Qaeda."
Before the 9/11 attacks, the Saudi royal family had long shied away from cracking down on private donors and foundations linked to terrorist financing, primarily to avoid confrontation with the powerful ultra-conservative clerics in the kingdom and their followers. After 9/11, Riyadh remained reluctant to help the U.S. Treasury Department dismantle international terror funding networks with links to donors and foundations in Saudi Arabia.
Saudi Arabia Steps Up After New Terror Threats in the Kingdom
Saudi Arabia's complacency was rocked in 2003-2006 after a series of significant attacks within the kingdom claimed dozens of lives and demonstrated to Saudi citizens and rulers that al Qaeda posed a direct threat to Saudi Arabia's stability. This development propelled Riyadh to dramatically strengthen its policies and enforcement to stop terrorist financing stemming from within the kingdom. Testifying before the Senate in 2005, U.S. Treasury Deputy Assistant Secretary Daniel L. Glaser stated, "Today, Saudi Arabia is actively countering the threat of terrorism. This is a key success, unfortunately catalyzed by the May 2003 terrorist attacks in Riyadh, which alerted the kingdom that terrorism was not only a theoretical global problem, but very much a local one."
With aggressive arrests and widespread crackdowns on financing and operating of terrorist cells, as well as efforts to better train police and monitor mosques as part of a wide-ranging counterterrorism program, the Saudi government subdued the internal threat from al Qaeda. Riyadh also began to cooperate with efforts by the U.S Treasury Department to sanction charitable foundations that were financing al Qaeda and the Taliban. The Saudi government also instituted new financial restrictions on charities, such as limits on cash transactions, foreign transactions, and multiple accounts.
Today, Saudi Arabia likely sees the battle against al Qaeda within the kingdom to be past its violent peak, but not yet over, argues The Washington Institute for Near East Policy's Lori Plotkin Boghardt. Since 2008, a special Saudi terrorism court has prosecuted thousands of suspects charged with playing a role in the al Qaeda attacks of 2003-2006. In January 2016, the Saudis executed 43 men charged with supporting al Qaeda plots from a decade ago. (Regrettably, the court has also tried Saudi human rights activists, including female drivers, whose activities the kingdom has defined as terrorism.) The individual most responsible for the kingdom's aggressive approach to terrorism in recent years is the recently anointed crown prince, Muhammad bin Nayef, who built his reputation by leading the kingdom's campaign against al Qaeda and surviving a 2009 attack on his person. The efforts of the crown prince and others demonstrate a new seriousness of purpose, although loopholes remain as Saudi Arabia turns its attention to the threat posed by the Islamic State (also known as ISIS, ISIL, or Daesh).
Funding Loopholes Remain
Saudi Arabia's position on ISIS parallels the kingdom's hostility towards al Qaeda. ISIS leader Abu Bakr- al-Baghdadi has branded Saudi royalty as apostates. His calls for attacks on the kingdom have resulted in a wave of suicide bombings and other attacks. In 2014, the Saudis designated the Islamic State as a terrorist organization, which rendered any financial support illegal. Saudi Arabia has also arrested ISIS cells in the kingdom. Nonetheless, Saudi citizens who support the Islamic State and other extremists in Syria are finding ways to provide those groups with funding.
"There is no credible evidence that the Saudi government is financially supporting ISIS," writes Lori Plotkin Boghardt, since "Riyadh views [ISIS] as a terrorist organization that poses a direct threat to the kingdom's security." Yet she notes, "Riyadh could do much more to limit private funding," especially via other Gulf States that offer more permissive financial networks.
Senior U.S. officials have publically stated their concerns about terror-financing contributions routed through third parties. Former Secretary of State Hillary Clinton, in a 2012 speech about combating ISIS, said, "the Saudis, the Qataris, and others need to stop their citizens from directly funding extremist organizations, as well as the schools and mosques around the world that have set too many young people on a path to radicalization." Speaking in March 2014, Treasury Under-Secretary David Cohen revealed, "A number of fundraisers operating in more permissive jurisdictions – particularly in Kuwait and Qatar – are soliciting donations to fund extremist insurgents, not to meet legitimate humanitarian needs." He explains, "Fundraisers aggressively solicit donations online from supporters in other countries, notably Saudi Arabia, which have banned unauthorized fundraising campaigns for Syria."  The recipients of these funds include al Qaeda's Syrian affiliate, Jabhat al-Nusra, as well as ISIS, Cohen said.
David Weinberg of the Foundation for Defense of Democracies laments that "Saudi authorities have also declined to take punitive measures against local preachers … [who] advised donors to circumvent local restrictions by sending their donations to accounts in Qatar and Kuwait." Social media and crowd funding technologies have particularly made it easier for smaller donations to circumvent Riyadh's policing of the formal financial sector. Cash transfers across state borders also easily escape detection. Boghardt concludes that "a combination of politics, logistics, and limited capabilities have impeded more effective Saudi efforts to counter terrorism financing."
Incentivizing Saudi Cooperation
U.S. Secretary of State John Kerry admitted in January 2015, "We all know that massive private funding goes to the extremist groups," and governments must step up their programs to stop this. But it may be difficult to compel Saudi Arabia to more comprehensively combat the outflow of money to extremists abroad, since this goes beyond Saudi Arabia's own concerns of domestic stability, which have been its key incentive to combat terrorism over the past decade. Moreover, many Saudis view Sunni extremists abroad as a bulwark against the influence of the kingdom's rival, Iran. So as long as Saudi Arabia senses that the United States is seeking rapprochement with Tehran, it may resist pressure to more aggressively assist with Washington's global counterterrorism efforts. While maintaining pressure on Riyadh to fight terrorist financing, the United States can also work to reassure Saudi Arabia that we will not ignore Iran's regional aggression. Steps for doing so would include firm responses to such Iranian provocations as ballistic missile launches, as well as renewing Washington's faltering commitment to the ouster of Bashar al-Assad, Tehran's most important client in the region.
Please share if you agree we need to get to the bottom of this mess as soon as possible….
FOLLOW us on Facebook at Freedom Daily!
Muslims Start Praising Allah On Airplane But Didn't Realize Who Flight Attendant Really Was Until It Was Too Late
Trump loves this & so do we!
A Muslim couple from Ohio thought it was a splendid idea to chant about "Allah" while looking suspicious while they were texting or playing with their cell phone. That's about as frightening as yelling "bomb" and twisting the back end of an alarm clock. Everyone knows that you don't do anything on an airplane that gives people the creeps.
But that's not what happened the day the Ohio couple was ejected out of escorted off of an airplane while trying to claim they were discriminated against. They didn't realize the highly trained flight attendant could tell that people around them were feeling very skeptical of the couple's awkward behavior that sent chills up the spine of just about every passenger who sat near them.
The Cincinnati, Ohio Muslim couple chanted, "Allah" while "hiding" their cellphones from view. This behavior obviously caught the highly trained flight attendant's attention and made her very "uncomfortable." For the sake of the safety of both passengers and crew, she urged the pilot to have them removed from the airplane.
You simply can't act like this on a plane, train, or any mass travel automobile. You freak people out when you do this. Freaking people out gets you kicked off the airplane. That's a no-brainer. In all honesty, people don't care who or what you're texting, but if you're acting like you don't want anyone else to see what's on your screen, then you better understand that people are going to think the worst and be quite weary of your presence on the plane. That's exactly what happened and the precise reason why this couple was removed. It wasn't because they're Muslim, it was because of their shady behavior.
The Delta flight attendant said every time she walked by the couple from Cincinnati, they were texting rather covertly on their phones. The Muslim man and woman also appeared to be sweating profusely according to the Delta staffer. The couple blamed their perspiration on a long boarding wait on the tarmac.
Sweating profusely while everyone else is not? That's called your nerves are wrecking havoc on your perspiration system because you might be up to no good. Ever give a speech in grade school and were super nervous to do it? You may have sweat bullets. But when you might be up to no good on an airplane and you're nervous about what might happen, then you might be sweating as well. If no one else was sweating like this, then I'd have to call shenanigans on the couple whose covert texting and profuse sweating called some well-trained eyes to them.
Everyone else on the plane was forced to deal with the same wait. The other passengers were also subjected to the same "poor air circulation" on the plane, and they did not have beads of sweat running down their faces.
I guess not everyone else was texting covertly either? This doesn't make sense. Weird texting behaviors, profuse sweat bullets dripping all over your faces, and chanting about "Allah" all paints a horrible picture to most people. We can't exactly state that these folks are, or were, up to no good for sure, but the presentation of their behavior simply scared people and it's nothing personal. People have a right to be scared of something when they're on a huge mass transit vehicle such as an airplane and they see people acting like this. Maybe we're trained to think the worst, but the behavior people witnessed was quite eerie to the average traveler.
"I was scared because it looked like some random guy was taking pictures of our passports on his personal phone," said Nazia Ali, the Muslim woman from Cincinnati, after she and her husband, Faisal, were kicked off the airplane.
If you're scared and think someone is taking photographs of your passports on their personal phone, then why don't you ask them what they're doing? If they were really violating your personal space and items, then speak up about it. However, texting like you don't want anyone to see, sweating like you're extremely nervous, and talking about "Allah" on an airplane simply won't get you from point A to B. You're going to have to step off the flight and think about what just happened and how to prevent it. You'll have to understand this is not a thing against Muslims, but a thing where you're scaring the Jesus out of folks and anyone doing this would be removed, regardless of their skin color, sex, or religion.
Anyone who acted like this on an airplane would be removed.
Nothing discriminatory about it, but you know they'll try and say it was.
Here's the video.
FOLLOW us on Facebook at Freedom Daily!